The highly anticipated 2023 Steam Summer Sale is finally here. And there is a plethora of exciting deals and discounts on all things Steam. This year's sale, which runs until July 13th, features massive savings on a wide range of titles, including some of the hottest releases of the year. One of the standout deals is the significant discount on the Steam Deck, Valve's groundbreaking handheld gaming device. In this article, we check out all the details about the 2023 Steam Summer Sale, including the discounted prices of the Steam Deck configurations, notable game discounts, and other exciting offers.
The Steam Deck: Unmissable Savings on Valve's Handheld Gaming PC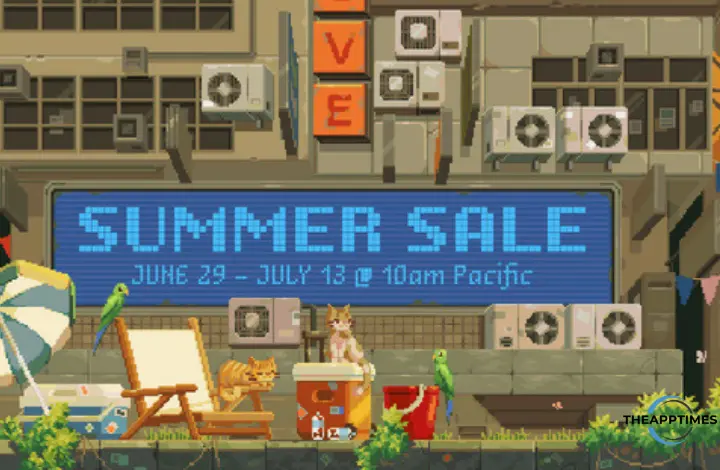 Valve's highly acclaimed Steam Deck has taken the gaming world by storm, offering the convenience of a handheld device with the power of a gaming PC. During the 2023 Steam Summer Sale, the Steam Deck is available at a discounted price, making it an irresistible offer for gaming enthusiasts. Let's dive into the specific discounts for each Steam Deck configuration:
The 64GB eMMC Edition
The 64GB eMMC edition of the Steam Deck is now available at a 10% discount, bringing its price down to £314.10 from the original £349. This configuration is perfect for gamers who want to have their favorite titles at their fingertips, with the added bonus of a carrying case for easy portability.
The 256GB NVMe SSD Edition
For those who require more storage space and faster loading times, the 256GB NVMe SSD edition of the Steam Deck is an excellent choice. During the Steam Summer Sale, this configuration is available at a 15% discount, reducing its price from £459 to £390.15. Along with the increased storage capacity, this edition also includes a carrying case and a Steam Community profile bundle.
The 512GB NVMe SSD Edition
The top-of-the-line Steam Deck configuration, featuring a generous 512GB NVMe SSD, is a dream come true for gamers who want to carry their entire library wherever they go. With a massive 20% discount, this edition is now priced at £455.20 instead of the original £565.
In addition to the larger storage capacity, this version boasts anti-glare etched glass over the display and a virtual keyboard theme, making it a must-have for gaming enthusiasts.
It's important to note that while the 512GB NVMe SSD edition is currently out of stock, there's a good chance it will be available again before the end of the sale.
So, be sure to keep an eye out for restocks if you're interested in this top-tier configuration. Furthermore, the Steam Deck Docking Station, which facilitates easy connection to a television, is also on sale at a 20% discount, priced at £63.20 instead of the original £79.
Exciting Game Discounts: A Treasure Trove for Gamers
The Steam Summer Sale is not just about the Steam Deck; it also offers incredible discounts on a wide range of games. Whether you're a fan of action-packed adventures, immersive role-playing experiences, or mind-bending puzzles, there's something for everyone. Let's explore some of the notable discounts on both new and popular titles during this year's sale:
New 2023 Games on Sale
Star Wars Jedi: Survivor
Embark on an epic Star Wars journey with this critically acclaimed game, now available at a 25% discount. Explore the galaxy, master the Force, and become a legendary Jedi. Check it out here.
Roots of Pacha
Dive into a cozy adventure that takes you back to the dawn of civilization. Discover the joy of farming, tame wild animals, and witness the birth of irrigation. This delightful game is now 20% off. Get it now
Warhammer 40,000: Boltgun
Immerse yourself in the grim darkness of the Warhammer 40,000 universe in this exceptional game. With a 20% discount, you can experience intense battles and strategic warfare like never before. Check it out here.
HROT
Prepare for a retro-inspired first-person shooter experience that pays homage to the classics of the genre. With its atmospheric world and challenging gameplay, HROT is a must-play for fans of old-school shooters. This game is available at a 15% discount.
Additional Offers
Aside from the incredible discounts on games and the Steam Deck, the 2023 Steam Summer Sale offers additional perks and features to enhance your gaming experience. Here are a few noteworthy highlights:
Daily Free Stickers
During the Summer Sale, you can claim a free sticker each day. These stickers are a fun way to personalize your Steam profile and show off your favorite games or characters.
Summer Seasonal Badge
Participate in the Summer Sale events and earn the Summer Seasonal Badge. This limited-edition badge signifies your involvement in the sale and adds a touch of exclusivity to your Steam profile.
Summer Sale Trading Cards
Upgrade your badge by collecting Summer Sale trading cards. These cards can be obtained by participating in various activities during the sale, such as purchasing games, writing reviews, and completing specific in-game tasks. Collecting and crafting these cards will help you level up your badge, unlocking additional customization options for your profile.
Don't Miss Out on the 2023 Steam Summer Sale
The 2023 Steam Summer Sale is an incredible opportunity to grab your favorite games at discounted prices and experience the power of the Steam Deck at a fraction of the cost.
Whether you're a dedicated gamer or a casual player, this sale has something for everyone. Make sure to browse the Steam store and take advantage of the amazing deals before the sale ends on July 13th.
Don't forget to keep an eye out for the highly sought-after Steam Deck, which is sure to revolutionize your gaming experience. Happy gaming!
Check out the sales page here.