Maintaining and managing an email account is no easy task. One of the biggest problems with email management is that sooner or later you end up with so much email that your PST virtually blows up in your face. OK, maybe not. But there's a good chance that the PST becomes corrupt and your emails become inaccessible. One way to keep your PST file size in check is to remove duplicate email. Today, I take a look at Stellar Outlook Duplicate Remover, a $20 tool that promises to help you remove duplicate email easily and keep your Outlook PST file size in check. A double whammy!
Stellar Outlook Duplicate Remover Review
Stellar Outlook Duplicate Remover is an Outlook Add-in. Once you install the EXE file and open Outlook, you'll notice that it creates a new tab on the program with its own custom toolbar.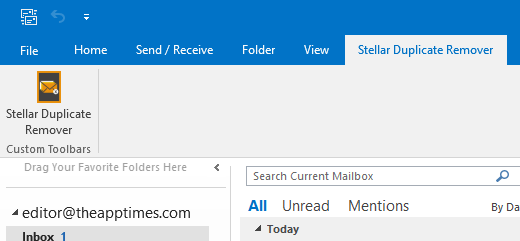 To start checking your Inbox and folders for duplicate email messages, you simply click the Stellar Duplicate Remover command on the Ribbon. This will open up the Stellar Outlook Duplicate Remover window where you can choose which folders you want the add-in to clean.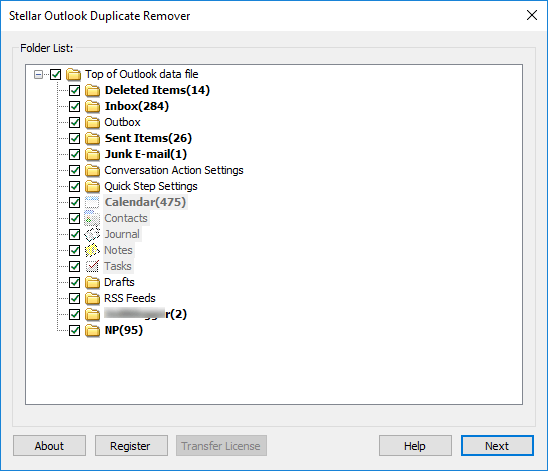 After you select the folders you want cleaned, click Next. In the next screen, you select how far back you want the tool to check and clean your duplicate email messages. This can range from as recent as yesterday to the last 100 days, last year or just about any time.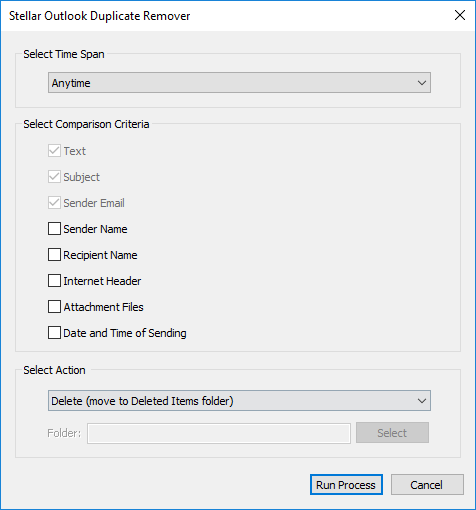 By default, Stellar Duplicate Remover looks for text, subject, and sender email to determine duplicates. If you want, you can add further criteria such as the sender name, recipient name, Internet header, attachments or date and time of sending.
Next, choose what you want the tool to do with your duplicates. From the Select Action drop down list, you can take your pick of actions. You can mark the items as expired, you can copy or move them to another folder, flag them, or delete them permanently.

Next, click Run Process.
The Outlook add-in will quickly run through the selected folders over the desired time period and take the action you selected.
At the end of the process, a log report is generated. This report stores details about the entire process and provides a nice historical record of events, should you need to analyze it later. Information in the log report includes all the details of duplicate copies of emails, found during scanning.
Key Highlights of Stellar Outlook Duplicate Remover
Adds a Ribbon Command for Quick Access
Allows you to remove duplicate email from multiple folders in one go
Lets you to set a time frame for checking duplicates –  1 day to 1 year to anytime
Allows you to choose what you want to do with duplicate mail – delete, copy, move to folder, or flag
Generates a detailed log of duplicates so you can track all duplicate email messages you deleted
See The Add-in in Action
Final Thoughts
Stellar Outlook Duplicate Remover is a completely user friendly tool to find and remove duplicates. It worked flawlessly on my Outlook 2016 client and didn't throw up any errors.
If you want to see the tool in action, you can download a demo version of the software. The demo lets you run the tool, but to take action on duplicates, you'll need to buy a copy. If you are plagued by duplicate email issues and find the Clean Up Tool in Outlook a hassle to use, give Stellar Outlook Duplicate Remover a try.