Have you typed a message on your iPhone and hit the Send button only to realize an instant later that you need to recall it. You may have either typed something you didn't intend to convey, realized that AutoCorrect put in a wrong word to two instead of what you intended or maybe you just sent it to the wrong person.
Whatever the reason for recalling a message, you should have an option readily available for doing it. Unfortunately, you don't. However, if you feel like Speedy Gonzales, you can try this rather hard-to-succeed trick to stop an iOS message from being sent.
The trick is to disconnect your iPhone mobile connection before the message is delivered. Usually you'll see the status of the message via a colorful progress bar at the top of the screen. If you disconnect the connection before the progress bar gets full, your message cancellation will be successful. The key here is simple: you have to be super quick for it to work.
How to Stop an iOS Message From Being Sent
Let's assume that you typed out the message and sent it to your recipient. Very quickly:
1. Press the Home button to go to the Home screen.
2. Open the Control Center by swiping the bottom edge of the screen upwards.
3. Toggle the Airplane Mode on. If you do this really really quickly, your message will show up as undelivered.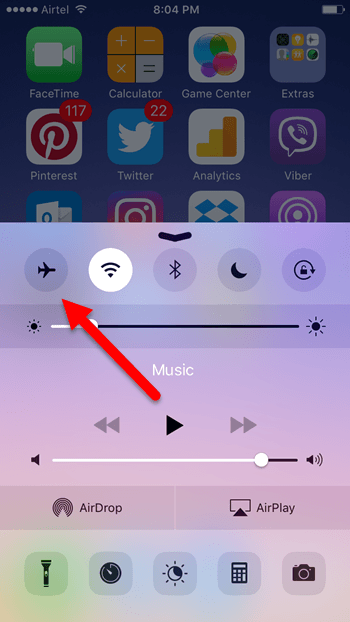 4. You can then cancel the message and prevent it from being sent by swiping down to close the Control Center.
5. Go to the Messages app and you'll see a red Not Delivered alert next to the message contents.
6. Delete the message.
Once you've cancelled it, you can reactivate your data connection.
While this is a handy trick to know, you have to be work a.k.a speezy gonzales for this to work, so it might be touch and go most of the times. You have a better chance of stopping messages that are a little heavy, like ones with attachments, while iMessages with some simple text usually get sent in a flash!
Have you tried this cool trick before? Let us know if it worked for you.
Check out our Archives section for more cool iOS tips and tricks.