Although desktop computers and laptops offer their users many great features, they are considered the electronics of last decade. If you're looking to upgrade to a new and hotter device, consider looking into purchasing a tablet. These compact, touch screen, hand held computers have been around in many forms for a little longer than 20 years, but the rush and sale of the tablets quickly heated up when iPad was released by Apple in 2010. The benefits to switching to a tablet computer include their speed, ease of use, and their capability of displaying notes and books, and much gaming potential. Although, they also have their flaws which include limited hardware and the difficulty of typing on them. This being the reason, investing in some of the best tablet accessories for your tablet PC is the best way to get maximum potential out of it.
Accessories that Boost the Capability of Tablets
Covers and Cases: After buying your new fancy tablet, your not just going to walk around with it out in the open. It has the possibility of being scratched or broken. This is why every tablet deserves to have a protective case. Cases are one of the best tablet accessories that you can invest in.
Battery Packs: Nothing is worse than running out of battery life while you are out on the go. Good news is, there are some ways to extend your battery life can work on it for as long as needed such as an aftermarket battery pack.
Keyboards: Tablets do have a lot of great advantages, although typing isn't considered one of them. While there are many tablets that have outstanding keyboards that are screen-based, they still lack the tactile and response time compared to that of an actual keyboard. On the bright side many tablets have external keyboard that can be purchased; plus they are considered to be the best when it comes to browsing and reading ebooks.
Hard Drives: Another disadvantage is the lack of space that they have. The majority of tablets don't use hard disks and use flash memory instead. This can be maneuvered around by purchasing and external hard drive for your tablet.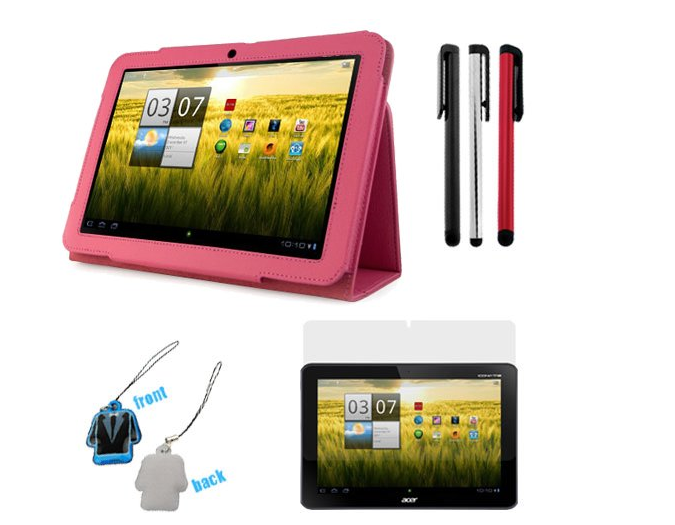 Stands: A tablet stand is a great investment especially if the tablet is intended to watch movies on. It keeps the device in an upright position so watching movies is in a more comfortable position.
Speakers: There are many ways available to upload music to the tablet. When it comes to listening to the music, why settle for the built in speakers that hardly produce sound. A great pair of external speakers makes sure that your music can be heard anywhere you carry your tablet.
Wall Mounts: Tablet wall mounts allow the user of the tablet to mount it on the wall in case of movie viewing by the whole family. It's a creative way to make a home theater system.
Scanners: Tablets are now able to run credit cards to do transactions and to make purchases. It uses a USB port input that plugs in and has a credit card scanner attached.
Screen Protectors: A screen protector is another accessory for tablets that protects it. It is a clear plastic film that goes over the top of the screen in order to reduce scratches and imperfections on the screen.
Pens: Tablet pens are great for writing hand written notes, sketching, drawing, and many other artistic applications. These pens could be a great addition to add to a tablets accessories.
Where to Find Tablet Accessories
There are many places that sell these accessories for tablets. Most tablet accessories stores include electronics stores, department stores, and stores that sell the actual tablets. There are many places online too that also sell tablet accessories and they can be sent via postal services.