In today's digital age, PDF files have become an integral part of our professional and personal lives. Whether it's reading documents, studying textbooks, or reviewing research papers, PDF readers play a crucial role in enhancing our reading experience. With the advent of artificial intelligence (AI), PDF readers have evolved to offer advanced features that make working with PDF files even more convenient. In this article, we have compiled a list of the top AI-powered PDF readers that utilize AI technology to provide enhanced performance and functionality.
Top AI-Powered PDF Readers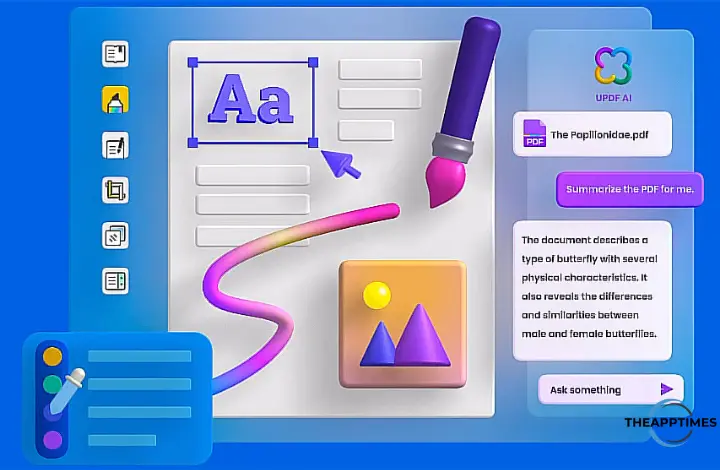 UPDF
UPDF is a top-notch PDF reader that stands out from the competition with its AI-powered features. This software offers enhanced readability and a personalized reading experience with customizable layouts.
Whether you prefer a single-page view or a two-page scroll, UPDF has the perfect page layout for you. Additionally, UPDF offers a dark mode feature (available for macOS and iOS versions) designed to enhance your reading experience without straining your vision.
With UPDF, you can personalize settings and even change the background of your PDF documents. This makes reading sessions more efficient and effective. The multi-tab functionality allows you to manage multiple PDFs effortlessly. But what sets UPDF apart are its AI features that assist users in their reading experience.
UPDF AI Features to Assist Users in Enhanced Reading Experience
Summarize PDF: Sometimes, PDF documents can be lengthy and time-consuming to read entirely. UPDF's AI feature provides a solution by generating different types of summaries for your documents, helping you extract key information and save time.
Explain: When you encounter difficult vocabulary or complex concepts in your documents, UPDF's Explain feature comes to your aid. It provides clear explanations and definitions for specific terms, helping you understand challenging content.
Translate PDF with AI: Language barriers can hinder your reading experience. UPDF's Translate PDF feature allows you to easily translate the content of your PDF documents into any language you desire. Whether you have a document in English and need it in Spanish, French, or any other language, UPDF PDF Reader can assist you.
Write and Rewrite: With UPDF, you can write about any topic and have the content automatically rewritten in a different style. It can be longer or shorter or you can change the writing style to humor or horror.
Chat with UPDF AI: UPDF provides an AI-powered chatbot that you can ask and chat with on any topic. When you need to brainstorm or get ideas, UPDF AI can provide you with amazing suggestions and insights.
UPDF offers different pricing plans to cater to various needs. The UPDF Pro Annual Plan is priced at US$29.99, while the UPDF Pro Perpetual Plan costs US$49.99. The UPDF AI add-on is available for an additional US$5 per month.
Supported systems for UPDF include Windows, macOS, iOS, and Android. AI features are currently available on Windows and macOS.
ChatPDF – Enhancing Your Learning Experience
ChatPDF is an online PDF AI reader designed to enhance your learning experience. This tool is specifically focused on supporting academic growth. It provides features that help you comprehend textbooks, handouts, and presentations more effortlessly. By signing in to ChatPDF, you can save your chat history and conveniently track your progress.
ChatPDF offers more than just basic PDF reading. It goes beyond traditional PDF readers by automatically generating concise summaries of your documents.
You can ask questions directly related to the specific PDF, unlocking a new level of interactive learning. With a Plus account, you can even upload multiple PDFs and ask up to 1000 questions. The file size limit of 32 MB allows for comprehensive uploads.
ChatPDF offers a Plus plan priced at $5 per month or $60 per year. It supports online usage, making it accessible from any device with an internet connection.
NaturalReader
NaturalReader takes PDF reading to a whole new level by transforming text, PDF files, and other content into spoken words. Imagine having someone read your documents, eBooks, and school materials to you so you can listen to them anytime, anywhere.
NaturalReader works on devices like computers, phones, and tablets, providing convenience and accessibility. Additionally, you only need one account for all of NaturalReader's features.
This AI-powered PDF reader offers an array of incredible features. Users can enjoy listening to their PDFs with ease and have full control over the audio playback, including options to reverse, forward, and pause as desired.
The speed of the audio can be adjusted, catering to individual preferences. NaturalReader also provides the convenience of subtitles, allowing users to follow along visually. Another impressive capability is converting the PDF into an mp3 file, enabling users to listen to their documents on the go.
NaturalReader offers three pricing plans: Personal ($99.50), Professional ($129.50), and Ultimate ($199.50). These plans cater to different usage needs and provide various additional features. NaturalReader is supported on platforms such as online, macOS, Windows, iOS, Chrome Extension, and Android.
PDFGPT.IO
PDFGPT.IO is an online solution for all your PDF summarization and question-answering needs. This tool leverages advanced AI algorithms to effortlessly extract key learnings from study materials, research papers, or lengthy client requirements. By uploading your PDF documents to PDFGPT.IO, you can receive concise summaries and accurate answers, saving you valuable time.
PDFGPT.IO offers key features that enhance your PDF reading and query generation experience. Not only can you view your PDF documents, but you can also generate queries directly within the platform.
By utilizing the premium plan, you get access to even more benefits. The premium plan allows you to upload up to 7000 pages per month, accommodating extensive reading and research needs. Furthermore, PDF file sizes of up to 50 MB can be uploaded, ensuring compatibility with larger, more complex documents. The basic plan restricts file uploads to a maximum size of 5 MB and preserves the history for a shorter duration of 3 days.
Pricing plans for PDFGPT.IO include Advanced ($9.99/month), Ultimate ($19.99/month), and Premium ($49.99/month). Each plan offers different levels of usage and benefits. PDFGPT.IO is an online platform, making it easily accessible from any device with an internet connection.
Foxit
Foxit is an offline PDF reader that offers a range of advanced features. Despite being a small-sized software, Foxit is packed with functionality and offers lightning-fast performance. It allows you to easily open, highlight, fill out forms, and sign PDF documents, regardless of the device you're using. Foxit is known for its simplicity and speed, providing a seamless reading experience. Additionally, it supports filling out standard PDF or XFA forms.
Foxit offers several AI features that enhance your PDF reading experience. One such feature is Document Summaries, which generates concise and accurate summaries of any text using advanced AI algorithms.
The Document Re-write feature uses machine learning to paraphrase or rephrase text while preserving its original meaning. This makes it useful for content marketing and SEO optimization tasks.
Foxit also incorporates an AI-powered chatbot that employs natural language processing to give detailed and real-time responses to user queries, enhancing communication and support.
Foxit is available for free and supports platforms such as macOS, online, Windows, iOS, and Android. However, it's important to note that the AI features are only available in the Foxit Editor version and cannot be used on the Foxit Reader.
Comparing the 5 Best AI PDF Readers
To help you make an informed decision, let's compare the top AI-powered PDF readers in a table that highlights their different features and functionalities.
PDF Reader
AI Features
Other Features
Supported Systems
Pricing
UPDF
Chat with PDF
Ask PDF
Translate
Summarize
Explain
Edit Organize Annotate Convert Batch Tools Flatten PDF Compress Sign Watermark Header and Footer UPDF Cloud Merge Create PDFs Fill Forms Protect
Windows, iOS, Android, and macOS
Annual Plan: $29.99 Perpetual Plan: $49.99 (AI feature costs US$5 per month)
ChatPDF
Summarize PDF
Question Answering
Share Rename Export Reset Delete
Online
Plus: $60/year
NaturalReader
Listen to PDF
Question Answering
Document Playback Control Subtitles PDF to mp3 conversion
Online, macOS, Windows, iOS, Chrome Extension, and Android
Personal: $99.50 Professional: $129.50 Ultimate: $199.50
PDFGPT.IO
Query Generation PDF Summarization
Advanced PDF Upload Limits File Size Compatibility
Online
Advanced: $9.99/month Ultimate: $19.99/month Premium: $49.99/month
Foxit Reader
Document Summaries Document Re-write AI Chatbot
Comment View Fill Form Protect Document Foxit eSign Share Document Measure
macOS, Online, Windows, iOS, and Android
Free
Noteworthy Mentions:
PDFgear Copilot: It offers a range of features, such as summarization, question-answering capabilities, and more.
FineReader 15: This AI-powered PDF solution has many PDF and document comparison functions, not just document conversion.
Final Thoughts
The top AI PDF readers in our list have unique AI features and great compatibility with different systems. They offer advanced functionalities that make working with PDF files more convenient. These AI-powered PDF readers can enhance the reading experience, save users' time, and provide accurate answers to users' questions from any PDF file.
Check out these great tools in you spend a lot of time working with PDFs and want to enhance your working experience.