The Android operating system is one of the most versatile in that it allows users to completely customize how it looks and works. The Android keyboard is no different. Google keyboard which comes as part of stock Android is good, but users always want more functionality and that's where third party keyboard apps come into play.
There are plenty of fantastic keyboard apps that are available on the Google Play Store and for anyone who is looking for alternatives, we have a collection of the top keyboard apps for Android that are worth choosing from.
Top Keyboard Apps for Android
Fleksy + GIF Keyboard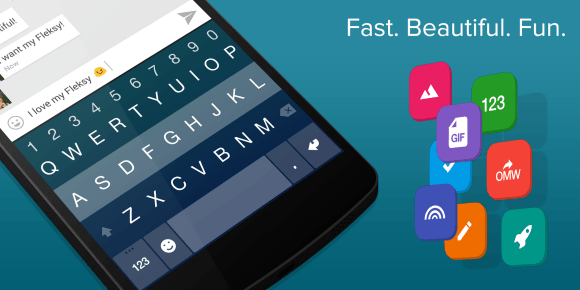 This highly popular keyboard offers a fantastic tap typing experience and is officially the fastest keyboard app in the world. Its coolest feature is the ability to find and send GIFs. Users who love customizing the keyboard will find plenty to do as quirky animations, handy extensions and beautiful themes are available for use, along with options to add a row of symbols or emojis that you use often.
Fleksy supports a number of cool gestures, languages and keyboard layouts like QWERTY, AZERTY, QWERTZ, Dvorak and Colemak. Overall, a fun app that's easy to use.
Download Fleksy + GIF Keyboard
SwiftKey Keyboard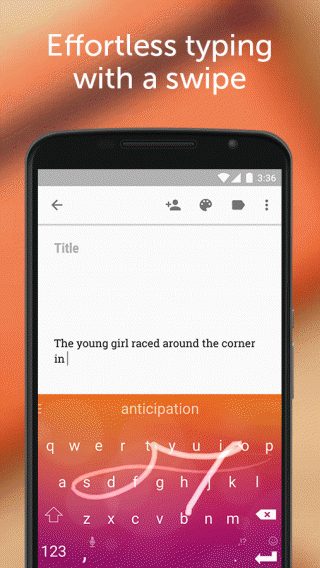 SwiftKey keyboard has been around for a long time and is still ranked as one of the best keyboard apps in the world. Its top features include personalized next word prediction, gesture typing, smart autocorrect, bilingual typing and even clever emoji prediction.
This keyboard studies your typing habits on social networks and email and offers personalized word predictions making it so convenient to input data. The app is not short of customization options either with over 30 + color themes, keyboard layouts and multiple language support. If you prefer swiping to typing, this is definitely one of the best keyboards to have on your device.
TouchPal – Cute Emoji Keyboard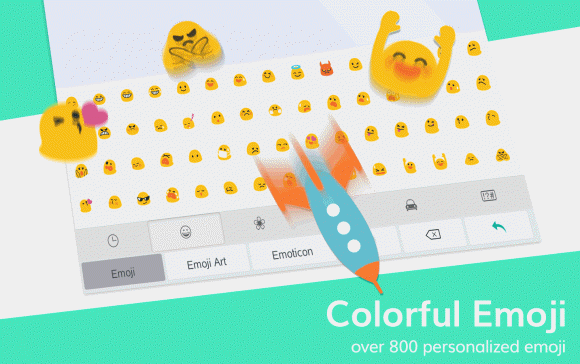 TouchPal is a solid keyboard app that packs in plenty of great features such as contextual predictions, swipe typing and powerful auto correction. You can customize almost anything on the keyboard including the sound, vibration, font, height or width. The app also allows you to use custom keyboard keys.
Whether its smart typing that you want to do or emoji, emoticons and smileys that you want to add, you can do it with convenience and ease. The keyboard also allows for cloud prediction, so you have instant access to current word trends and multiple language input to allow for predictions in more than one language. Apart from that you have keyboard colors and themes to customize your keyboard.
Download TouchPal – Cute Emoji Keyboard
Minuum Keyboard Free + Emoji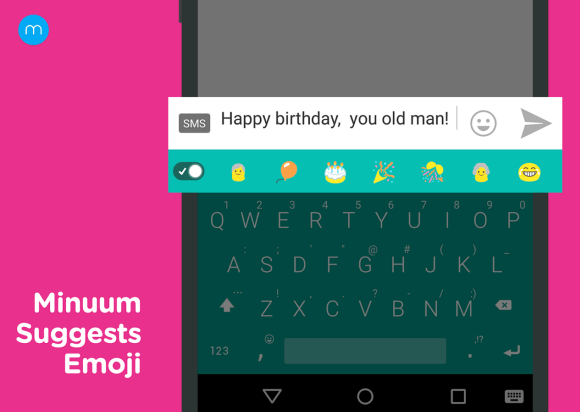 One of the best keyboard apps to emerge in 2014, Minuum is perfect for users with big fingers. The keyboard turns your keyboard into something smaller and you only have to type in the vicinity of what you intended. The smart auto correction feature will automatically enter the text you attempted to type.
In our review of the app, we found the app to work quite brilliantly. The keyboard offers different alphabet arrangements, expansion into full sized keyboards, smart word and emoji prediction, multiple language support, rapid gesture shortcuts, voice typing and more. Price: Free for 30 days then $3.99.
Download Minuum Keyboard Free + Emoji
GO Keyboard Lite + Emoji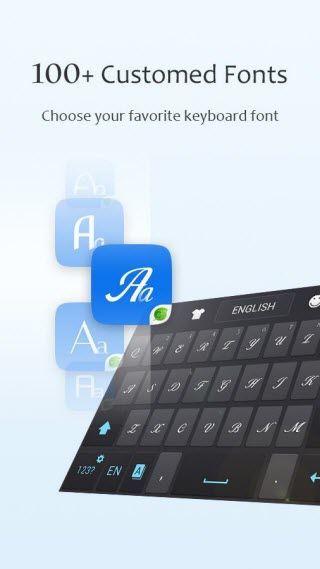 If customization is your most important requirement, then Go keyboard is worth considering. This app can turn plain text into emoji, has over 1000 colorful themes, keyboard background wallpapers, customizable toolbar, hundreds of fonts and a number of keyboard layouts. Apart from that you have the usual standard features that most keyboard apps offer such as smart auto-correction and voice typing. Price: Free with IAPs.
Download GO Keyboard Lite + Emoji
Kika Emoji Keyboard – GIF Free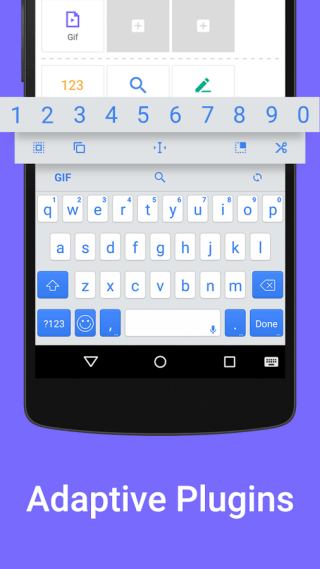 With over 30 million users, Kika Emoji keyboard makes it to our list of the top Android keyboards that are perfect for emoji lovers. The app features over 1200 emoji and emoticons smileys, stickers themes and GIFs.
The app also has smart prediction capabilities, auto correct, multiple language support, native support for WhatsApp's new emojis, GIF search, personalized fonts, voice input, click sounds, custom layouts and more. And best of all, it is completely free to use.
Download Kika Emoji Keyboard – GIF Free
Ai.type keyboard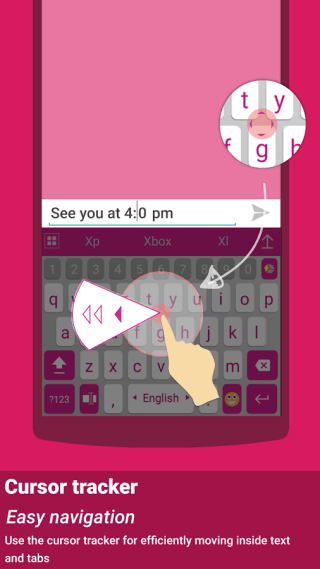 Ai.type keyboard is a feature rich app that offers personalized word predictions based on your unique writing style as well as auto prediction in over 50 languages. You can customize the app by choosing from thousands of available themes or create your own theme background and use it.
Similarly, you can choose your keyboard's look and feel by creating your own custom keys and shortcuts. You can customize the 5th row of the keyboard to include numbers, punctuation and emoji that you frequently use.
As far as emojis go, the app itself will suggest the most appropriate ones for use based on the context. If you prefer to dictate instead of type text, you can use the voice narration feature to complete the job. Overall, it's a fun app to use, and is well worth checking out. Price: Free with IAPs.
Ginger Keyboard Emoji Keyboard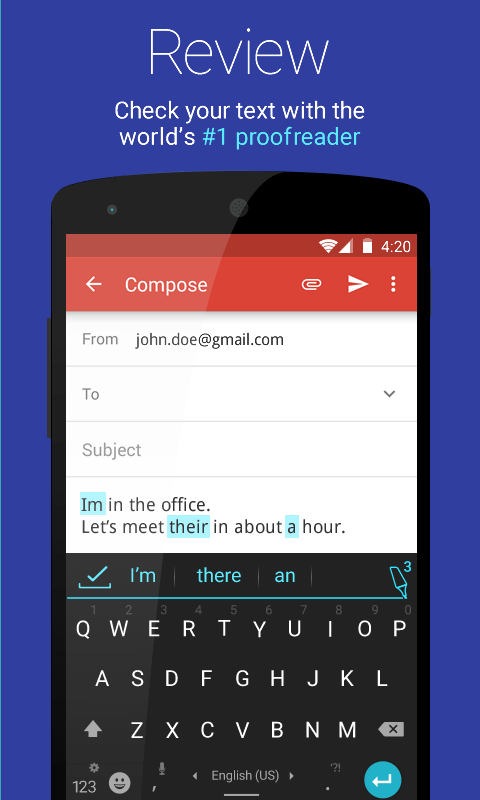 The last app in our list of recommended keyboard apps for Android is the Ginger keyboard. The app is the only keyboard app that comes with grammar, spelling and punctuation checking tools. Apart from that you have the usual options to add emoji, emoji art, stickers and animated GIFs and themes.
Predictive text, swipe texting, and a smart bar that lets you customize the keyboard with apps for note taking, creating events and such is available. Price: Free with IAP.