If you are looking for an app that can convert your thoughts into words, then you must download and try the the SwiftKey X (Beta) for Android, which almost does the job through its intelligent predictive technology. SwiftKey X is an Android keyboard app that promises to predict (depending on the context of the text) what you want to type  even before you type it. Its TouchType's Fluency™ prediction engine uses language processing technology and machine learning to display its predictions.
SwiftKey Keyboard Review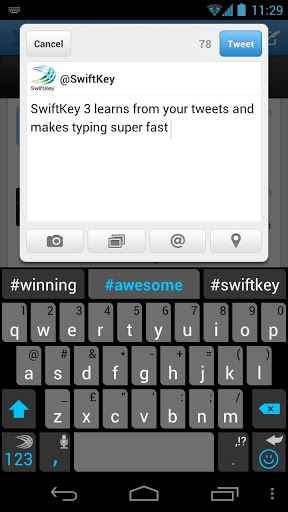 The developers blog states that  its tests have shown that roughly one third of next words are correctly predicted without any characters being entered and around 80% are predicted within typing a few letters.
SwiftKey predictions are further improved when you personalize the keyboard  to allow the app to learn how you use Facebook, Twitter, Gmail, and SMS functionality. You can even set themes for the keyboard, although there are just 2 available at the moment.
As with all Android apps, it's pretty easy to set up the keyboard. You just need to follow 5 steps to get started.
1. Enable SwiftKey X.
2. Choose a language.
3. Personalize your keyboard.
4. Choose a typing style.
5. Set a the default input.
SwiftKey X displays three prediction buttons and all you need to do is select the prediction instead of typing the text. The Centre button displays the most likely prediction and you can select the center word by pressing Space or by selecting the word itself.
SwiftKey supports over 14 languages, and its strength lies in its ability to observe the way we use words when we interact with other apps and use that learning to provide pretty accurate predictions. I have been able to compose long sentences just by typing in a few letters saving me much time.
The app is currently not available for tablets but there's one in the making for them.
SwiftKey X is currently free for beta users, so if you want to check out its awesome features, head over to the android app market and see the results yourselves. You just might never want to go back to the default one.
Have you used the SwiftKey X beta app? What do you think of its predictive features?