St. Patrick's day is around the corner, and if you are on the lookout for some cool e-cards or greeting cards to send to your friends and family, check out this list of websites to find cool St. Patricks day cards. You can send personalize and send them as e-cards, or have them posted to Facebook, or even have them printed at home and shared with your loved ones.
Websites to Find Cool St Patricks Day Cards
Has a cool collection of cards including animated cards for paying members. You can even send e-cards using your iPhone or iPad touch from their app.
2. CardCow.com
Get classic vintage cards featuring green, shamrocks, leprechauns, and all things classic Irish on this website.
3. JibJab.com
An absolutley delightful website where you can find fun and entertaining St. Patrick's day cards.
4. Hallmark
Hallmark has a small but nice collection of cards for the occasion and you might find something for your family and friends here as well.
This site always has a great collection of free e-cards for any occasion and St. Patrick's day is no exception.
The cards here are delightfully humorous and fun.
Features a crazy Irish dancing card, traditional funny and other types of cards for the occasion.
8. plaxo.com
Has a decent collection of cards with Irish blessings and one liners.
Has a special section celebrating St Patrick's day folklore and traditions and you can send your wishes via email or through Facebook.
Includes a collection of 17 St. Patrick day cards, that tell a funny story through a little bit of animated play  acting.
11. someecards.com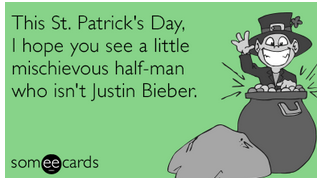 Someecards' St. Patricks day collection involves some witty one liners and humorous messages that might tickle your fancy.
12. Jacquie Lawson's
Jacquie Lawson's collection of St. Patrick's Day Cards includes musicals including Irish countryside blessings, festive dancing, and many more classics you'll love to send out to your friends.
13. Pinterest
You can also find cool handmade St. Patrick's day card collections on Pinterest.
14. Snapfish
Snapfish lets you send some cool customized photo cards featuring St. Patricks day icons.
15. GreetingsIsland
GreetingsIsland offers a nice collection of printable greeting cards and should you find yourself lucky, you might even be able to get one free.
16. Zazzle.com
Zazzle.com has a collection of over 60K St. Patrick's day cards to choose from and they are pretty as well as witty too!
Enjoy browsing through this neat collection of e-cards and have a Happy St. Patrick's Day.