Xiaomi Redmi Note 4 is all set for a Jan 23rd release in India adding excitement to buyers eyeing the budget segment. Buyers now have a little more choice when it comes to picking up a device. The Samsung Galaxy J7 and Lenovo K6 Note are just a couple of devices providing a stiff competition to the newly launched Note 4. We have put together a quick comparison of Xiaomi Redmi Note 4 vs Samsung Galaxy J7 2016 edition so you can get a bird's eye view of how the two devices square off against each other.
In case you haven't checked out the Redmi Note 4 Launch post, you should know that the Xiaomi Redmi Note 4 will be available in 3 variants. There will be a 32GB device with 2GB RAM (Rs.9,999) and 3GB RAM (Rs.10,999) and a 64GB device with 4GB RAM (Rs.12,999).
All Redmi Note 4 variants will be exclusively available on the official site Mi.com as well as Flipkart.
The Samsung Galaxy J7 was launched in March 2016 and is now available on Flipkart for Rs.14,900. This is a tad more expensive than the Note 4, which is Rs. 12,999 for the 64GB version.
It comes with a 5.5-inch touchscreen display of 720 pixels by 1080 pixels resolution while the Redmi Note 4 has a 5.5-inch full HD IPS display of 1920×1080 pixels resolution.
A 1.6GHz octa-core processor powers the Samsung Galaxy J7 while a 2GHz octa-core processor powers the Note 4. The high end variant comes with 4GB RAM while the Samsung only offers a 2GB variant.
Similarly, the internal storage capacity of the Samsung Galaxy J7 is only 16GB when compared to the 64GB of the Redmi. Both devices offer expandable microSD storage of up to 128GB. Similarly, both devices have a 13MP rear camera and 5MP front camera.
Both devices also run their own UI, the TouchWiz for Samsung and MIUI for Xiaomi, but the Redmi promises buyers the option to download the beta version of the UI running Android Nougat.
If you're looking for a device with a removable battery, you'll have to pick the Galaxy J7 as the Redmi Note 4 does not offer that option. With a 4100mAh battery, the Note 4 can last a whole day with intensive use. The Galaxy J7 on the other hand has a 3300 mAh battery, that is removable.
Xiaomi Redmi Note 4 Vs Samsung Galaxy J7
Here's a look at how the Xiaomi Redmi Note 4 scores against the Samsung Galaxy J7.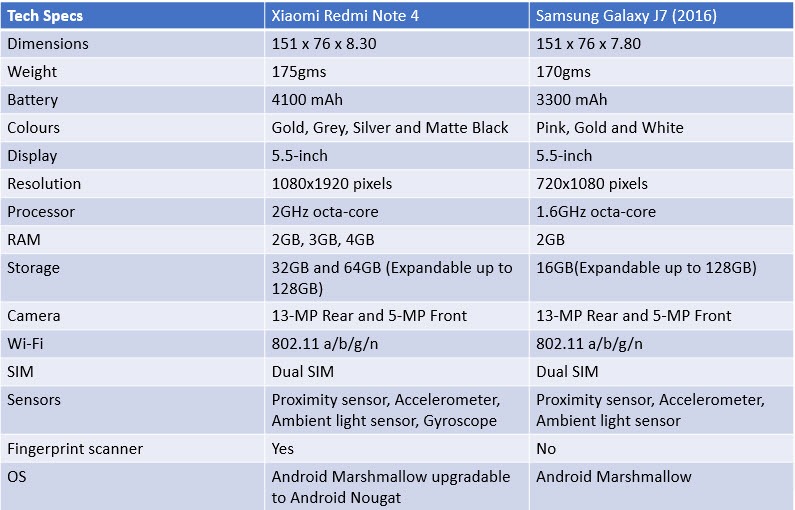 A look at the tech specs of the two devices give the Xiaomi Redmi Note 4 a decidedly better advantage when compared to the Samsung Galaxy J7. However, before making any purchase decision, consider reading up on user experiences on both devices or checking the product on the physical store, (where possible) before making your decision.