Your wedding is a special moment in your life. You can make your wedding memories last a lifetime by setting up a unique wedding website. Wedding websites are a big trend among newlyweds. These sites display all relevant information about your wedding and reflect a true celebration of your love. You just need to give a link to friends and family who want to see the wedding ceremony. Plus, you won't have to spend hours calling guests on the list and telling them the same info about the wedding! If you plan to create the perfect wedding website, here are 15 things to make it momentous!
Choose the easiest and fastest way to create wedding website!
15 Things to Have on Your Perfect Wedding Website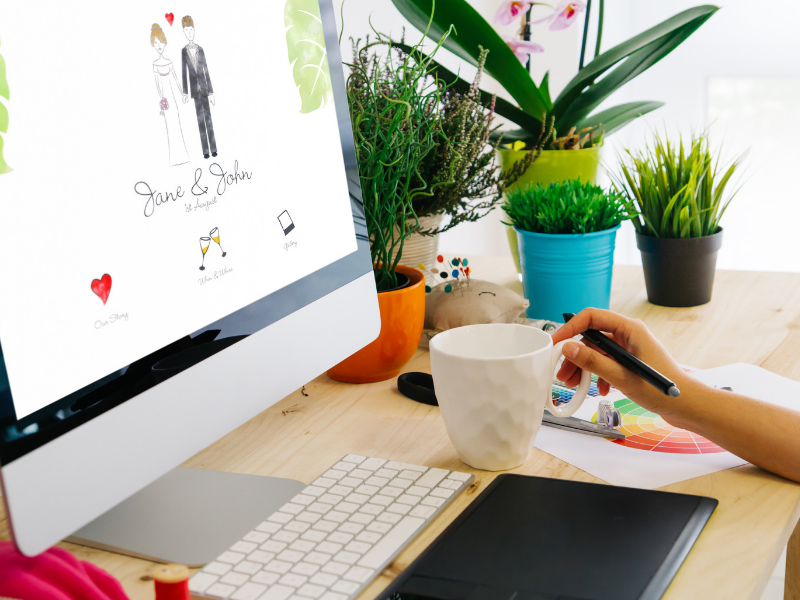 1. Style
Just like wedding invitations, your wedding website design should match the style of your wedding. Are you planning a wedding Boho style? Add more bright colors and vintage elements on your website. Are you having a wedding in a futuristic style? Add elements in metallic color to the website. Pay attention to the design of the buttons and sections and incorporate the appropriate style.
2. High-quality images
The more high-resolution images are there on your wedding website, the greater will be the impression on your guests!
As is known, the visual impact is one of the strongest. So, don't hesitate to hire a professional photographer who will create a high-quality visual wedding story.
3. Love story
Primarily, a wedding is not created for dressing in astounding outfits and throwing a bouquet into the crowd. It is created to congratulate two dearest people who have decided to put their hearts together. Forever!
Remind the guests about the main idea of ??the holiday. Post your unique love story on the website and tell everyone how it all began and what it eventually led to!
Everyone wants to know:
how you meet each other;
what was the first date like (be sure to include some awkward moments) ;
how you decided to get a dog;
who made the offer and how it happened;
lovely stories about things like how you went to your favorite eatery, etc.
Each couple have their own, unique story to tell with funny and touching moments. Guests will be glad to know them, and you will be happy to remember these moments!
4. Information about the wedding ceremony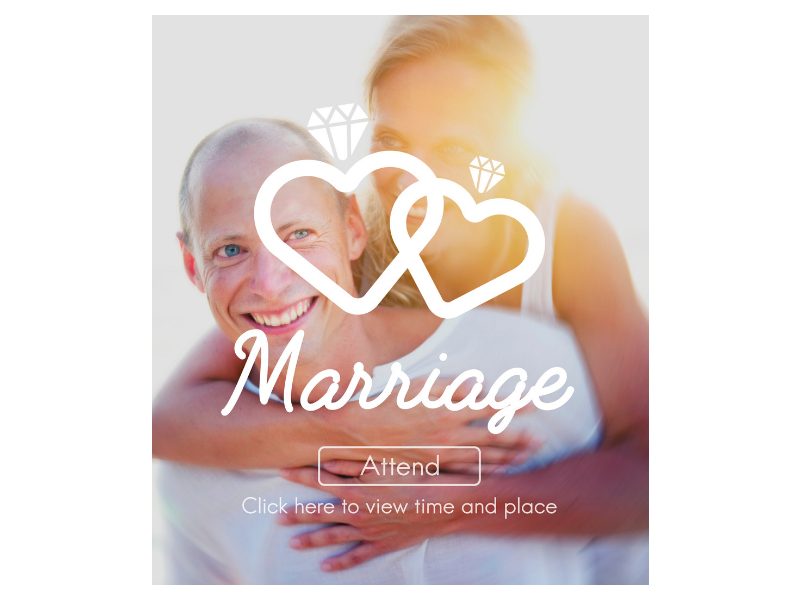 Place all the crucial info on the website to avoid answering unnecessary questions:
date and place of the celebration (if several locations are planned, add the time of arrival to each point);
a brief scenario of the wedding day (registration in the registry office, promenade, photo session, dinner in a restaurant, etc.);
dress code (if planned) or the main colors of your wedding, so that guests if they wish, can support the main theme;
wedding table plan for the main celebration dinner (this will help avoid confusion when entering the banquet hall).
5. Information about the guests
Some of your guests may not know each other, but they probably want to. Place some information about each guest with his photo/portrait to create a friendly and cozy atmosphere from the very beginning!
It is also a good idea to make polls on the website to find out the specific culinary musical tastes of some guests.
6. Wedding invitation and confirmation form
Paper postcards marked RSVP and return address is an old-fashioned and expensive!
Today, you can save money and paper by sending online invitations. You can immediately find out whether a person will attend the event or not.
Of course, if there are older people among those who are invited, it will be reasonable to make classic paper invitations for them.
7. Location map and contact details
All the guests should know how to get to the place, so put a map on the site and draw a route. Do not forget to check whether the mobile version works well.
8. Wishlist
It is a well-known fact that newlyweds need many things to start a comfortable life together.
And here is another well-known fact: it is better to tell the guests what things you really need than to pretend that you are happy to get those kitchen sets or towels.
Help your guests to hit the bull's eye – add a link to the wish list and let them choose from win-win options.
9. Wedding preparation diary
Of course, your friends and relatives are dying to see how things are going!
You can create a special blog on the site and upload shots from wedding salons, from hairstyle try on, from jewelry stores, as well as broadcast from wedding venues.
10. Countdown timer
Are you counting the days before your wedding? Let the guests also count the minutes until your wedding, looking at a special counter on your website!
11. Wedding schedule
Specify a detailed schedule of events on the wedding day on your website. Guests must have the possibility to plan when they will arrive at the ceremony, what transport to choose to get to the place on time and so on.
12. Tips for guests
Make a list of places your guests can visit during your photo shoot. Whether it is a nice coffee house, landmark or a beautiful panoramic view of the city – your guests will be grateful!
13. Photos/videos from the celebration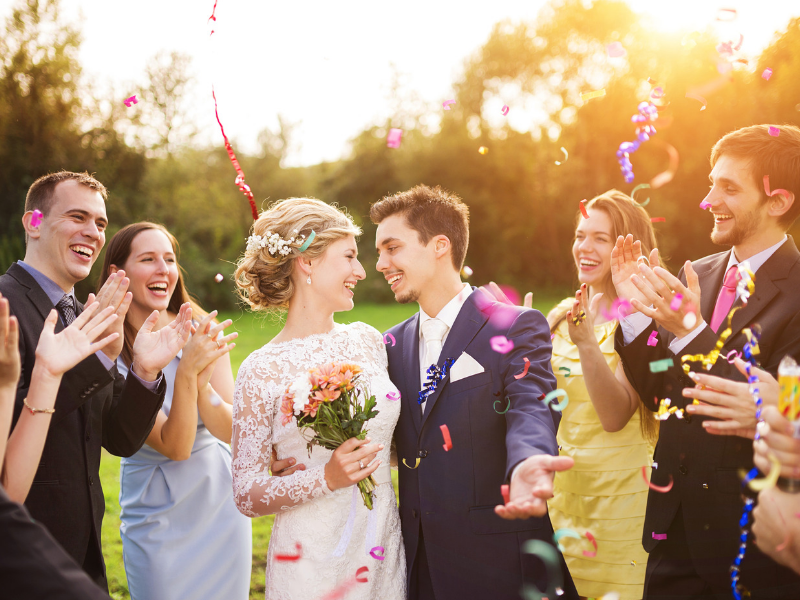 People won't lose interest in your wedding website even after the celebration – they will enjoy the numerous photos (and videos!), search for themselves and their friends on the photos.
This website section will do you another great favor: you won't have to send bunches of photos and videos to your guests – each of them will be able to visit your website at any time and download the pictures they like to have.
And you can use this gallery as a memorable wedding album, reviewing photos on your phone, tablet or computer whenever you want, showing them to your friends and relatives who were not lucky enough to visit the celebration.
14. The Wedding Report or the Wish Book
The wedding site may have other useful features. You can post tips on wedding preparation for other couples, or you can create a guest book, where all those present at the ceremony will be able to leave their congratulations, warmest comments and wishes.
15.Weather forecast
You can take everything into account, but alas, the weather will still be quite unpredictable, so add a weather forecast on your website and your guests will be ready for everything!