If you love reading books, you can't go without a good e-reader. Of course, nothing comes close to reading a book in print. Holding a physical book in your hand gives a joy like no other – the smell of books evokes our deepest emotions and connects us to its characters and story at a deeper and more intimate level than you can ever get out of an e-reader. But e-readers come with their own benefits. You can access hundreds of books anytime you want without going to a library. You can read any book of your choice from just about anywhere. And it is easy to carry it around in your backpack. If you are in the market for a good e-reader, we've rounded up the best ereaders in the market that you can consider buying in 2023. Check it out!
Best e Readers to Buy in 2023
Boox Nova Air C
Boox is known for their e-paper devices from tablets to e-readers. Their motto is to help people study and work productively without eyestrains. And if that's something that speaks to you, then consider their slim, stylish Nova Air C reader. This e-reader comes with a screen that delivers the highest Paper Similarity Index (PSI) meaning you get a screen that is more similar to color paper than any other color E Ink product. This tablet also lets you play audio text so you can enjoy more than one way of consuming content.
The Nova Air C is also great for note taking. A magnetic Boox Pen Plus makes it easy for you to take notes and even upload it to the cloud. Since this e-reader runs on Android, you can install your favorite apps such as the Kindle or even Spotify to enjoy a tune or two while you're reading. Boox Nova Air C is an expensive device but it is also feature rich and good to your eyes.
Main Specs : Boox Nova Air C
Screen: 7.8-inch E Ink Kaleido Plus color screen
Resolution: 1872 x 1404, 300 ppi
RAM: 3GB
Storage: 32GB
Connectivity: Wi-Fi; Bluetooth 5.0; USB Type-C
Front Light with CTM (Warm and Cold)
OS: Android 11
Battery: 2000mAh (Up to 4 weeks life)
Weight: 235g
Dimensions: 194 × 136.5 × 6.3 mm
The Nova Air C is available on Amazon for around $420.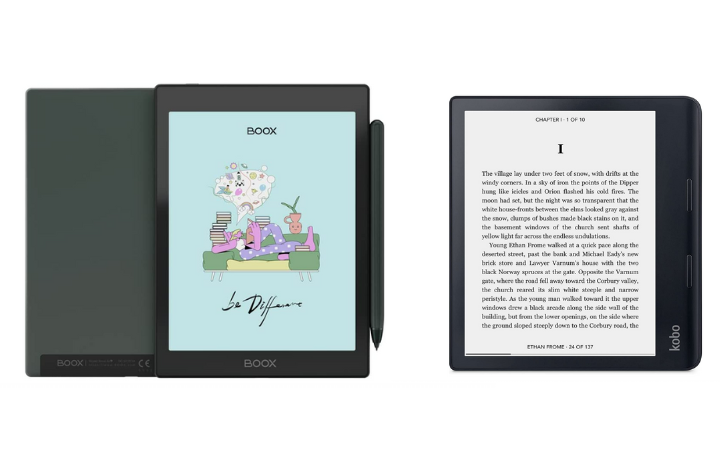 Kobo Sage
Kobo's Sage e-reader is a Rakuten product with some top rated features. It has a large 8-inch high definition E Ink Carta 1200 touchscreen that offers deep contrast and super-clear readability. The glare free HD display allows for brightness and blue light control while a Dark Mode helps reduce eyestrain.
This e-reader is ergonomically designed and is also fully waterproof, should you wish to read in the rain! There's Bluetooth support for audiobooks and stylus (sold separately) support for taking notes in your eBooks and PDFs. The notes feature also lets you keep all of your notes at hand and can convert your writing to clean text. The e-reader even offers Dropbox support so you can keep all of your own eBooks notes and documents in the cloud.
Finally, you get access to the Kobo store which has plenty of ebooks with its own proprietary format that makes it easy on the eye. You can even buy your ePubs elsewhere and maintain your own library in the Kobo Sage.
Main Specs : Kobo Sage
Screen: 8-inch E Ink Carta HD
Resolution: 1440 x 1920, 300ppi
Storage: 32GB
Connectivity: Wi-Fi; Bluetooth; USB-C
Front Light: ComfortLight PRO
Battery: 1200mAh
Weight: 240g
Dimensions: 160.5 x 181.4 x 7.6 mm
Buy the Kobo Sage on Amazon for $270.
Amazon Kindle Paperwhite Signature Edition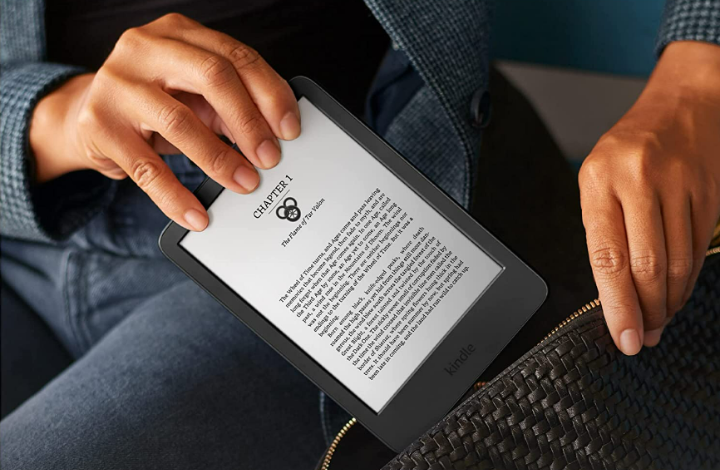 Amazon's Kindle readers are popular and are one of the best selling readers in the market for good reason. The Amazon Kindle device not only has a fantastic design but is also available at a great price point. You can choose the most basic Kindle reader and it is still great. Where Amazon really gets credit is its incredibly versatile e-book store that has books delivered on a proprietary format, perfect for us consumers to devour.
The Amazon Kindle Paperwhite Signature Edition is the latest and best in the Kindle family, spouting a few extra features over the base model (Kindle Paperwhite). There's extra storage (32GB), warm lighting, and wireless charging –like icing on a cake.
This e-reader is IPX8 rated to protect against accidental immersion in water (up to 2 meters in fresh water for up to 60 minutes, and up to 0.25 meters of seawater for up to 3 minutes.)
It is easy on the eyes thanks to its adaptive front light that automatically adjusts screen brightness based on your reading environment. You can get up to 10 weeks of battery life on a single charge and you can even pair your e-reader with an Audible subscription and Bluetooth headphones (speakers) to listen to your story.
Main Specs : Kindle Paperwhite
Screen: 6.8-inch E Ink Carta 1200
Resolution: 1236 x 1648, 300 ppi
Storage: 32 GB
Connectivity: Wi-Fi, Bluetooth, USB Type-C
Front Light: Auto-adjusting
Battery: 1700mAh
Weight: 208g
Dimensions: 6.9 x 4.9 x .32-inches
The Kindle Paperwhite Signature Edition is available on Amazon for a great price of $190.
Amazon Kindle
If you don't want an e-reader with a lot of dazzling features, but one that gives you access to tons of ebooks and is easy on the eye, while also being economical, try the all new Kindle at $100.
It may not be waterproof or have wireless charging, or even have note taking features. But if you want a easy-to-carry readers that offers distraction-free reading, this one's for you. Plus, don't forget, you do get Bluetooth support so you can listen to your Audible audiobooks without a worry.
Main Specs: Amazon Kindle
Screen: 6-inch E Ink Carta
Resolution: 300 ppi
Storage: 16 GB
Connectivity: Wi-Fi, Bluetooth
Front Light: Built-in light
Battery: Lasts up to 6 weeks on a single charge
Weight: 158g
Dimensions: 6.2 x 4.3 x 0.32-inches
The Amazon Kindle is available on Amazon for $100.
NOOK GlowLight 4e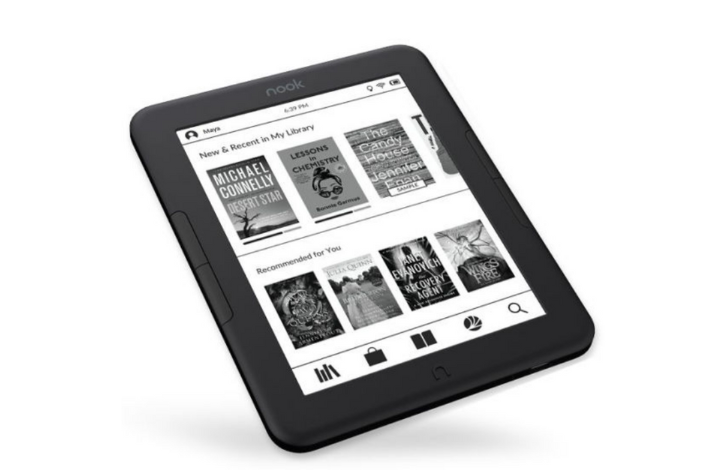 For anyone who has a good collection of ePub e-books or prefers ePubs to the proprietary formats used by Amazon or Rakuten, the Nook GlowLight 4e is a great option. Of course you also get get access to the Barnes & Noble e-book store and nothing is stopping you from getting a Kindle Store subscription either.
This Barnes & Noble's baby is competition to Amazon's base Kindle model. It comes with a scratch- and fingerprint-resistant screen that reads like paper, even in direct sunlight. NOOK's Ambient (Always-On) GlowLight technology lets you enjoy an evenly dispersed light that's easy on the eye.
Main Specs: Nook GlowLight 4e
Screen: 6-inch E Ink Carta HD
Resolution: 1024 × 758, 212-dpi
Storage: 8GB
Connectivity: Wi-Fi; USB-C
Front Light: Yes
Battery: 1400mAh
Weight: 170g
Dimensions: 6.2 x 4.8 x 0.2-inches
The NOOK GlowLight 4e is available on Barnes and Noble for $117.
Final Thoughts
So that's a roundup of the 5 best ereaders you can buy in 2023. You can never go wrong with the Amazon Kindle, it is lightweight, affordable and gives you access to thousands of ebooks. If you like your e-reader to run on Android and have access to the Google Play Store, the Nova Air C is awesome. For great ePub support, you have the Nook Glowlight and if you want a big reading screen and the ability to borrow library books on the cheap, the Sage is a good option. So whether you want a simple easy to use e-reader or one that you can enjoy reading in the rain, there's definitely one that will suit your needs. I hope this list will help you get started in your e-reading journey.