If you are an avid reader, you cannot ignore the brilliant e-reader from Amazon, the Kindle. This e-reader has gone through as many as 10 iterations and the latest one to arrive this year comes with plenty of new features (a lot of which is borrowed from the Paperwhite). If you are thinking about upgrading your existing Kindle or gifting one for your loved one this Christmas, check out what the new Kindle 2022 has to offer.  
Features of New Kindle 2022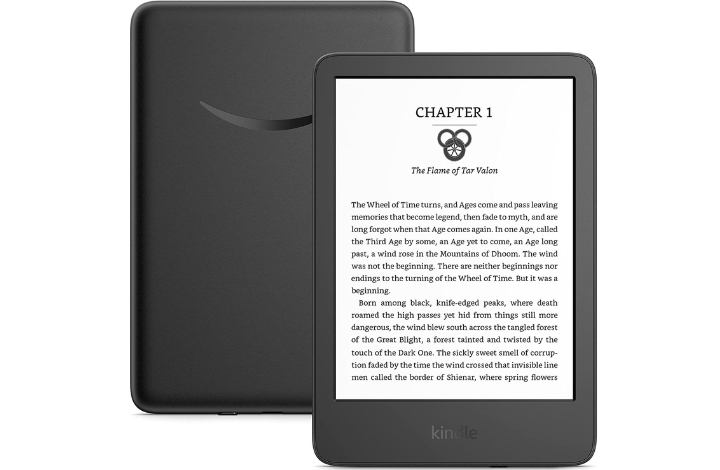 Upgraded 300 ppi Resolution
The new Kindle 2022 lets to enjoy a better reading experience thanks to the upgraded 300 ppi high-resolution. This ensures a glare-free display as well as sharper text and images that give off a real paper like feel. You can adjust the front-lit 6" display that has a built-in light, or use the dark mode to get a more comfortable reading experience, whether you are reading during the daytime or at night.
Extended Battery Life
A single charge on the new Kindle via USB-C can last up to 6 weeks depending on your usage. This lets you read longer before needing a recharge, which is really nice especially when you want to take it with you on your travels.
Kindle 2022 – Quick Specs
Display: 6" display with built-in light, 300 ppi
Size: 157.8 x 108.6 x 8.0 mm
Weight: 5.56 oz (158 g)
Storage: 16 GB (Free cloud storage for Amazon content)
Battery Life: Up to 6 weeks on a single charge
Charging Time: Approximately 4 hours from a computer via USB cable and approximately 2 hours with a 9W USB power adapter.
To get the most out of your Kindle, you can get yourself a Kindle Unlimited account. This gives you unlimited access to over 2 million titles, thousands of audiobooks, and more. There are plenty of additional benefits if you are a Prime member.
If you are gifting the Kindle for a young member in your family, you can subscribe to Amazon Kids+ (starting at $4.99/month), set up a Kids profile and get access to thousands of kid-friendly books.
And be sure to check out one of these gorgeous covers to keep the new Kindle secure.
The new Kindle 2022 will be available on Amazon on Oct 12th 2022 for $99. Check it out and tell us what you think!