The biggest mistake an Etsy seller can make is to focus solely on their products and not put enough effort on marketing. While having great products is a must, having a good marketing campaign to reach out to your target buyers is also important. One big advantage of online sellers, particularly Etsy sellers, is that there are now so many cost-effective marketing tactics that you can employ. If you're a new Etsy seller looking to revitalize your digital marketing efforts, this guide is for you. Here are 5 ways you can boost your ranking and sales on Etsy.
Tips to Boost Your Ranking and Sales on Etsy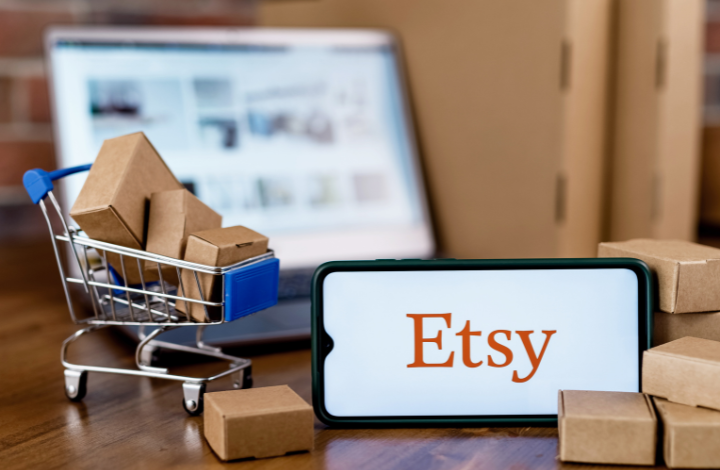 1. Optimize Your Store and Listings for Better Visibility
To optimize your listings for Etsy SEO, you need to do a basic SEO keyword research for your niche or category. The Google Keyword Planner is a free tool that you can use for keyword research. Once you have your keywords, you can then incorporate them into your shop name and listing. If you're still in the process of naming your store, you can get help brainstorming with Creative Fabrica's Etsy Shop Name Generator, a text generator which generates 20 shop name ideas at a time based on your keywords.
You should likewise use your keywords in your listings, starting with your listing title. You can craft attractive listing titles with Creative Fabrica's Listing Title Generator which helps you craft listing title ideas based on keywords you've input about your product listing.
2. Use High-Quality Photos to Attract Buyers
Even if your listing shows up high on search engines, no one will click it if your product photo is not up to snuff. Upload high-quality images of your product so you can attract more buyers to click on your listing. To decide on which types of photos to use on your listing, go on Pickfu, an online polling platform where you can get feedback directly from your demographic.
3. Encourage Positive Reviews to Build Trust
One of the best marketing tactics is generating positive word-of-mouth. However, you can't force customers to write positive reviews for you, even if they did give you a 5-star rating. There are a few ways you can encourage them to do so. One is to include a subtle request for it in your personalized thank you note. To further the encouragement, add in something nice, like an exclusive promo discount.
4. Offer Competitive Pricing and Shipping Options
Offering a more affordable option among competitors is a no-brainer. Sellers, however, are cautioned against lowering their prices too much at the risk of appearing low quality. Another way to stay competitive is to offer free shipping. Having the "Free Shipping" label on your listing is a great way to attract clicks, which could potentially convert into a sale. For US sellers offering a free shipping guarantee for orders $35 and above, there's an added perk, as the website offers priority search engine ranking for such listings.
5. Engage with Your Customers for Repeat Business
To boost your Etsy SEO rankings, you need to be active on other online platforms as well. The easiest is to have an active social media presence. To help you manage your social media content, there are tools like Outfy which allows you to create great content and automate your social media posts across all your chosen platforms like Instagram, TikTok, and Pinterest.
Don't just post ads, though. Engage with your customers by providing useful content, replying to comments, and interacting with your community. Another great way to engage with customers to encourage repeat business is building an email listing. Use tried-and-tested email newsletter tools like Mailchimp. Email marketing is a more direct way to engage with your customers. Make it worth their while by offering exclusive content and subscribers-only perks and discounts.
There are many ways you can boost your marketing efforts to help increase your sales on Etsy. Its effectiveness will depend on your target audience and execution, so be sure to give yourself time to test each method.