Etsy is a thriving global online marketplace with over 4.36 million sellers and nearly 90 million active buyers. With such a vast number of sellers, it can be challenging to stand out and get your products noticed. However, getting featured on Etsy can give your small business a significant boost and increase your chances of success. In this article, we bring you 10 useful tips to help you get featured on Etsy and maximize your exposure.
How to Get Featured on Etsy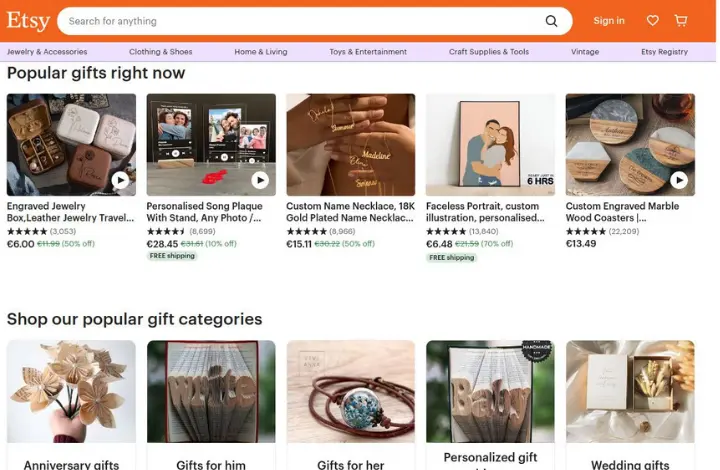 Optimize Your Shop
To increase your chances of getting featured on Etsy, you must optimize your shop for searchability. Etsy uses a special algorithm to connect relevant search words with the items it displays. By using the right keywords in your product descriptions, titles, and tags, you can help Etsy understand what your products are and when to show them in search results.
Start by conducting thorough keyword research related to your products. Identify the terms and phrases that potential buyers are likely to search for. Incorporate these keywords naturally into your product listings, ensuring that they accurately describe your items.
Also, make use of all available tags, and select words and phrases that are commonly searched for. This will improve your shop's visibility and increase the chances of being featured on Etsy.
Regularly updating your shop with new products and refreshing existing listings can also boost your visibility in search results. Etsy values active and dynamic shops and is more likely to feature those that consistently offer new and exciting products.
Offer Unique High Quality Products
One of the most important factors in getting featured on Etsy is to offer unique and high-quality products. Here are some ways to achieve this:
Handmade: Create handmade products that are unique and not easily found elsewhere. This can include personalized items, one-of-a-kind pieces, or items made with unusual materials.
Vintage: Offer vintage items that are in good condition and have a unique appeal. Vintage items can include clothing, accessories, home decor, and more.
Quality: Sell products of high quality and are make them with care. This can include using high-quality materials, paying attention to detail, and ensuring that your products are well-made and durable.
Uniqueness: Offer products that are unique and stand out from the competition. This can include offering products in unusual colors or patterns, or creating products that have a unique design or shape.
Customization: Offer customization options for your products, allowing customers to personalize their purchases. This can include adding names or initials, choosing colors or patterns, or selecting specific materials.
Create Captivating Product Photos
High-quality and visually appealing product photos are essential for catching the attention of potential buyers. This also increases your chances of being featured on Etsy. Invest time and effort into creating professional-looking images that showcase your products in the best light.
Consider using editorial-style photos that are highly stylized and visually striking. Think of something similar to what you would see in a magazine or on a style blog. These types of photos make a strong first impression and pique the interest of shoppers. Be sure to capture multiple angles and details of your products to provide a comprehensive view.
Avoid Clutter
When taking product photos, aim for clarity and focus. Use a bright and uncluttered environment with plenty of natural light to ensure your photos are crisp and well-defined. Avoid using watermarks, as they can be distracting and take away from the overall aesthetic. To fit your products into larger trends and lifestyle stories, consider using seasonal props and placing your products in context.
Remember, compelling product photos can significantly increase your chances of being featured on Etsy and attracting more buyers to your shop.
Develop a Strong Brand Identity
Creating a cohesive and recognizable brand identity is crucial for standing out on Etsy and increasing your chances of being featured. A well-developed brand helps build trust with potential buyers and sets you apart from the competition.
Start by carefully crafting your image presentation and product line. Pay attention to editorial qualities that other press outlets look for, such as good product photography, unique items, and beautiful visual branding. Your branding should extend beyond just your products to include your shop graphics, packaging, and About section.
Utilize tools like Canva or free logo makers to create a basic logo and brand colors that align with your overall aesthetic. Consistency in branding across all aspects of your shop will make a lasting impression on buyers and increase your chances of getting featured on Etsy.
Craft an Engaging Shop Story
Your shop story plays a crucial role in attracting the attention of potential buyers and increasing your chances of being featured on Etsy. A well-crafted About section can give shoppers insight into your brand's origin, creative process, and what sets you apart.
When writing your shop story, delve into specific real-life experiences and turning points that make your journey unique. Share stories of overcoming challenges, inventing new products, or the impact your business has had on your life. Make use of photos and videos to visually showcase your workspace, tools, and processes.
In addition to your About section, consider pitching your story using Etsy's Seller Handbook pitch form. This allows you to highlight what makes your shop and journey compelling and increases your chances of being featured in Etsy's marketing materials.
Provide Excellent Customer Service
Exceptional customer service is a key factor in getting featured on Etsy and building a loyal customer base. Etsy values shops that prioritize customer satisfaction and are responsive to inquiries, provide accurate product descriptions, and ship orders promptly.
Responding to messages and inquiries in a timely manner is crucial to maintaining good customer service. Be proactive in addressing any concerns or issues that arise, and strive to exceed customer expectations.
Consider offering personalized touches such as handwritten thank-you notes or custom packaging to enhance the overall shopping experience.
Positive customer reviews are also vital for getting featured on Etsy. Encourage satisfied customers to leave reviews and testimonials, as they serve as social proof and can attract more buyers to your shop.
Promote Your Shop through Social Media
Harnessing the power of social media is an effective way to promote your Etsy shop and increase your chances of being featured. Engage with potential customers through platforms like Instagram, Facebook, and TikTok, showcasing your products and sharing behind-the-scenes content.
Maintain an active presence on social media by regularly posting a variety of content. In addition to showcasing your product listings, consider sharing in-process videos, behind-the-scenes glimpses, and product grouping shots. Use relevant hashtags to increase your discoverability and make it easier for Etsy's social media team to find you.
Ensure that your social media accounts are linked to your Etsy shop. This makes it easy for potential buyers to navigate from your social media posts directly to your shop. By actively engaging with Etsy's social media accounts and interacting with their content, you increase your chances of catching the attention of the Etsy team and being featured.
Engage with the Etsy Community
Active participation in the Etsy community can enhance your chances of being featured on Etsy. Engage with fellow sellers in the Etsy forums, offer helpful advice, and share your experiences. By contributing positively to the community, you not only build relationships but also increase your visibility within the Etsy ecosystem.
Answering questions, providing insights, and sharing your expertise can help establish you as a knowledgeable and trustworthy seller. Etsy values sellers who actively contribute to the community and are seen as valuable resources for others.
Remember, Etsy is built on the idea of sellers coming together to meet shoppers' needs collectively. By actively engaging with the Etsy community, you increase your chances of being featured and becoming an integral part of the Etsy ecosystem.
Stay Compliant with Etsy Policies
Adhering to Etsy's policies is essential for maintaining a good standing on the platform and increasing your chances of being featured. Ensure that your products align with Etsy's guidelines, which include selling handmade, vintage, or craft supply items.
Fill out all the necessary shop fields accurately, including your About section, shop policies, and shipping policies. Etsy values transparency and wants to ensure that buyers have a clear understanding of your shop and what to expect.
Avoid selling products, designs, or intellectual property that do not belong to you. Etsy prohibits the reselling of items purchased from other platforms without significant modifications. By staying compliant with Etsy's policies, you demonstrate your commitment to ethical business practices and increase your chances of being featured.
Continuously Improve and Innovate
Lastly, continuously improving and innovating within your Etsy shop is essential for long-term success and increasing your chances of being featured. Stay up to date with the latest trends and customer preferences within your niche.
Regularly assess your product offerings and make adjustments to ensure they remain relevant and appealing to buyers. Consider expanding your product range to cater to a wider audience and tap into new markets.
Seek feedback from customers and actively listen to their suggestions and preferences. Use this feedback to refine your products, improve your customer service, and enhance the overall shopping experience.
By continuously evolving and innovating, you demonstrate your commitment to providing high-quality products and exceptional service. This increases your chances of being featured on Etsy as you stand out as a top-notch seller.
Conclusion
Getting featured on Etsy is a fantastic opportunity to boost your small business and increase your visibility. By following these top tips, you can significantly increase your chances of being featured on Etsy. Embrace these strategies, and watch your Etsy shop thrive!