The iTunes App Store has something for everyone. Students getting ready to get back to school can now check out this list of iPhone study tool apps that will help you get quickly settled down with your daily school activities. There's a few paid iPhone study tool apps thrown in the list as well.

ScatterBrain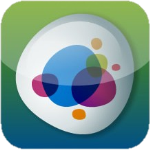 A simple yet fully functional notes app that lets you jot down your ideas, thoughts and lists, and plans for the day. It includes features such as online backup & restore, color groups, swipe to delete, email and SMS text sharing, copy and paste options, sorting and more.
Download ScatterBrain from the iTunes AppStore
Grades 2
This free app will guide you to getting that Grade A. It shows you the grades you need to get on upcoming assignments and tests in order to achieve your target grade, includes a calculator to compute your GPA and figure out what grades you need to get or maintain a certain GPA. It also includes support for due dates for upcoming assignments and more.
Download Grades 2 from the iTunes AppStore
Evernote
Evernote is a popular app that keeps track of everything you need to remember, whether you wish to add text, photo, or audio notes, even allowing you to synchronize data from your iPhone to your PC. You can mark notes as favorites for quicker attention and access and also include geo-location information for mapping and search.
Download Evernote from the iTunes AppStore
Wunderlist

Wunderlist is another free cloud syncing task manager that lets you share your lists with friends and colleagues. You can organize your to-do-lists while on the go and sync them with your Wunderlist account. You get instant reminders of tasks that fall due, sort your tasks into lists, use drag and drop functionality to rearrange tasks, set deadlines, star important tasks and more.
Download Wunderlist from the iTunes AppStore
Articles
Articles is a Wikipedia reader for your iPhone. Articles optimizes your Wikipedia reading experience with a beautifully designed interface, it lets you save articles to read later, bookmark  interesting places and historic events near your current location, find locations on the map, save images to your phone, and more, all for $2.99
Download Articles from the iTunes AppStore
Clockonizer: Visual Task Manager
Clockonizer is an awesome app that displays your boring to-do lists via an intuitive clock interface. Instead of viewing an endless list of tasks, you can draw events on the clock's dial, flip the clock to get a day to night view, attach contacts to events, set repeat events  and reminders, move notes and to-do lists to the clock, share days with planned events via email and more for $2.99.
Download Clockonizer: Visual Task Manager from the iTunes AppStore
Do you have an app that you can add to this list. Share your thoughts with us using the comments form.
 Want us to review your iPhone app? Send us your details using the Submit for Review page.