As an avid online shopper, I always look forward to the biggest shopping event of the year – Amazon Prime Day. This exclusive event, organized by the world's largest online retailer, offers incredible deals and discounts on a wide range of products. In this article, I bring you a sneak peek into Amazon Prime Day 2023 and share some tips on how to make the most of this exciting shopping extravaganza.
History of Amazon Prime Day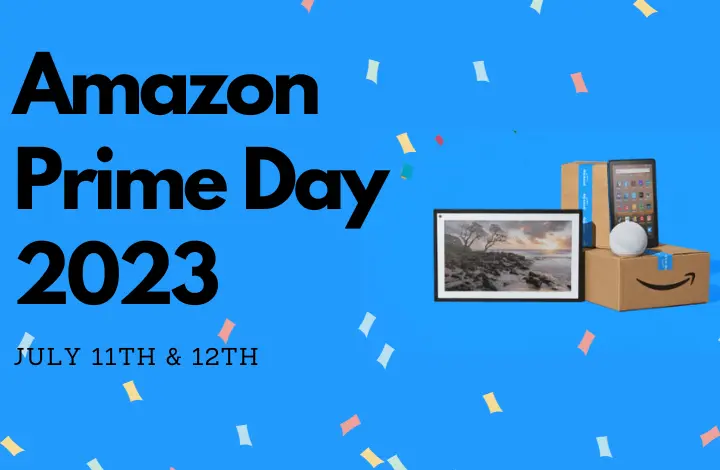 Amazon Prime Day was first introduced in 2015 as a way to celebrate the 20th anniversary of Amazon. Since then, it has evolved into a highly anticipated annual event for millions of online shoppers around the world. The event initially lasted for 24 hours, but due to its immense popularity, it has been extended to 48 hours in recent years.
The concept behind Amazon Prime Day is to reward Amazon Prime members with exclusive deals and discounts. Prime members, who pay an annual subscription fee can enjoy a ton of shopping benefits.
Convenient Delivery Options
Same-Day, One-Day, and Two-Day Delivery on millions of items.
Groceries
Exclusive Prime member discounts and free shipping on orders of $150 at Amazon Fresh stores.
Amazon Day
Shop throughout the week and receive your orders on a single day.
Popular Movies and TV shows
Watch new releases, award-winning Amazon Originals and more on your favorite devices.
Music and Podcasts
Get the largest catalog of ad-free top podcasts and shuffle play any artist, album, or playlist on Amazon Music.
Prime Gaming
If you are a game buff, you can enjoy free games, exclusive in-game content, and a free Twitch channel subscription every month.
Rx Savings
Save on prescriptions at 60,000 pharmacies, including Walgreens, CVS, and Amazon Pharmacy.
Prime Reading
If you love reading books, you can enjoy hundreds of new books, magazines, and comics each month. You also get 1 free pre-release ebook every month from editors' picks.
Amazon Prime Day is just another way for Amazon to thank its loyal customers and provide them with unbeatable offers.
Not a Prime member? Click here to join now.
What to Expect from Amazon Prime Day 2023
Amazon Prime Day 2023 is expected to be bigger and better than ever before. With each passing year, Amazon has been stepping up its game to offer more exciting deals and discounts. In 2023, you can expect to see jaw-dropping discounts on popular electronics, home appliances, fashion, beauty products, and much more.
One of the highlights of Amazon Prime Day 2023 will be the launch of new products and exclusive collaborations. Amazon often partners with well-known brands to release limited edition items and special editions of popular products. These exclusive releases are highly sought after and tend to sell out quickly, so make sure to keep an eye out for them during the event.
Get Amazon Prime Benefits Right Away
But the best news is that if you join Amazon Prime now, you can get early access to deals on products from brands like Ruggable and quip, along with deep discounts on select Amazon devices like Fire TV and Ring.
Best Early Prime Day Deals for 2023
School and College Gear
If you are a parent, student, or teacher, you can get low prices on tons of products in the Back to School Offer page.
Save with Amazon Fresh
From June 21 through July 10, Prime members who spend $50 or more at Amazon Fresh stores can get 20% off their in-store purchases.
Prime Visa Benefits
From June 29 through July 26, Prime members can get a $200 Amazon Gift Card instantly upon approval for Prime Visa. Cardmembers also earn 5% back year-round at Amazon.com, Amazon Fresh, and Whole Foods Market with an eligible Prime membership. Plus, with daily rewards, earnings can now be redeemed at Amazon.com or Chase as soon as the next day.
Prime member exclusive: Give a $50 eGift Card, get $5 credit for Prime Day
From July 3-10, if you buy an eGift Card $50 or more, you get a $5 credit.
Exclusive Prime Video and Amazon Music deals
If you are a movie buff, you can enjoy early savings on Prime Video with a selection of titles to rent or buy at up to 50% off. Prime members can also subscribe to select channels for 99 cents per month for up to two months. If you sign up for two months of AMC+ and Paramount+ you can enjoy a savings of 50%. And for a limited time, members can save with an Amazon Music Unlimited and MGM+ bundle for 99 cents per month for three months. See the early deals here.
Big Savings on Amazon Devices
From today, you can get big discounts on select Amazon products. For instance, you can save upto:
55% on select Alexa-enabled devices, including the Echo Show 5 (3rd Gen) and the all-new Echo Pop;
63% off select kids devices, including Echo Glow and the all-new Echo Show 5 (3rd Gen) Kids;
66% off select Ring bundles;
56% on select eero mesh Wi-Fi systems;
60% on a Blink Outdoor (3rd Gen); and
43% off select Hisense smart TVs with Fire TV built in.
Amazon Photos $15 credit
Now through 11:59 p.m. PDT on July 7, Prime members will receive a $15 credit when they download the Amazon Photos app and upload their first photo. (on amazon.com)
Saving on IMDbPro
Enjoy a 30-day free trial and save 60% on an annual membership to IMDbPro, with a Prime membership account. This deal will be available from June 28 to July 12.
Get Kindle Unlimited free for 3 months
If you sign up for Kindle Unlimited as a new Prime member, you can enjoy 3 months of unlimited reading for free.
These are just some of the benefits you get with signing up for Amazon Prime right away. Plus, you can enjoy plenty more great offers and discounts on July 11th and 12th Amazon Prime Day 2023.
How to Prepare for Amazon Prime Day
To make the most of Amazon Prime Day 2023, it's important to be well-prepared. Here are a few tips to help you get ready for the shopping extravaganza:
Sign up for Amazon Prime: If you're not already a member, sign up for Amazon Prime well in advance of the event. This will ensure that you have access to all the exclusive deals and discounts.
Create a wishlist: Browse through the Amazon website and create a wishlist of the items you're interested in purchasing. This will help you stay organized and focused during the event.
Set a budget: With so many amazing deals available, it's easy to get carried away and overspend. Set a budget for yourself and stick to it to avoid any post-Prime Day regrets.
Tips for Finding the Best Deals on Amazon Prime Day
Amazon Prime Day is known for its incredible deals, but it can be overwhelming to navigate through the vast selection of products. Here are some tips to help you find the best deals:
Use the "Watch this Deal" feature: Amazon allows you to track specific deals that you're interested in. By clicking on the "Watch this Deal" button, you'll receive a notification when the deal goes live, ensuring that you don't miss out on any great offers.
Follow social media accounts: Many brands and influencers share exclusive discount codes and deals on their social media platforms. Follow your favorite brands and influencers on social media to stay updated on the latest offers.
Compare prices: Before making a purchase, compare prices across different websites to ensure that you're getting the best deal. There are also price tracking websites that can help you track price fluctuations and identify the best time to buy.
Prime Day Exclusive Offers and Discounts
During Amazon Prime Day 2023, you can expect to find exclusive offers and discounts across various categories. Here are some of the deals you can look forward to:
Electronics: Amazon Prime Day is known for its unbeatable discounts on electronics. Whether you're in the market for a new smartphone, laptop, or television, you're likely to find some incredible deals during the event.
Home Appliances: If you've been wanting to upgrade your kitchen or laundry appliances, Amazon Prime Day is the perfect time to do so. Look out for discounts on refrigerators, washing machines, air purifiers, and more.
Fashion and Beauty: Get ready to refresh your wardrobe and beauty routine with amazing deals on fashion and beauty products. From clothing and accessories to skincare and makeup, you'll find a wide range of options to choose from.
Prime Day Shopping Strategies
To make the most of Amazon Prime Day 2023, it's important to have a solid shopping strategy. Here are a few strategies to consider:
Start early: Many deals sell out quickly, so it's best to start shopping as soon as the event goes live. Keep an eye on the "Upcoming Deals" section to get a head start on the best offers.
Use Alexa for voice shopping: If you own an Alexa-enabled device, take advantage of voice shopping to quickly find and purchase your desired items. Alexa can provide you with exclusive deals and even help you track your packages.
Check for lightning deals: Lightning deals are time-sensitive offers that are available for a limited period of time or until the stock runs out. Keep an eye on these deals as they can offer some of the best discounts during Amazon Prime Day.
Prime Day Deals on Popular Categories
Amazon Prime Day offers deals on a wide range of categories, catering to various interests and needs. Here are some popular categories to watch out for:
Tech and Gadgets: From smartphones and laptops to smart home devices and gaming consoles, tech enthusiasts can expect to find incredible deals on their favorite gadgets.
Home and Kitchen: Whether you're looking to upgrade your home decor or stock up on kitchen essentials, Amazon Prime Day offers great discounts on home and kitchen products.
Toys and Games: Parents can take advantage of Amazon Prime Day to save on toys and games for their little ones. From educational toys to the latest video games, there's something for every age group.
How to Make the Most of Amazon Prime Day 2023
To maximize your savings and enjoy a seamless shopping experience during Amazon Prime Day 2023, here are a few additional tips:
Stay updated: Keep an eye on the official Amazon Prime Day page for updates and announcements leading up to the event. You can also sign up for email notifications to stay informed about the latest deals.
Check for early access deals: Amazon often offers early access to certain deals for Prime members. Take advantage of these early access deals to get a head start on your shopping.
Leave reviews: After making a purchase during Amazon Prime Day, make sure to leave reviews for the products you've bought. Your feedback helps other shoppers make informed decisions and also gives you a chance to earn rewards.
Final Thoughts
Amazon Prime Day is undoubtedly the biggest shopping event of the year. We'll bring you information on all the incredible deals and discounts you like, so be sure to let us know what's on your wishlist.
We hope you find our tips and strategies helpful so you can make the most of Amazon Prime Day 2023 and score some amazing bargains. So mark your calendars, sign up for Amazon Prime, and get ready for an unforgettable shopping experience.
Happy shopping!