When it comes to clean living, having handy tech tools really helps. Dreametech, a leading brand in the home cleaning industry, is making waves with its innovative range of technologically advanced cleaning solutions. With the aim of revolutionizing the way we clean our homes, Dreametech offers a wide selection of robot cleaners and upright vacuum cleaners that combine power, intelligence, and ease of use. If you're looking for a hands-free cleaning experience Dreametech has the perfect solution for you. And the best part – you can pick up their best products at limited-time discounts on during Prime Day. Sign up for a Prime membership if you haven't already, and take advantage of these great offers on the cutting-edge cleaning devices.
Robo Cleaners Power: Suction is Key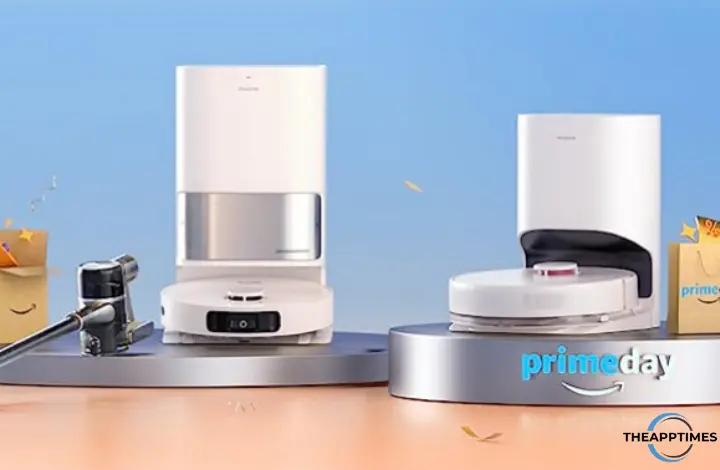 When it comes to choosing a robot cleaner, power is a crucial factor to consider. Many robocleaners on the market fall short in terms of suction power, failing to match the cleaning performance of traditional manual vacuum cleaners. However, Dreametech's range of robot cleaners is designed to deliver exceptional suction power, ensuring a thorough and efficient cleaning experience.
The DreameBot L10s Ultra, one of Dreametech's flagship models, boasts an impressive suction power of 5,300pa. This powerful machine can handle not only light dust but also hair, dirt, and other debris found in larger and busier family homes. With its exceptional suction capabilities, the DreameBot L10s Ultra is truly a game-changer in the world of robot cleaners. This model is already 47% down from its list price of $1000. And don't forget to claim your $80 coupon code at the time of checkout.
For those with a smaller home but still facing the challenge of pet hair, the D10 Plus is an excellent choice. With a suction power of 4,000pa, this model is specifically designed to tackle pet hair on carpeted areas. Say goodbye to unsightly pet hair and hello to a cleaner and fresher home. There's an $80 coupon code you can claim at checkout as well.
Intelligent Cleaning: AI-Powered Navigation and Voice Commands
Dreametech's robot cleaners not only offer impressive suction power but also feature advanced intelligence to enhance the cleaning experience. With AI-powered navigation, these devices can efficiently map your home and plan cleaning routes, ensuring that no corner goes uncleaned.
For instance, the DreameBot L10s Ultra takes intelligence to the next level by allowing you to control the cleaning process with simple voice commands. Start, pause, or stop cleaning by just using your voice. Additionally, this model provides a live video feed, allowing you to monitor the cleaning progress and even keep an eye on your home while you're away.
Ease of Use: Auto-Emptying and Self-Cleaning
Cleaning can be a tedious and time-consuming task, but Dreametech's robot cleaners aim to make it as hassle-free as possible. With features like auto-emptying and self-cleaning, these devices take care of the dirty work for you.
Again, the DreameBot L10s Ultra comes with an auto-emptying feature and a generous 3-liter bin, allowing you to set it and forget it for up to 60 days. No more frequent emptying or dealing with dirty cleaning pads. The mop is also self-cleaning and self-drying, ensuring a hygienic and efficient cleaning process.
Similarly, the D10 Plus also features an auto-emptying function, making cleaning a breeze. With a 2.5-liter dust bag, you only need to empty it about eight times a year, even with regular use. The sealing technology traps odors and prevents fine dust from floating into the air, ensuring a fresh and clean environment.
The Perfect Companion: The H12 Pro Wet and Dry Vacuum
While robot cleaners offer convenience and efficiency, there are times when a manual upright vacuum cleaner proves to be useful, especially for hard-to-clean spots in bathrooms and kitchens. Dreametech's H12 Pro Wet and Dry Vacuum is a versatile cleaning tool that combines the power of a traditional upright vacuum cleaner with the convenience of a robot cleaner.
The H12 Pro is far from the clunky upright models of the past. With its ability to collect dust and mop, it provides true edge-to-edge cleaning. The high-speed brushless motor wipes floors at an impressive rate of 520 times per minute, ensuring maximum scrubbing performance. The dual-rotation action further enhances the cleaning effectiveness.
One of the standout features of the H12 Pro is its adaptive power function. It adjusts the suction power based on the cleaning conditions, maximizing efficiency while minimizing noise and energy consumption. The 900-liter water tank allows for uninterrupted cleaning, and the serrated scraper ensures a clean brush throughout the cleaning process. After use, the brush automatically dries itself in just 30 minutes, preventing odor and mildew.
Dreametech Offers: Unbeatable Prices for Prime Day
Dreametech's advanced cleaning solutions are now available at unbeatable prices during Prime Day. Don't miss out on the opportunity to upgrade your cleaning routine with the latest technology at the best discounts ever. Let's take a closer look at the offers:
Conclusion
Dreametech is revolutionizing the way we clean our homes with its range of technologically advanced cleaning solutions. From powerful and intelligent robot cleaners to versatile upright vacuum cleaners, Dreametech offers a comprehensive lineup of devices that cater to all cleaning needs.
With features like suction power, AI-powered navigation, voice commands, auto-emptying, and self-cleaning, these devices make cleaning easier and more efficient than ever before. Don't miss out on the incredible discounts available during Prime Day. Save time and effort by automating the tedious task of cleaning, give yourself more freedom to focus on other important aspects of your life. Happy shopping!
Readers like you help support TheAppTimes. When you make a purchase using links on our site, we may earn an affiliate commission.