The LinkedIn Mobile team has made the highly popular LinkedIn services accessible on the go with a more user friendly mobile interface. The new user experience is not only available on the iPhone and Android devices, but also provides a new HTML5 experience for use in any mobile web browser. To access LinkedIn on the go with the iPhone and Android apps, first download them on your devices and then enjoy the new LinkedIn experience.
Check out this promo video for a hands on look at the mobile app.
Access LinkedIn on the Go with New LinkedIn Mobile Features
1. The application has been redesigned to make the user experience faster and quicker.
2. Tasks have been organized into credible groups such as Updates, which gives access to a users network updates and top stories from LinkedIn Today;  Inbox, which holds invites and messages; You, which gives access to a users profile and connections; and Groups & More which lets users connect with groups and build their network.
3. The Update stream is the center piece of the app, which gives direct access to the latest happenings in a users network.
4. Both the iPhone and Android apps provide access to the various LinkedIn groups a user belongs to and allows a user to browse discussions, start new discussions or comment on existing discussions.
5.Visit touch.linkedin.com on your iPhone or Android devices to experience a new mobile user experience.
LinkedIn Android App
Download the LinkedIn Android App from the Android Market.
Screenshots from the LinkedIn Android App
LinkedIn's mobile website still doesn't work quite as well as the native apps, and may be dependent on the devices used. While it worked great on my Android smartphone, I couldn't access the various sections such as Inbox and groups from the Mobile browser.
LinkedIn iPhone App
Download the LinkedIn iPhone app from the iTunes store.
Screenshot of LinkedIn iPhone App from the App Store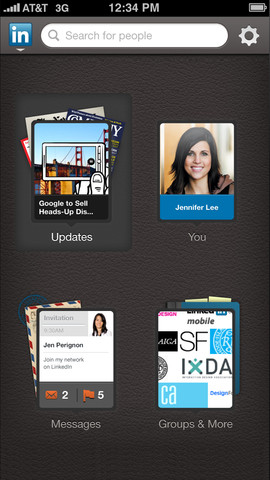 Have you downloaded the LinkedIn Android and iPhone app? What do you think of the improvements and new features? Let us know in the Comments section.
Want us to review your Android or iPhone app? Send us your details using the Submit for Review page.