The ingenuity of smartphones lies in its capability of providing access to your files when you need them no matter where you are; in a pub, at the airport, or in Hawaii where you're holidaying; at an affordable price. There aren't many apps that make life easy for you when you're on the go. For instance, you own the best smartphone there is on the planet, the iPhone (for now at least) but try accessing your music or video files on your PC, and you'll know that it's not worth the trouble. Uploading and syncing files is time consuming and expensive. Wouldn't it be cool if there was an iPhone app to stream videos in any format on your iPhone through WiFi, and view them even if you didn't have an internet connection?
Digiarty Software, Inc, a leading multimedia software provider has recently launched an app Air Playit which lets you do that and more, making transfer of media files to your mobile device a breeze. Air Playit is fantastic for a number of reasons but functionality, and cost-effectiveness are two that appeal the most.
Awesome Features of Air Playit
Air Playit is superior to other apps simply in terms of the features it has to offer such as top-notch video quality and streaming functionality, and the ability to access media files stored in your PC over WiFi, brilliantly fast. Here's are some more features that you'll love on this app.
Supports Multiple Video and Audio Formats
Supports streaming of almost any type of video including 1080P/1080i HD video formats such as MKV, M2TS, AVCHD, TP, MPEG-TS, AVC and MOD apart from the regular video formats such as MPEG1/2, WMV, ASF, AVI, MOV, RM/RMBV, FLV, MP4, H.264, M4V, WTV, WebM.
Live Streaming and Offline Access
Streams videos over local WiFi, remote WiFi, 3G, 4G, and remote server (by specifying IP address) and provides access to your video library and iTunes playlist anywhere via internet. No need to upload and sync files anymore. Air Playit automatically caches music files when it is played for the first time, so you can listen to your favorite music offline, when you're on the go. Downloaded files are stored in the Download Library inside Air Playit, making it possible for you to watch videos offline.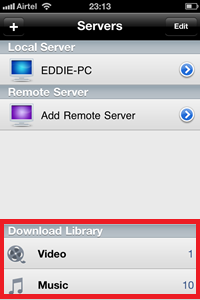 Offline Conversion
It serves as a remote video converter software as it allows instantaneous video conversion and streaming so you can watch MKV, AVI, WMV videos without having to do any manual conversion.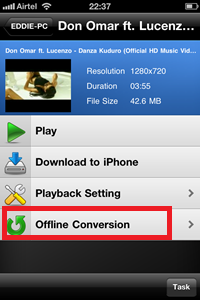 Access Using a Web Browser
You can access your playlist via a web browser with a built-in HTTP server.
Permissions to Protect Your Folders
Air Playit allows you to set permissions to view folders. Permission levels include Admin, Kids and Public.
Other Noteworthy Features
Allows you to resume broken downloads at the point where it was left off.
Allows adjusting the quality and resolution of videos depending on the network connection being used to get the best video quality.
Bookmarks videos to resume viewing later. If you close the app you can resume watching the video from where you left off.
Allows you to remotely switch off your PC from your iPhone.
Supports multiple languages including English, Chinese, French, Japanese, and Spanish.
Supports Apple TV-Out allowing you to stream your media files to TV.
How to Install and Set Up Air Playit on Your Windows PC
1. Download Air Playit. You can choose the Windows or Mac version.
2. Run the Air Playit server setup EXE file and follow the instructions on the wizard to set it up.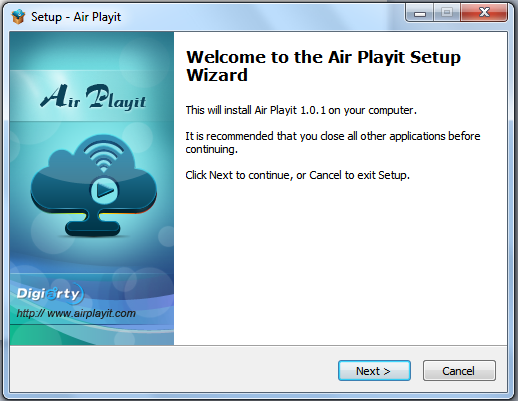 3. Fill up the registration form with your name and email address.
4. The Air Playit interface displays a series of tabs. The Information tab displays the port and IP address among other details. Note down the IP address displayed just below the port number and the port number as it may sometimes be required to specify the server address when you access it from the mobile app.
5. The Permission tab allows you to set permissions for the Admin, Kids, and Public groups. Each group comes with a default password which you can modify by clicking the Change PIN code button.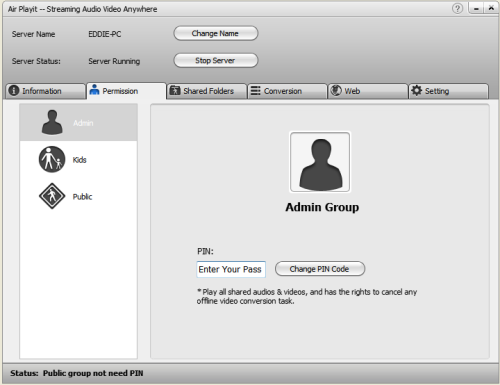 6. The Shared Folders tab lets you add and manage folders and set permissions for each folder. You can also import files from your iTunes Playlist and apply the required permissions.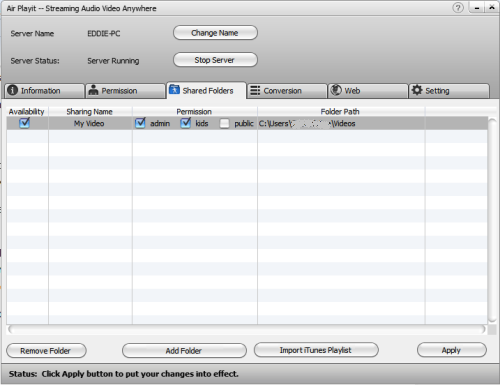 7. The Conversion tab lets you add and manage the offline conversion task . Click Add Video Conversion Task to start the conversion.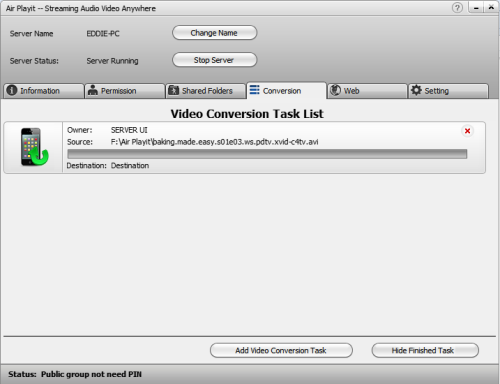 8. The Web tab allows you to access your media playlists using a web browser. You can activate this function by checking the The Server can be accessed by web browser check box. You will then receive a URL, which you can use to access your server from a web browser.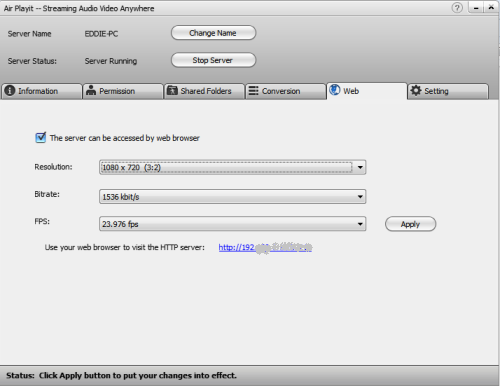 9. The Setting tab has a few options including auto check updates, set login at start, use a custom port, and change the output folder to store for the converted files.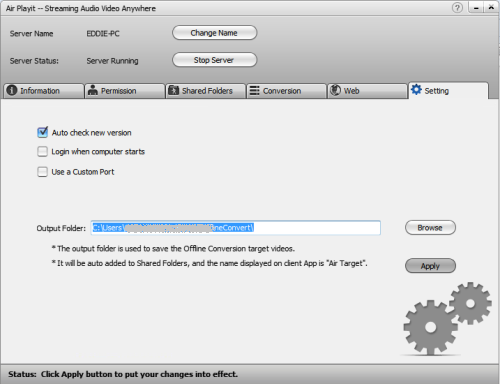 Setting up the Air Playit server on your PC is pretty easy and takes about 10 minutes. The next step involves connecting the iPhone app to the server. This task is pretty simple if you're using WiFi on your iPhone. There have been some difficulties in connecting over 3G/4G for some users, but you can check out the forum and guides available online if you run into any trouble.
How to Use Air Playit, Free iPhone App To Stream Videos And Music in Any Format on Your iPhone
1. Download the Air Playit iPhone app on your iPhone.
2. Tap the Air Playit app on your Home screen.
3. Click OK to dismiss the message box that pops up. On the Servers screen, click Add Local Server, or Add Remote Server.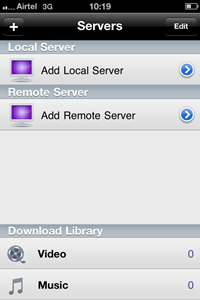 4. On the Select Server screen, tap Specify Address Manually.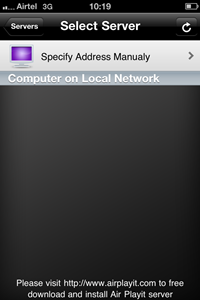 5. On the Configure screen, enter the IP address, pin, and network connection type and then tap Join at the top of the screen.
6. Your iPhone will automatically identify your local server connection.Tap the local computer network (in this case EDDIE_PC) to select the server.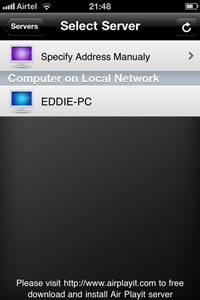 7. Click the Server name to access all media files stored on your PC. They will be automatically displayed. Just tap the desired folders to view and select the files you want to play.
There are many settings you can customize for each video you play depending on your network connection such as switching the network connection between WiFi/3G/4G or change the video resolution, bitrate, audio, subtitle and more. Video formats that are not supported will get converted automatically as you play them. there's no time delay, no break in video, or any hindrance that affects your viewing performance. Here are a few screen shots taken from my iPhone 4.
You can speed up the playback or convert the video from PC/Mac to your mobile device by clicking Offline Conversion. You can also download videos to watch offline by clicking the Download to iPhone option.
If you've got a good WiFi connection, you will have no trouble getting setup. Once your setup is complete, you'll be delighted to see all your heavy media files on your iPhone in a jiffy. The video playing experience is simply awesome, and there are no complaints about the music streaming service either.
While I've focused this post mainly on the iPhone, you might be happy to know that Air Playit is compatible on the iPad and the iPod Touch as well. Android and Windows fans will have to wait for a while as the respective apps are still in the making.
There was just one thing I wasn't very convinced with and that was setting permissions. Even though you set different permissions on the PC, anyone with access to your iPhone will still be able to view all your files as you have admin right on the device. But that may not be a concern if you have properly secured your iPhone.
One aspect that could have been made better on Air Playit is the ability to play my music files in the background so that I could carry on with my other tasks, but then the iPhone hasn't really been much of a multi-tasker. I just can't wait to get my hands on the Android app though, as I'm more of an Android and less of an iPhone fan!
Conclusion
Air Playit is certainly one of the better apps that are out there in the market, and the developers have done an awesome job in making streaming and watching media on the iPhone, iPad, and iPod touch enjoyable. And packed with loads of powerful features and functions, it is an application that's well worth downloading for the price of $0.00.
So if you love listening to music, or watching videos on the go, Air Playit is a definite must-have, even if the app eventually becomes a paid app.
You can also check out other interesting products from Digiarty Software Inc. including their popular DVD Backup Software WinX DVD Ripper Platinum which is an all-in-one DVD ripper software capable of ripping both DVD disc and DVD ISO image to mainstream video formats in 5 minutes!
Have you guys downloaded and tried Air Playit?
Let us know what you think of it. And share this post with your friends on your social network. The buttons are just down below!