Apple's AirPods are so tiny, there's always a good chance you will lose them. Thankfully, third party Apple accessories makers are coming up with handy ways to make sure that doesn't happen. Apple does have a Find My AirPods feature that lets you locate lost earbuds by playing a loud sound from the speaker, but that's not very helpful if you misplace the AirPods in their charging case. Twelve South's AirSnap is the solution.
Airsnap Leather Case For Airpods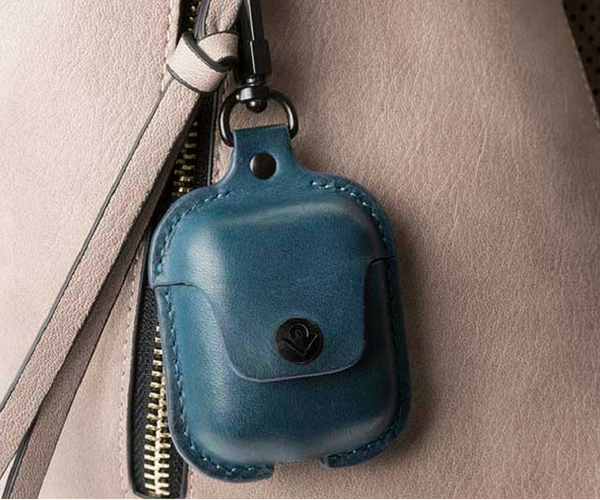 This carrying case is a $29 leather pouch that protects the AirPods and Charging Case from getting lost, from picking up scratches or getting dirty while on your desk, bag or purse.
All you need to do is place the AirPods with its charging case inside AirSnap and fasten the secure metal snap. Your ear buds will be safe and sound.
Charging Convenience
AirSnap also makes it convenient for you to recharge the AirPods. A handy cutout at the bottom always remains open giving you quick access to the Lightning port. This means you can recharge the AirPods conveniently without ever taking them out of the chic case.
Swivel Clip
The top of AirSnap has a metal snap to keep the case closed, adding another layer of protection to the delicate AirPods charger. Plus, there's a swivel clip that lets you attach the case to a backpack or bag. The swivel feature ensures that the AirPods don't twist and snap off when you're out and about.
Twelve South's accessories are some of the stylish in the market and the AirSnap is no exception. This case is made with top quality full grain leather – the same leather that is used in accessories like the RelaxedLeather iPhone case.
AirSnap is available in three leather finishes: Black, Deep Teal, and Cognac. A black clip and a black snap pairs each color. You can order it on Amazon or the official website for $29.99.
What do you think of AirSnap? Would you consider buying this AirPod's accessory from Twelve South or do you prefer cheaper options?
Let us know in the comments.