Are you a hard core gamer looking for the best in technology to enhance your gaming experience? Then you may appreciate the Alienware Wireless Gaming Headset that has just launched worldwide. This is a lightweight headset designed for the most hardcore audiophile gamer who wants to experience clear natural and spatial sound and crystal-clear communication.
5 Reasons to Buy the Alienware Wireless Gaming Headset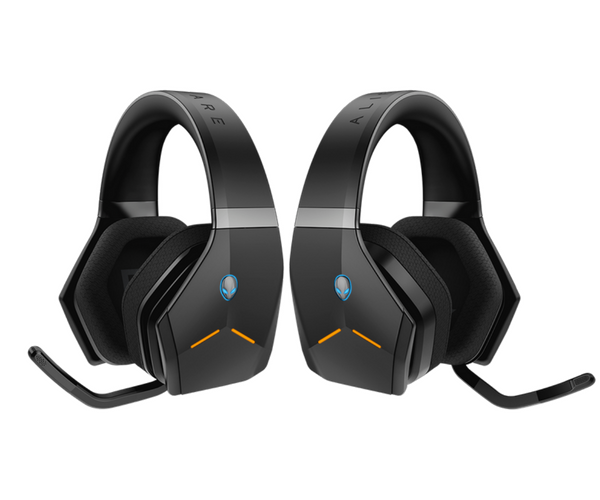 Well Designed
The Alienware Wireless Gaming Headset is beautifully designed with ultra-premium materials giving it a stylish look. It is strong and lightweight, with a well-made headband and comfortable ear cushions providing maximum comfort during long gaming hours.
Sophisticated Sound
Another good reason to consider the Alienware headset is that it can deliver clear, professional in-game acoustics thanks to its 7.1 Virtual Surround Sound. This should help in situations where you need to be aware of the enemy approach. The headset, with its hi-fidelity 40mm neodymium drivers brings out the deep, rich bass soundscape perfect for the best gaming experience.
Iconic Lighting Elements
If you are a fan of Alienware, you will appreciate the iconic design elements on the headset. That includes animated two zone 16.8M RGB LED lighting and AlienFX light settings that can be customized to reflect your style. There are various effects, colors, brightness and custom animations on over 150 supported games. Plus, you can create and download unique themes.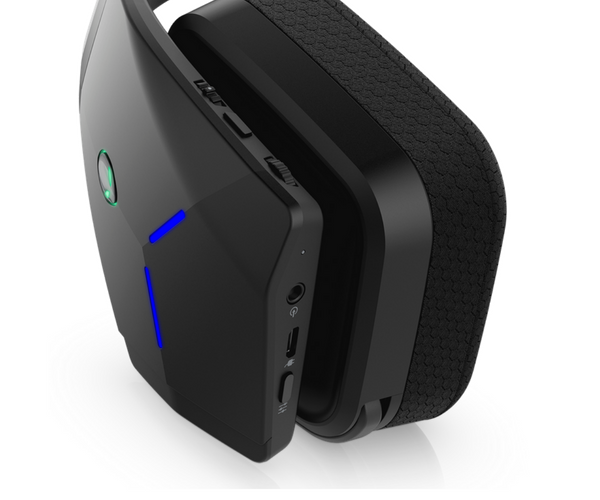 Noise Cancelling Microphone
Multiplayer gameplay requires that you communicate with your team mates clearly. The noise cancelling microphone on the headset delivers your commands and instructions with crystal-clear clarity. The microphone swivels out, triggering the headset to inform you that the mic is turned on. When stowed away, the headset informs you that the mic has been turned off. This makes strategizing your moves above all that environmental noise effortless.
Wireless Gameplay up to 14 Hours
This headset is a lag-free 2.4Gz wireless with a 40-foot range. Its 1200mAh battery offers up to 14 hours of wireless gameplay per charge. Should you want to go wireless, you can plug the device into the 3.5mm audio port or pair it with your smartphone and enjoy other pursuits.
Tech Specs
Product Type : Headset – 2.4 GHz – wireless, wired – 3.5 mm jack
Ear Pads: Light weight sports mesh cushion with moisture wicking fabric
Recommended Use : Computer
Additional Functions : 16.8M RGB LED Lighting (Two Zones)
Headphones Form Factor : Full size
Headset Center: 3D Surround Sound, Audio Effects, Microphone Effects, Audio Recon/ Sound Tracker
Connectivity Technology: Wireless, wired
Wireless Technology: 2.4 GHz radio frequency
Radio Frequency Range: 2.4GHz
Battery: PowerLi-Ion, 1200mAh
Sound Output Mode: Stereo
Audio Specifications: Frequency Response 20 – 20000 Hz
Impedance: 16 Ohm
Microphone: Boom, Uni-directional, Swivel
Microphone Active Noise Canceling: Yes
Controls: Power on/off, Game/Chat Master Volume Up/Down, Balance control, Mic Mute, Equalizer Preset
Manufacturer Warranty: 2 years
Also Read: Logitech G Pro Headset Delivers Great Features to Keep Pro Gamers on Top Of Their Game
Pricing
The Alienware Wireless Headset is priced at $229 and will be available worldwide from the 11th of June. Do you think the Alienware Wireless Gaming Headset would make a cool addition to your gaming accessories kit?