Looking for a pair of good earbuds that doesn't blow a hole in your pocket? You've got plenty of great options to chose from. We particularly think that the Amazon Echo Bud and the Samsung Galaxy Bud make for a great choice. They are truly wireless earbuds with many great features that make them a worthy purchase. Let's take a closer look at what you can get out of the Amazon Echo Buds and Samsung Galaxy Buds.
The Amazon Echo Buds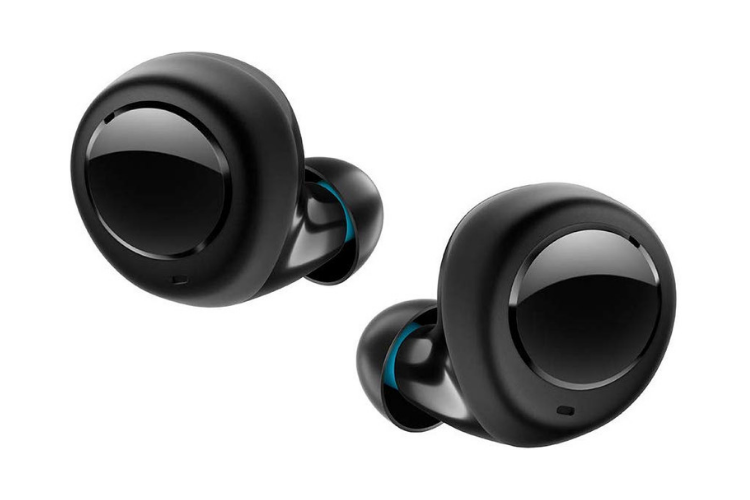 Amazon's Echo Buds are great devices to own if you live in the Amazon eco system or spend a lot of time interacting with smart assistants like Alexa or Siri.
Comfortable
The buds are built for comfort, with 3 sizes of wing tips and ear tips to ensure a secure fit for your ears. Echo Buds are sweat-resistant and snug to wear, delivering an immersive listening experience.
Premium Audio
The ear buds sport premium speaker drivers that deliver crisp, dynamic audio. The buds come with Bose Active Noise Reduction technology and the sealed in-ear design ensures that background noise is reduced to a minimum. Or, you can double tap the buds to use the Passthrough Mode to hear what is happening around you without taking out the buds.
Alexa, Siri or Google Assistant
For Alexa lovers, there's plenty to be happy about. You can use Amazon's assistant to play podcasts or Audible audiobooks, make calls, or get directions. You can also use the Alexa app to stream Amazon Music, Apple Music, Spotify, Pandora, and Sirius XM. Alexa is also getting more and more skills that you can take advantage of.
Just put your phone in your pocket and tell Alexa to set a reminder, check your calendar, make a call, or get directions. If you prefer using other assistants like Siri or Google Assistant, just press and hold your earbud to connect to them.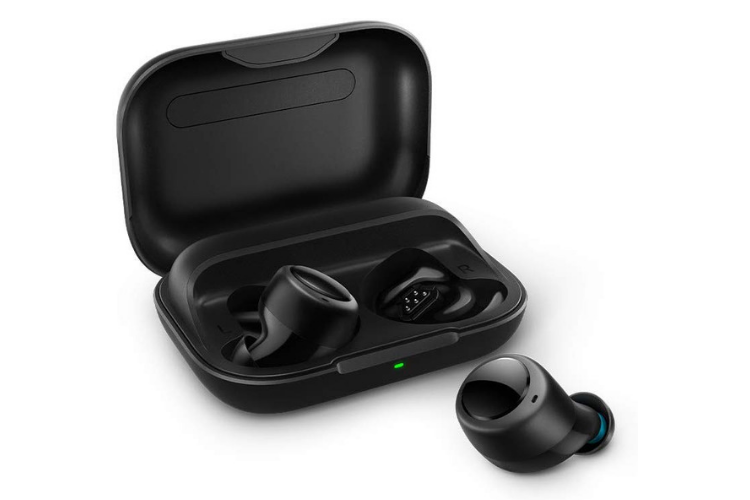 Battery
When it comes to the battery, the Amazon Echo Buds promises up to 5 hours of music playback per charge, up to 2 hours with a 15-min quick charge, and up to 20 hours with the charging case.
Privacy
The Echo Bud is built with multiple layers of privacy protection. For example, you can mute the mics, have more control over your voice recordings and view, hear, or delete them at any time.
Tech Specs
Dimensions: Earbud: 22 x 23 x 24 mm; Case: 57 x 77 x 29 mm
Weight: Earbud: 7.6 g; Case: 70 g 
Bluetooth: Bluetooth 5.0
Speakers: Knowles dual balanced armature drivers
Microphones: 2 external beamforming microphones + 1 internal microphone
IPX rating (water resistance): IPX4 (earbuds only)
Sensors: Accelerometer, proximity, touch
Battery: Up to 20 hours music playback time with 3 full additional charges; up to 16 hours call time with 3 full additional charges. Single charge: Up to 5 hours music playback time; up to 4 hours call time. 15-minute quick charge: Up to 2 hours music playback time with 15-minute quick charge.
Privacy: Wake word technology, streaming indicator, mute button in the Alexa app, the ability to view and delete your voice recordings, and more.
The Amazon Echo Buds costs $129.99 and ships on Oct, 30th 2019.
Samsung Galaxy Buds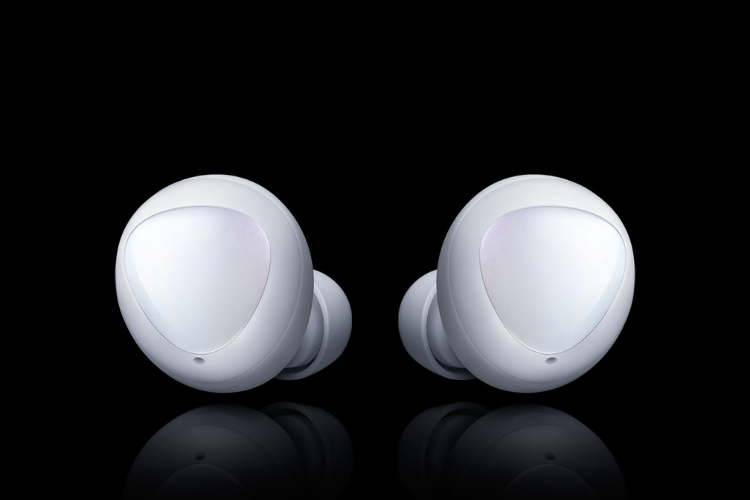 Samsung Galaxy Buds are great to own if you own a Galaxy device because they work right out of the box, connecting your Galaxy devices in an instant via Bluetooth.
Design
Samsung Galaxy Buds have an innovative design that is ergonomically friendly. It is compact and made lightweight materials for a snug fit for all types of activity. The buds come with 3 adjustable ear tip and wingtip sizes. They also come with splash-resistant technology, easily handling splashes, sweat and spills.
Premium Audio
The premium sound of the ear buds is tuned by AKG, an optimized driver that offers substantial bass, while a volume driver delivers a wider range of sound. The earbuds don't have active noise cancellation, but an Ambient mode lets you control how much surrounding noise you want to be aware of.
Battery Power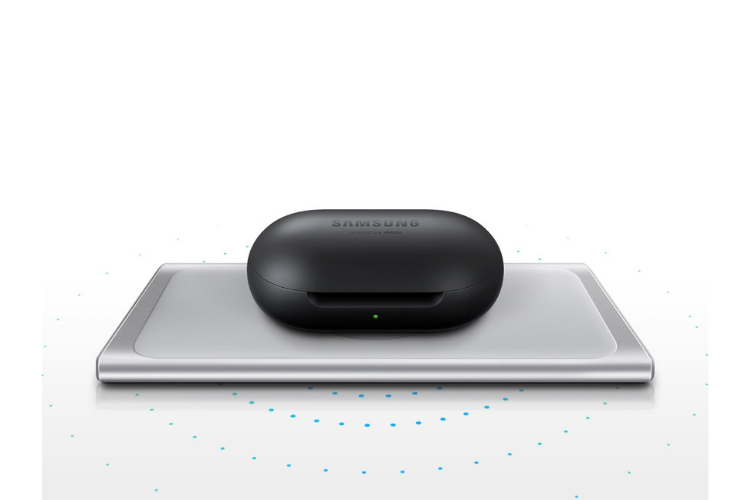 The charge on the Galaxy Bud is a little disappointing. You get up to 6 hours of battery life on a single charge with an additional 7 hours from the case that doubles as a wireless charger.
Connectivity
The Galaxy Buds pairs with Android and iOS compatible devices via Bluetooth. You can use it with a smartphone or tablet running Android 5. 0 or higher and RAM 1. 5GB above. The auto sync and ambient aware mode is available only on Android; iOS users can use voice command/Siri.
Tech Specs
Connectivity: Bluetooth v5.0
Color: White, Black, Yellow
Compatibility: Android 5.0 up; 1.5GB up
Sensors: Accelerometer, Hall Sensor, Proximity Sensor
Dimensions: Earbud: 19.2 x 17.5 x 22.5 mm; Case: 26.5 x 70 x 38.8 mm
Weight: Earbud 6 g; Case 40 g
Battery: 58 mAh; Single charge: up to 6 hours; plus 7 hours in the case
Microphones: 2
Ambient Sound: Yes
Which to Buy? Amazon Echo Buds or Samsung Galaxy Buds
So which ear buds should you buy?
Both the Echo Buds and Galaxy Buds are designed for comfort, with different ear tip sizes to ensure a secure comfortable fit.
Both buds also have the auto-pause/play feature that comes into effect when you remove the earbud and put it back in your ears. And, they both come with a compact charging case.
As far as battery life goes, the Galaxy Buds last up to 6 hours on a single charge own while the Echo Buds will stay for as long as 5 hours. But with the charging case, the Echo Buds gives you up to 15 extra hours of listening time while the Galaxy Buds only gives you 7 extra hours.
When it comes to charging the buds, the Galaxy Buds has an advantage in that it offers USB-C for wired charging and is wireless charging capable. The Echo Buds on the other hand uses the outdated Micro-USB connector and does not support wireless charging.
Final Thoughts
If you are into the Amazon eco system, the Echo buds would be the better choice. If you're a Galaxy device owner, you may be partial to the Samsung Galaxy buds. While both devices are quite evenly matched in various aspects, the fact is that the Echo Buds offer much better additional battery life than the Galaxy Buds. And they have Active Noise Cancellation included. This gives the buds a truly wireless experience that might tilt your buying decision in its favor.
Check out the Amazon Echo Buds on Amazon ($129.99)
Check out the Samsung Galaxy Buds on Amazon ($129.99)