Dropbox pioneered it while others are trying to match up to it.  Recently SkyDrive offered its cloud drive desktop app; now its Amazon's turn. The retail giant recently rolled out the Amazon Cloud Drive Desktop App to meet the fierce competition in the cloud service space . If you have signed up for Amazon's Cloud service, then the desktop app is simply a must have.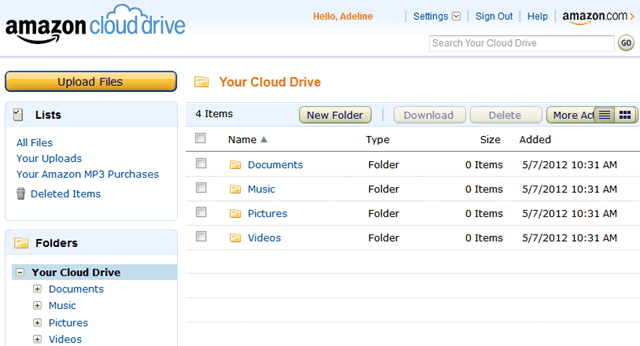 What You Can do With Amazon Cloud Drive Desktop App
The desktop app works similarly to the Dropbox app. Once you download and install the desktop app, you can upload your photos, documents, videos and other files using drag and drop functionality, use the right-click context menu option to move files and folders to Amazon Cloud Drive, enjoy the advantage of having uploads and downloads run in the background while you perform other tasks on your computer, pause and resume downloads any time.
You can also see your Amazon MP3 purchases listed in a separate folder in your cloud account, and songs purchased from Amazon MP3 will not count toward your storage limit.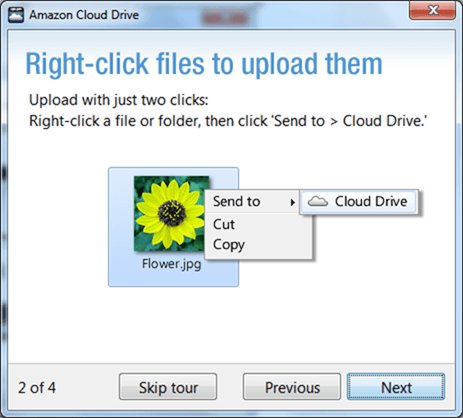 Unlike Dropbox and SkyDrive, you will not get to see a folder created on your desktop. Rather, the Amazon cloud icon is added to the notification area. To upload files, documents, photos and other stuff, you will need to drag and drop the items on to the cloud icon. The file will then be uploaded to the Uploads folder on the Amazon Cloud Drive. The uploads will run in the background and you will receive a notification when the process is complete.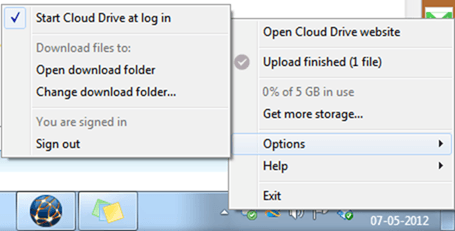 Amazon's cloud service offers 5GB of free storage with options to purchase additional storage at $1 per additional GB, per year.
Although Amazon Cloud Drive does not offer collaborative or sharing features in its cloud service yet, it is definitely an option that's worth checking out.
Download the Amazon Cloud Drive Desktop App and take advantage of one more cloud drive storage option to save all your data.