If you spend a lot of time staring into your desktop monitor screen, chances are you'll end up with a neck strain. This AmazonBasics Wall Mount Monitor Stand is designed with ergonomic principles in mind so you can work comfortably at your desk always. Plus, you can free up space on your desk as well. Here's more on the highly useful in-house accessory from Amazon.
Why Buy the AmazonBasics Wall Mount Monitor Stand
Declutters the desk. freeing up space.
Has an ergonomic design reducing neck and shoulder strain.
Highly flexible so can be moved up, sideways, or down.
Ideal for users working long hours in front of the desktop
AmazonBasics Wall Mount Monitor Stand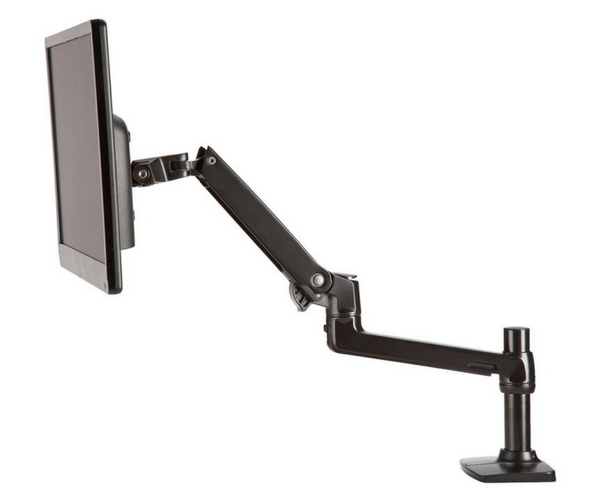 The AmazonBasics Wall Mount Monitor Stand has a single arm with the right flexibility you need for adjusting your monitor. Once you connect your monitor to the stand, you can raise the monitor off and away from your desktop, instantly clearing up clutter and freeing up space. You can adjust the mounting arm to your own comfort level to you can view the monitor without straining your shoulder, neck, or eyes.
You can choose a convenient height, extend the display or retract it, tilt it to display in landscape or portrait mode. The monitor can extend outwards up to 25 inches and stretch to a height range of about 13 inches. And all of this movement requires very little work, just a light touch – up, down, forward, or back. When the monitor is not in use, you can simply push it out of the way.
SetUp
The AmazonBasics mounting arm attaches easily to the edge of a desk or table. When you are not using it, you can fold the arm back over the base to put it out of the way. The stand also includes a neat cable-management system to keep all the monitor cables hidden and tucked away, neatly under the arm.
The stand works with almost any LCD monitor that is 32 inches or smaller. It can hold monitors up to 25 lbs.
A single AmazonBasics monitor stand costs $99.99. Visit Amazon.com to check out what customers are saying and if it will suit your needs.