A good Macbook stand can optimize space, reduce desk clutter and give your office space an aesthetic look. Plus, it can be a more ergonomic way to work, reducing eye stress and neck strain. If you are on the lookout for a good stand, we have complied a selection of the best ergonomic MacBook Stands money can buy. Take a look!
Best Macbook Stands
Rain Design mStand
AmazonBasics Ventilated Adjustable Laptop Stand
Steklo X-Stand for MacBook
Griffin Elevator Desktop Stand
Twelve South BookArc
Grovemade Walnut Laptop Stand
AboveTEK Stunning Aluminum Laptop Stand,
Rain Design Mstand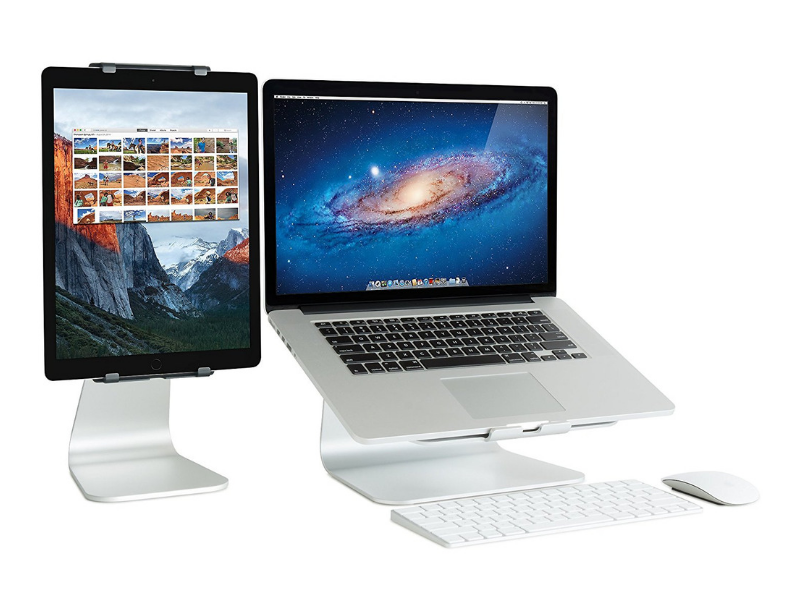 The mStand is a solid, single piece aluminum stand that raises your Macbook or Macbook Pro to eye level, about 5.9 inches above the desk. It has a slight forward tilt that brings the screen closer for better viewing. The aluminum panel also acts a a heat sink to keep the laptop cool when in use.
The stand also has a cable outlet at the back to route the wires and keep it neatly organized. The mStand's sand-blasted and silver anodized finish matches the Macbook and adds a nice aesthetic to the desk. The stand has a 4.8 star rating from over 3300 customers and that speaks for itself.
Amazonbasics Ventilated Adjustable Laptop Stand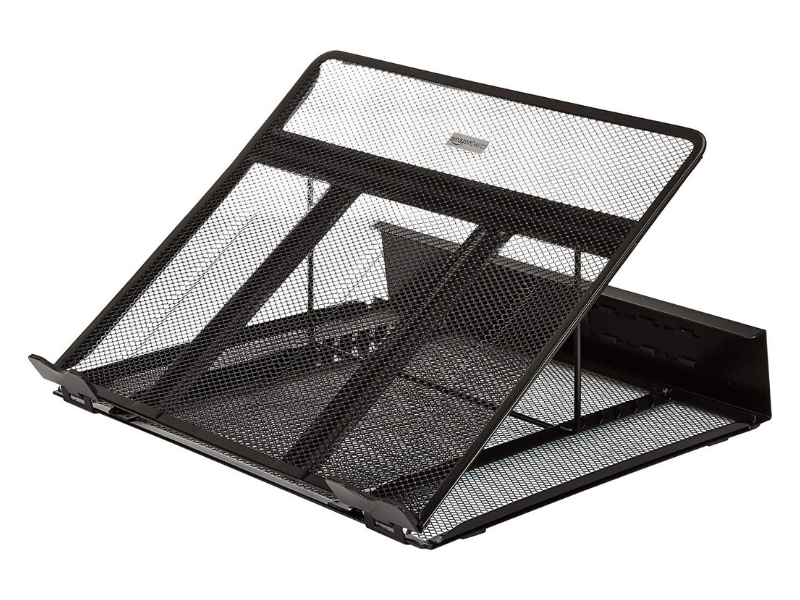 This AmazonBasics stand is a ventilated laptop stand with a metal mesh base that helps to keep the laptops cool by drawing the heat away from the laptop. It has an adjustable height mechanism, from 12 to 35 degrees so you can set it up in a way that works best for you.
It also comes with a cord organizer with 6 slots to keep away the mess from wires and cables. This stand is about 13x11x7.2 inches in measurement and has a great 4.5 star rating on Amazon.

Steklo – X-Stand for Macbook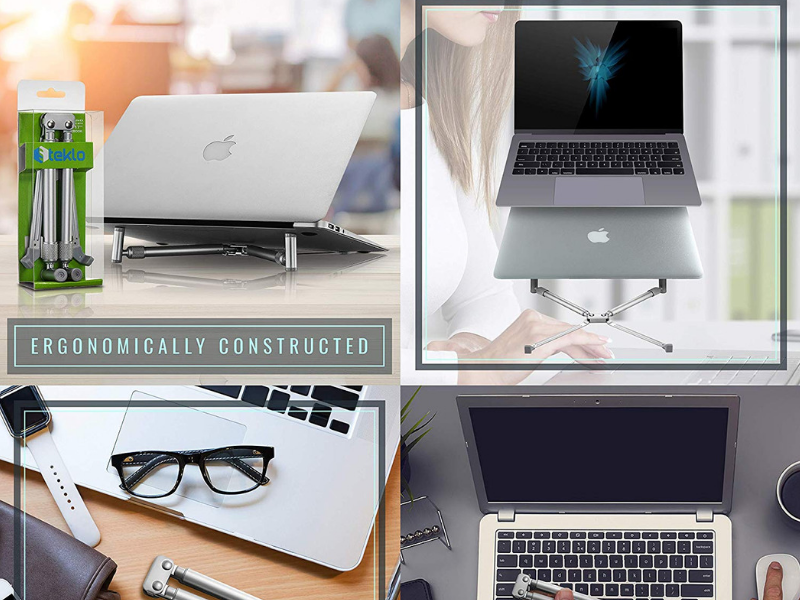 The Steklo – X-Stand is a stylish, lightweight Macbook stand that is both compact and sturdy. It is made from premium quality aluminum and its sand blasted metallic finish matches the Macbook looks. This stand can also be folded down to 6.3×1.5 inches making it super easy to carry it with you on your travels.
The stand is designed to elevate your device screen to your eye level to allow for better reading comfort. A slight upward slant makes it easier on your wrist when you are typing stuff for long hours. In all, if you want a Macbook stand that is easy to take with you on the go, this one should fit the bit.
Griffin Elevator Desktop Stand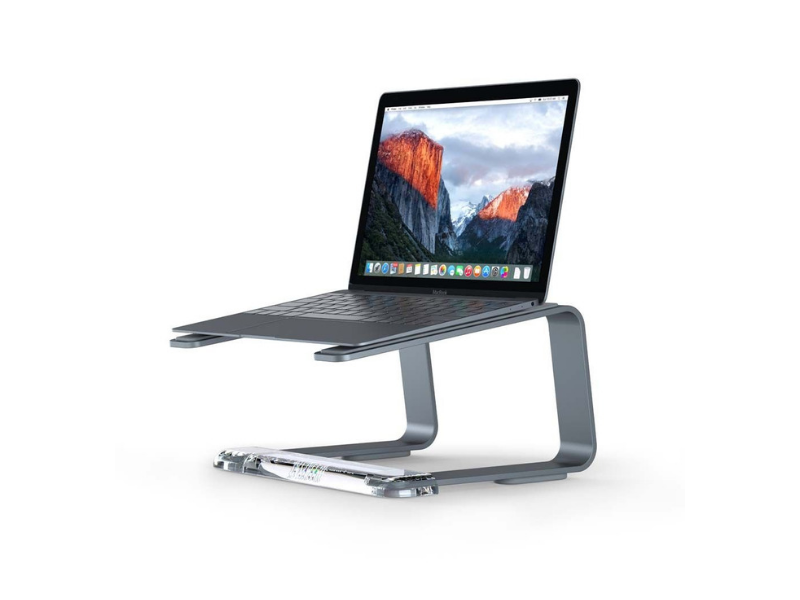 The Griffin Elevator Desktop stand is a sturdy brushed aluminum stand with a sleek, minimal design. It is ergonomically designed, elevating the laptop screen to up to 5.5 inches for comfortable viewing. The stand has plenty of room space underneath giving you the benefits of better air circulation and cooling while also affording more storage. The stand can be easily disassembled and reassembled, making it easy for you to take with you on your travels.
Twelve South Bookarc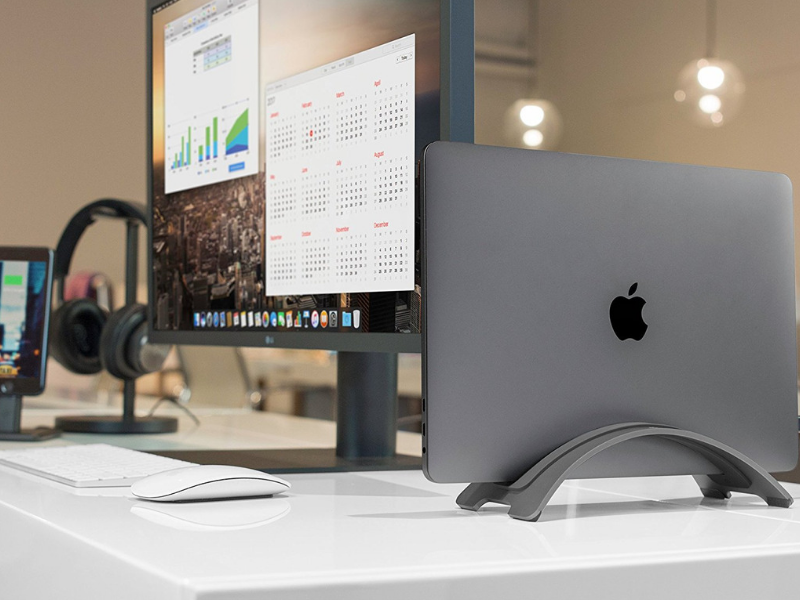 One of our favorite Apple accessories makers, Twelve South have the BookArc, which is a vertical stand. It is an aluminum stand with polished chamfered edges that blends with any decor and amply complements the MacBook. It holds the MacBook vertically, freeing up extra desk space. The arc shaped stand has a cable catching base to keep cables in place for quick connections.
The stand is perfect for connecting your Macbook to an external screen, mouse or keyboard so you can turn your Mac into a desktop-like environment. You can take your pick of the stand from silver, birch and space grey shades to match your desktop or office environment.
Grovemade Walnut Laptop Stand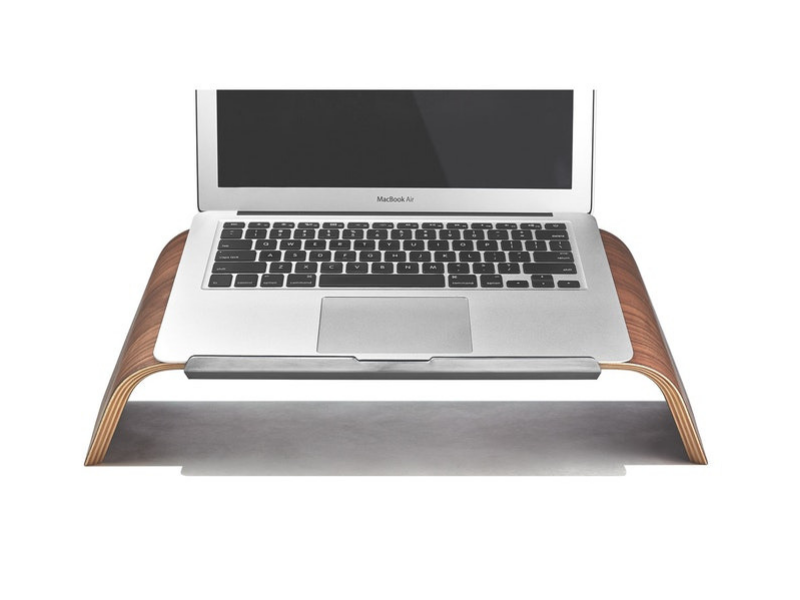 If you want a super sexy looking stand and the price is no bar, check out Grovemade's Walnut Laptop stand. This is a precision cut stainless steel stand with a premium vegetable tanned leather lining to rest your Macbook.
It is hand sanded and finished with vegetable-based oil to protect the device from scratches. You can't expect to be carrying this wide-based stand around, but it would look great on any desk. The stand has an angled design, allowing for more comfortable screen viewing.
Abovetek Stunning Aluminum Laptop Stand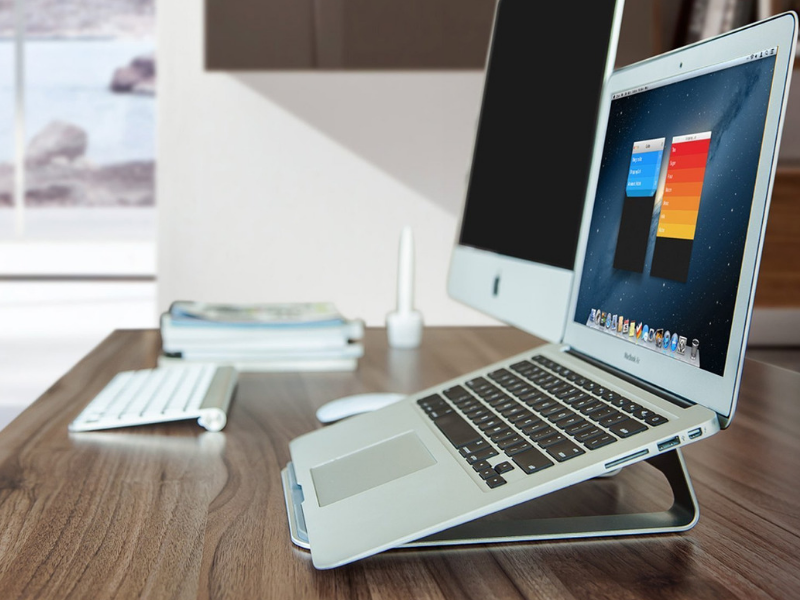 The AboveTEK aluminum laptop stand is a sleek, stylish looking stand with an elevated and tilted angle that prevents hand, wrist, neck, and eye strain and promotes proper posture while sitting. It is also designed to improve airflow to laptop's heatsink and fan to dissipate heat faster.
The stand's cable slot at the back lets you organize your cables and keep them from cluttering your desk. You can also store small stuff under the stand to keep them within easy reach. A non-slip padded base adds extra security by keeping it secure and steady. The stand is lightweight, easy to carry with you on your travels.
What's Your Choice?
Its not easy to find a Macbook stand that can suit your work style. But with a little bit of careful research, you can find one that suits your budget and work style. Let us know what feature you look for when picking a good Macbook stand, and if you have a favorite.
Cheers,
Adeline