Malware has now found a new home. Mobile technology. Smartphones are fast becoming the popular mode of personal computing, and it's becoming increasingly important to safeguard your data before trouble comes-a-calling. Just recently there were reports of the Android malware DroidKungFu, which was capable of stealing sensitive user data hitting the Android market. Then there was the GGTracker, which, though not found in the Android Market, sneaked into the system in the form of ads.
Just last week, according to Lookout Mobile Security, a company focused on smartphone protection, four applications published by a developer "Mobnet" were found to contain malware that is nearly identical to DroidDream Light. Although the app has been pulled down from the Android market, it's not assuring to know that users have downloaded the app before the issue was identified. There's also news that Zitmo, a variant of Zeus has stalked Windows Mobile and Symbian users with the aim of stealing banking information from users.
All this is certainly not music to the ears. As a smartphone user, one of the smartest things that you can do is take precautions immediately by installing an anti-malware app for your device. Lookout Mobile Security is an app that I use to protect my Android device from malware and spyware.
Lookout Mobile Security has some decent features on the free platform, but has good premium features which are priced at $2.99 per month. Apart from stopping malware and spyware, Lookout Mobile Security automatically scans every app you download and performs a full scan of all the apps on your device every week.  You can also back up and restore your contact data, retrieve data from myLookout.com, locate your device on a map if you've lost it, send a siren to your device even if it's turned off and prevent transfer of viruses from your phone to your PC. Another nice point is that the app consumes very little battery power.
Some of the top premium features include Theft Alerts, which send you an email with a photo and location when someone messes with your device, Safe Browsing, which blocks dangerous URLs while browsing on Chrome or the stock Android browser, Privacy Advisor, which lets you see what personal information can be accessed by your apps, Lock & Wipe, which lets you remotely lock your device, post a custom message and erase your data and a photo & call history backup.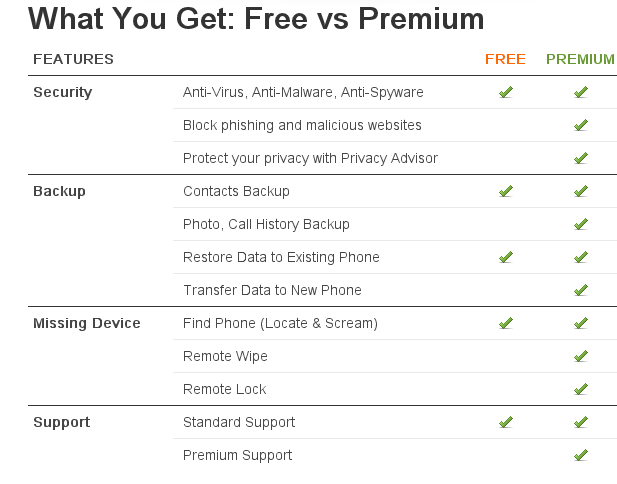 You can download the free version on the Android Market, and when you install the app, you can choose to try the premium version, which is available for free for 14 days.