PowerPoint is a great tool to help you share your content, ideas, and presentations to your audience. While you can prepare a presentation with the default slides displaying a white background, you can also make your presentation more attractive by applying various background style to the slides. The PowerPoint 2010 Background Gallery contains built-in background styles that vary according to the PowerPoint theme that is applied to the presentation. And adding a background style is as simple as selecting an option from the gallery. In this tutorial, you will learn how to apply a background style to slides in PowerPoint 2010.
How to Apply a Background Style to Slides
1. If required, select the slides you want to apply the background style.
2. Select the Design tab, and in the Background group, click Background Styles.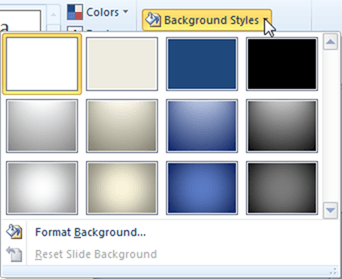 3. In the Background Styles gallery, select a background style to apply it to all the slides.
OR
Right-click the background style and choose Apply to Selected Slides to apply the style that you selected to the respective slides.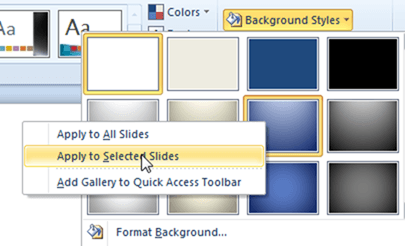 You can try using various background colors and styles by applying various themes and choosing various gradient or patterns.
You can also format your background style by adjusting the color, transparency, and fill options to get the right look for your slides. If you wish to format the background of only selected slides, then first select the slides you want to format.
1. On the Design tab, in the Background group, select Background Styles.
2. In the Background Styles gallery, select Format Background.
3. The Format Background dialog box is displayed. Adjust the background as desired and click Apply to All.
You now have a visually appealing presentation to showcase to your audience.
If you found this tutorial useful, be sure to visit the Archives for more useful PowerPoint tutorials and tips.