There are several games flooding the iTunes App Store. And quite a lot of them are shooter games. In this post, I review a basketball shooter game developed by Matt Jenkins. If you love playing basketball and think yourself a good shooter, you can test your skills, and where you stand with other basketball players around the world in this Basketball Hotshots iPhone Game.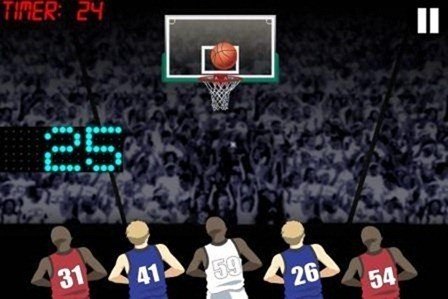 The game starts off with 5 basketball players waiting to shoot into a moving overhead basket. You have to simply tap the players to shoot the ball into the moving overhead basket. Each shot gives you points, but as you progress through the game, the balls change into fiery ones giving you additional points when you basket them.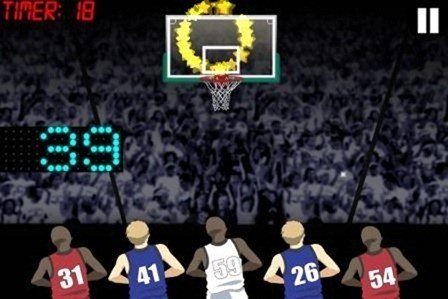 The challenge of the game is to score as many baskets as you can. The more baskets you score, the faster the ball shoots and you need to get your timing right to nail those shots. You can also lose points if you don't get your shots in. The player with the highest score wins!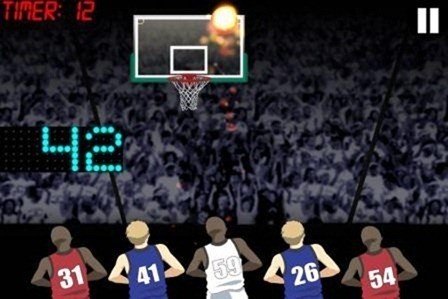 Basketball Hotshots includes 3 game types; Match Play that splits the game into two halves of 30 seconds where you need to get the highest score within that time; Speed Shooter, which requires you to score 50 points to move to the next level where the baskets move faster with each level; and Eliminator where the player is eliminated when he misses the basket and the game is lost when all 5 players are eliminated.
Basketball Hotshots has pretty cool graphics, and a pretty neat background music too. But if you want to turn off the sound effects and music, just head over to the game's Home screen and modify the Settings by tapping the gear icon.
The Stats section displays the attempts made, successful attempts, strike rate, accuracy and score. You can submit your scores to the scoreboard which will track them along with those of your friends.
What makes Basketball Hotshots cool is that it incorporates the social gaming well into the game. You can play the game online, in real time, with your friends or with random players by connecting to Game Centre. You can also share your top scores, boast about your basketball shooting skills, or maybe even challenge them to a ball game on Facebook too at a single tap of a button.
Basketball Hotshots is not an adrenaline pumping, highly interactive game but it succeeds as a game in its ability to keep you on your toes in hitting the high scores without missing a shot. The three game types also add a bit of variety and reduce the monotony of just shooting baskets. The fact that the basket speeds up with each passing level makes the game more exciting. This iPhone game can get better with more levels of play and challenges but the game in its current format is sure to keep drawing in players with its social gaming abilities.
Basketball Hotshots is available at iTunes at $.99. Be sure to check this fun game and test your basket shooting skills with your friends. You don't forget to drop in your comments on the game in iTunes.
Want us to review your iPhone app? Send us your details using the Submit for Review page.