GoPro has a new entry level camera called the GoPro Hero that is aimed at first time or casual users who want better shooting options than what the modern smartphone camera offers. The GoPro may be a highly versatile camera but guess what – you can get so much more out of this action camera with some added accessories. And there are plenty of good stuff to choose from. Today, we share with you our selection of the best GoPro Hero 2018 accessories that you can consider buying to enhance your videography experience.
Best GoPro Hero Accessories You Can Buy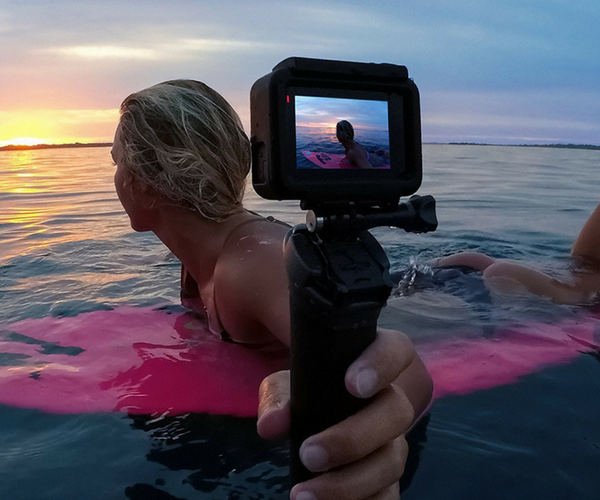 Kupton Accessories Kit
Kupton's Accessories is a basic kit that makes it super convenient to carry your GoPro on your travels. It consists of a waterproof housing case, a small travel case, 3 LCD display screen protectors, 3 Lens protector films, a Silicone protective cover and a Lens cover.
Additionally, the makers are also gifting 12 reusable Anti-fog Inserts and a Kupton Superfine Fiber Cloth to wipe off any residues on the camera.The waterproof case is ideal for capturing shots while diving, surfing, snorkeling or engaging in other water sports related activities.
The travel case makes for easy organization of the camera and its accessories and keeps it safe and protected. This Amazon Best Seller has a 4.1 star rating from 234 customers.


GoPro The Handler
The Handler from the official makers of the GoPro lets you mount your camera and handle it with ease in one hand. Perfect for those times when you are surfing, kayaking, or wakeboarding and want to keep your GoPro afloat while you shoot.
The floating hand grip is made from a non-slip material giving you better stability and control over your shots. A quick release base lets you switch between mounts with ease. Should you drop the handle in the water, the bright orange end of the handle pops to the surface, making it easy to spot.
The accessory also comes with a wrist strap lanyard for extra security.


GoPro Shorty
The GoPro Shorty (4.6in, 11.7cm) is a mini extension pole and tripod for the action camera. Its compact design makes it ideal to toss it in your pocket and take it with you anywhere you go.
You can extend this accessory up to 8.9 in (22.7cm) for group shots, selfies and other hard-to-reach angles. The built-in tripod will sit on any level surface letting you capture great shots.


SmilePowo Replacement Battery & Battery Charger
The GoPro Hero's 1220 mAh battery can charge it for 1.5 to 2 hours depending on how you are using it. That may not be enough for adventure lovers who shoot videos all day long. The SmilePowo Replacement Battery & Battery Charger comes with 2 Smilepowo batteries, a dual channel charger and Micro USB Charger.
The charger comes with two ready to use batteries, which is great for emergencies and can recharge two batteries simultaneously. Its small portable size (about the size of a credit card) also makes it ideal to take with you on your travels.
An LED indicator lets you see the charging status and available battery life at a glance. This is definitely a great alternative to the official dual charger from GoPro, which is expensive and slow to charge.


Go Pro Jaws Flex Clamp
Jaws Flex is a sturdy clamp for attaching your GoPro Hero to objects that are difficult to secure the action camera to. The clamp allows you to swivel the camera at different angles and capture different points of view.
It can firmly grip on to objects that are 0.25 inches to 2 inches in diameter. It also has a quick release base that makes it easy to move camera between different mounts and locations.
Kupton Housing Case
If you shoot videos for water based activities like kayaking, surfing, and snorkeling, you can pick up the Kupton housing case. This is a lightweight, waterproof case that lets you record activities even 45m under water. It does not allow your underwater movements and photographic effects to be affected by anti-surf pressure. It is also easy to connect this with other GoPro accessories.


GoPro Suction Cup
Attach your GoPro to cars, boats, motorcycles and just about any object with the GoPro Suction cup so you can take shots or video when the high speed action happens. This suction cup firmly mounts the camera to your bike or boat and can withstand speeds of up to 150+ mph. So no matter how fast you're going, you can be sure your GoPro Hero has all the footage beautifully captured.


GoPro Chesty
If you want to capture immersive video and photos from your chest position, such as when you are skiing the GoPro Chesty strap comes in handy. The Chesty is ideal for capturing footage that is lower than your helmet's point of view, hands-free. The Chesty is fully adjustable to a wide range of adult sizes, so should work for most users.


Protective Lens Replacement
Over a period of time, your action camera is going to wear out with dirt, dust and scratches marring the lens cover. This protective lens is made from corning gorilla glass and is an effective replacement for the original. It also delivers outstanding optic clarity for undistorted content, especially for underwater shots.


SanDisk 64GB Ultra Micro SDXC Memory Card
If you're going to use the GoPro Hero all the time, you'll need a good memory card. One that can capture and store high quality pictures and Full HD video, not to mention faster downloads. The SanDisk 64GB Ultra Micro SDXC Memory Card is perfect for that purpose.
The card delivers ultra-fast read speeds to save time moving photos and videos from the card to your computer. The card is also  water proof, temperature proof, X-ray proof and shock proof. This card also comes with the Everything But Stromboli (TM) Reader.


GoPro Seeker
You've picked up all your much needed GoPro Hero accessories. So how do you cart all of them on your adventures? A handy backpack like the GoPro Seeker is just what you need.
The bag has soft compartments that can hold up to 5 GoPro cameras, multiple batteries, microSD cards, and accessories such as mounts and straps. The bag also comes with integrated chest mount to help you capture hands-free footage.
An adjustable shoulder mount keeps your camera within reach to quickly capture the action, if you need to. Finally, it sports a specially designed system to use the extended 3-Way grip to capture over-the-shoulder shots during your adventures. In all, this sturdy bag is lightweight, weather-resistant and provides 16 liters of storage.


Takeaway
That's our selection of the best GoPro Hero accessories that you can buy for capturing great outdoor videos. We'd love to hear your favorite GoPro Hero accessory. And if you have something you'd like to see included in this post, just shoot us a comment below. We're all ears!
Cheers,
Adeline