GoPro has been working on a new entry level camera for some time now. For everyone who has been looking forward to it, here's the good news. GoPro Hero is here. It is available at a great price of $199 and you can buy it right away. Here's all you need to know about the GoPro Hero.
Why Buy the GoPro Hero
Great price
No complicated features to mess with – just pick up and start using
No need to worry about wet conditions as it is waterproof down to 33ft
Allows hands-free use with support for voice commands
Option to remotely control your camera via the GoPro app
Can transform your captures into shareable videos automatically via app
Has fantastic mobile app support – something you won't find anywhere else
What You Don't Get
No ProTune so no advanced exposure controls
Resolution and frame rate options are limited
Not designed for advanced users
The GoPro Hero Features That Matter
2-Inch Touch Screen
Waterproof & Durable
Voice control
Wi-Fi + Bluetooth Support
Auto Offload Footage
QuikStories Enabled
Auto Cloud Backup
Full HD Video & High Quality Photos
Accessories Support
2-Inch Touch Screen
The Hero lets you frame the perfect shot and then quickly switch over to the next mode to see your captures on the 2-inch touch screen.
Waterproof & Durable
If you're out on an adventure, you don't have to worry about taking the GoPro Hero with you. Rain or shine, you can capture stunning shots. The camera has a tough build and can even survive trips under water – up to 33 feet that is.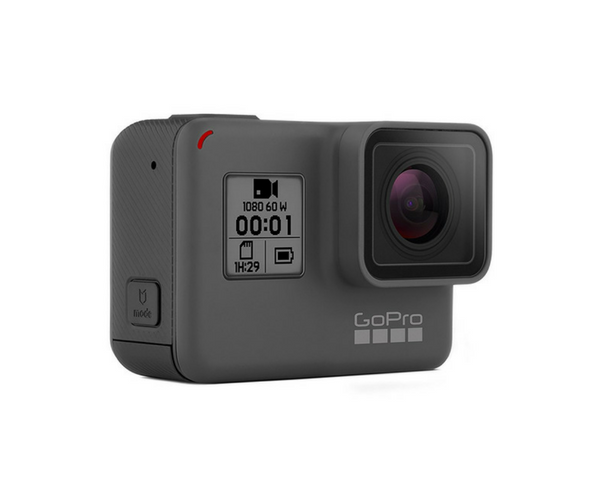 Voice control
GoPro Hero lets you take shots with simple voice commands like 'Gopro, start recording' or 'GoPro, take a photo. Perfect for those times when you are carrying a koala in your hands and can't hold on to your camera.
Wi-Fi + Bluetooth Support
You can use Wi-Fi or Bluetooth to connect to the GoPro app. Once you do that, you can control your camera remotely, see your shots and share the ones you like on the spot.
Auto Offload Footage
All the photos and videos that you capture on the Hero are automatically moved to the GoPro app.
QuikStories Enabled
If you have Quik mobile apps on your smartphone, you can use it with the GoPro app to transform your shots into beautifully edited videoes with music and effects.
Auto Cloud Backup
With a GoPro Plus subscription, you can back up unlimited photos and up to 35 hours of video to the cloud. Its all done automatically so you don't have to worry about doing anything manually.
Full HD Video & High Quality Photos
GoPro Hero can capture stunning 1440p at frames per second. It takes 10MP photos with 1 burst shooting option at 10 frames per second and 1time lapse setting at 0.5 seconds per shot.
Accessories Support
The GoPro Hero also supports over 30 different accessories that will let you capture shots to your imagination.
GoPro Hero vs Hero 5 and Hero 6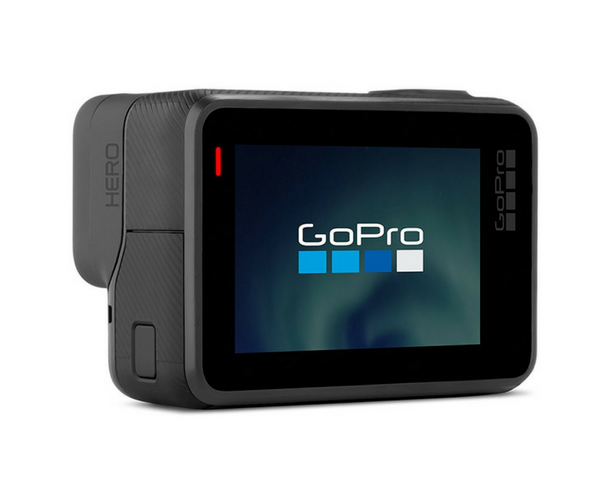 Want to know what you are missing out on with the GoPro Hero. Here's a quick comparison of the entry level camera with its more expensive counterparts.
Photo
Hero   : 10MP / 10fps Burst / Time Lapse
Hero 5: 12MP / 30 fps Burst / Time Lapse
Hero 6: 12MP / 30 fps Burst / Time Lapse
Video
Hero   : 1440p 60FPS / 1080p 60FPS
Hero 5: 4K 30FPS / 1440p 80FPS / 1080p 120FPS
Hero 6: 4K 60FPS / 2.7K 120FPS / 1080p 240FPS
Video Stabilization
Hero   : Normal
Hero 5: Normal
Hero 6: Advanced
Waterproof
Hero   : Down to 33ft (10m)
Hero 5: Down to 33ft (10m)
Hero 6: Down to 33ft (10m)
Voice Control/Wi-Fi/Bluetooth
Hero   : Available
Hero 5: Available
Hero 6: Available
GPS
Hero   : Not Available
Hero 5: Available
Hero 6: Available
Microphones
Hero   : 3
Hero 5: 3
Hero 6: 3
Takeaway
GoPro Hero is the most ideal camera for beginners who don't want to twiddle with various resolutions, frame rates and expsoure settings. It is a great camera to just pick up and start using. What makes the GoPro even more useful is its mobile app which also supports QuikStories.
With the GoPro Hero, the company is attempting to attract new casual users. If you happen to be one of them and are looking for a fun camera to take with you on your adventures, the GoPro Hero is definitely worth checking out.