It would be criminal to state that the smart phone has merely changed the way we communicate with each other. In reality, smart phones have revolutionized a number of things that we do, right down to the simplest daily tasks. As the battle for smart phone supremacy rages between Apple's iOS and Google's Android, other companies have ensured that the advent of the smart phone turns out to be profitable for their needs. No smart phone is truly complete until the user takes advantage of the 'apps' that are available. Historically, this was a major plus point in favor of iOS, which seemed to have an unlimited number of apps. However, Google has managed to get its game plan in order and now offer just as many apps via the revamped Play Store. Amongst all the apps designed for improving the user's life, few can have the kind of effect as a financial app. Here is a list of the best personal finance apps available for android devices that will help you manage your personal finances better:
Best Personal Finance Apps
For those who seek simplicity in their apps, the Nickel Tracker will prove to be an absolute delight. It is indeed amazing how an app can be so functional without sacrificing ease of operation. Nickel Tracker enables you to establish various expense limits, depending upon the needs of your available budget. The app helps you track any and all expenses and notifies you if your expenses threaten to spill over the spending limit you have set for yourself. These limits can be adjusted to your requirements anytime and you can set up daily, weekly or monthly expense limits. The best part is that getting hold of the app will not cause your spending to go up; it is available for free download on Android devices.
The Easy Envelope Budget Aid is definitely a step-up from the Nickel tracker app. It not only allows you to track expenses, but helps you keep a close eye on your entire household budget. Easy Envelope Budget Aid can be updated even if you do not have a network signal or are not connected to a Wi-Fi network. As soon as your phone is able to connect to the Internet, the app makes the necessary updates on its own. In addition to the Android app, you can also access Easy Envelope Budget Aid via your computer and their web app. However, the web app is a paid service while the Android app is free.
Easy Money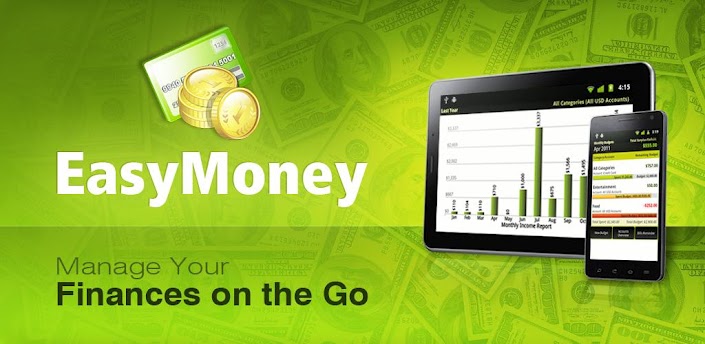 An app like Easy Money is what separates the men from the boys. Those seeking to utilize the full potential of their smart phone often fall in love with the Easy Money app at first sight. If you are serious about managing every aspect of your personal finances via your Android device, then Easy money is definitely the app for you. It allows you to track and manage a number of accounts, informs you about bill payments and allows for easy online transfers. All the details can also be exported to your computer in a spreadsheet format. Easy Money is not a free app, but the number of features ensures that it is worth every penny.
With the hustle and bustle of modern everyday life, it can be quite tedious to keep up with your finances. However, thanks to smart phones and some of these best personal finance apps, you now do not have an excuse for poorly managed finances.
Author Bio
Holly English is a technology and gadget freak. She has written numerous blogs about technology. She helps provide fast loan service along with her team that makes it easy for you to get loans.
Follow us on Twitter, Facebook or Google +to get the latest tutorials, updates and how-to articles on Microsoft, Google and Apple products.