With so much technology around us, it is not surprising that every kid wants to own a smartphone or a tablet. As a parent, you may want to indulge your child with a gadget, but if you are planning on buying a tablet, you need to make sure the device you pick offers adequate parental controls and comes with a good warranty because kids can be careless with it dropping them or flinging them around as it pleases them. To help you in your search, we've rounded up some of the best tablets for kids that you can consider buying in 2020.
Best Tablets for Kids in 2020
Amazon Fire 7 Kids Edition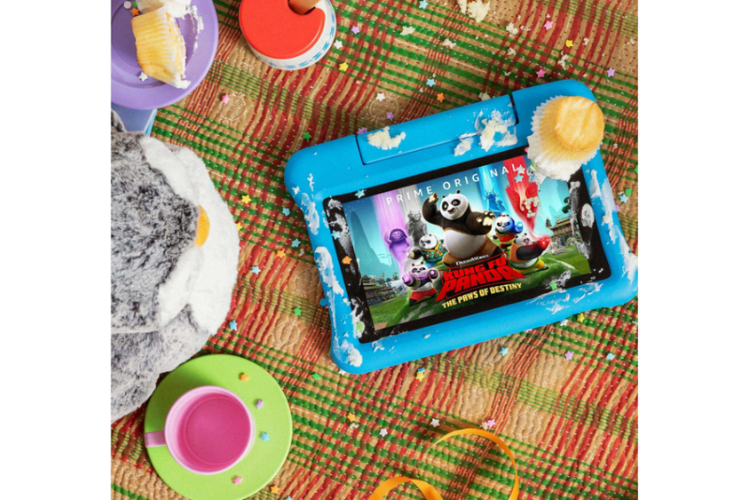 The Amazon Fire 7 Kids edition is simply one of the best Android tablets out there in the market today. This is a completely kid-friendly tablet designed specifically for them. While you as a parent may feel that a tablet without Google Play Store is a poor choice, that's not the case for the little ones. That's because the Amazon Fire ecosystem does a wonderful job of curating kid-friendly content that they won't miss a thing.
That's not all. The Fire 7 comes with a sturdy kids-proof case that protects the tablet from bumps and drops. In fact, with Amazon's 2-year warranty you can get a replacement if anything happens to the gadget. As a bonus, Amazon even throws in a free Freetime Unlimited plan ($2.99/month) for an entire year. This plan gives your kids access to over 20,000 apps, games, books, videos, audiobooks, and educational content from PBS Kids, Nickelodeon, Disney, and more.
When it comes to parental controls, Amazon offers strong protection. As a parent, you have complete control over what your kids can see. You can limit the screen time, set educational goals and curfews, and comfortably manage content for up to 4 kid's profiles.
Why Buy the Amazon Fire 7 Kids Edition?
Pros
Great warranty
Plenty of kid-friendly content
Excellent parental controls
Affordable price
Sturdy kid-friendly case
Cons
Slightly poor battery life
Limited internal storage
No built-in Google services
Buy the Amazon Fire 7 Kids Edition
Samsung Galaxy Tab A Kids Edition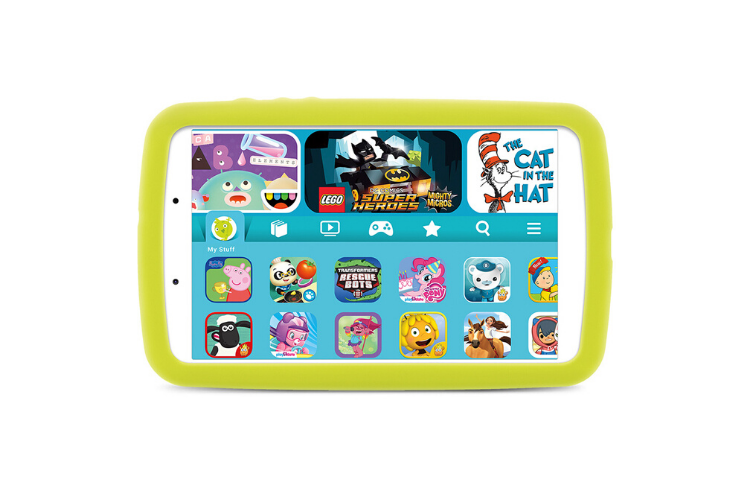 If you want an alternative to the Amazon Fire 7, take a look at the Samsung Galaxy Tab A Kids Edition. It has a lot to offer kids, with Samsung Kids (1 month free trial) offering over 10,000 hours of kid-friendly content. If you decide to cancel Samsung Kids you still get to keep $74 worth of games and books.
As a parent, you can set limits and monitor what your kids are doing. There is also an option to exit the Samsung interface to browse the web safely and securely, watch movies, play games, and access the Google Play Store.
The tablet also comes with a durable bumper case to protect against bumps and drops. Although this tablet is not as comprehensive as the Amazon Fire 7, you get 32GB of internal storage and a respectable battery life of up to 13 hours.
Why Buy the Samsung Galaxy Tab A Kids Edition?
Pros
Decent kid-friendly content
Excellent parental controls
Good storage
Cons
Slightly poor battery life
Expensive
Buy the Galaxy Tab A Kids Edition
Leapfrog Epic Academy Edition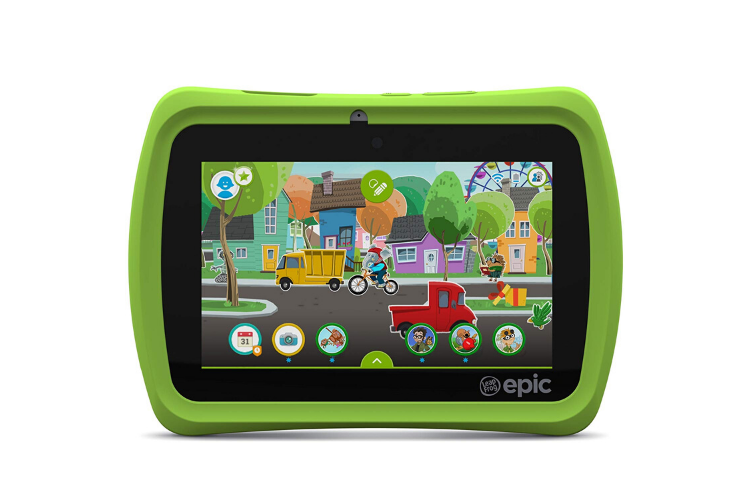 Leapfrog is a well-known name in the field of educational children's toys, and their tablet is designed for precisely that purpose.
This is an Android based tablet, specifically designed with a learning focus for kids between the ages of 3 and 9.
The tablet does not provide access to Google Play but kids have access to exclusive LeapFrog learning games and hand-picked popular Android apps.
The tablet's custom UI lets kids create their own space, adding websites for school or discovery as the child grows up.
Parents can manage what, when and how long each child plays for up to three profiles.
The tablet offers a wonderful space for kids to explore, play and learn stuff in a safe environment.
Why Buy the Leapfrog Epic Academy Edition?
Pros
Customizable UI
Good parental controls
Learning focused content
Cons
No Google Play
Expensive
Slow battery charging
Limited internal storage
Buy the Leapfrog Epic Academy Edition
Dragon Touch Y88X Pro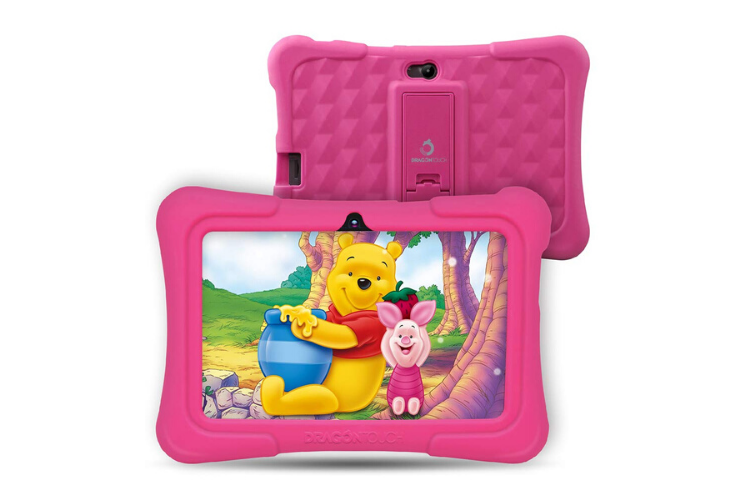 The Dragon Touch Y88X Pro is another great kid-focused tablet that comes with good specs and features to keep your child engaged. Thanks to its quad core 1.5GHz 64-bit processor and latest system Android 9.0 Pie, kids can enjoy a speedy multimedia experience, whether it involves downloading apps, streaming TV, or playing games, because everything boots up quickly. 16 GB of internal storage lets  you download lots of popular apps, games, videos, books, and educational content on the tablet.
The tablet comes pre-installed with 18 popular Disney story books and 6 audio books, such as Frozen and Beauty and the Beast, which the kids are sure to love.
Its' 7 inch IPS HD display has a colorful kid-proof cover – for protection against drops, bumps, and dirt.
As far as parental controls go, you can allow kids to access educational and entertaining apps and websites and filter age-appropriate content.
Why Buy the Dragon Touch Y88X Pro?
Pros
Kid-proof protection
Good parental controls
Large storage
Speedy
Lots of Disney content
Cons
Slightly expensive
Average battery life
Vankyo MatrixPad Z1
Last in our list is another popular tablet, the Vankyo MatrixPad Z1. This tablet sports good specs with a 7-inch HD display, 1.5 GHz quad-core processor, 32GB onboard storage that is expandable up to 128GB by microSD, 2,500mAh battery and Android 8.1 Go OS. It supports 38 languages, including Spanish.
There are tons of kid-friendly content with over 40,000 pre-approved video clips and over 120 channels featuring online games, safe websites, and educational apps. For kids who love to draw and paint, the PaintBox app offers over 100 stickers for drawing and painting lines, sizes, shapes and patterns.
When it comes to parental controls, you can create and customize profiles for your kids' accounts, hand-pick content for them, control screen time and ensure they are browsing safe websites. These security settings can be adjusted as they grow up.
The tablet comes with a kid-proof case designed to protect against drops and bumps. A 360°adjustable ring stand enables multiple viewing angles. A built in handle makes it easy for kids to carry the tablet with them.
Why Buy the Dragon Touch Y88X Pro?
Pros
Kid-proof protection
Good parental controls
Great storage
Good battery life
Cons
Slightly expensive
Preinstalled app KIDOZ not the best
Slightly clunky
Conclusion
You may have a good reason for buying a tablet for your little one. It may be that you want to simply keep them entertained or it may be to promote some learning or both.
Whatever your reason, the Amazon Fire Kids edition is by far the most comprehensive tablet that meets almost every requirement. It ranks the best among kid-friendly tablets for the sheer amount of content available to the trustworthy warranty and parental controls.
Plus, the price is also on the affordable side.
Should you want something outside of the Amazon ecosystem, the other options mentioned in this list are also worthwhile.
I hope this post helped you in deciding which tablet to buy for your child.