Whether you're a regular traveler or just someone who takes an occasional travel break from your daily routine, having an Android smartphone in your pocket during your travels comes in handy. The Google Play Store has a good collection of apps that can help you find a hotel at short notice, book a cab, discover hidden unexplored locations and more. If you are planning a trip, make sure you always have a handy travel app on you. In this regard we have chosen what we believe are some of the best travel apps for your Android.
Updated: 20/08/16
Best Travel Apps for Android to Take on Your Next Trip
Google Trips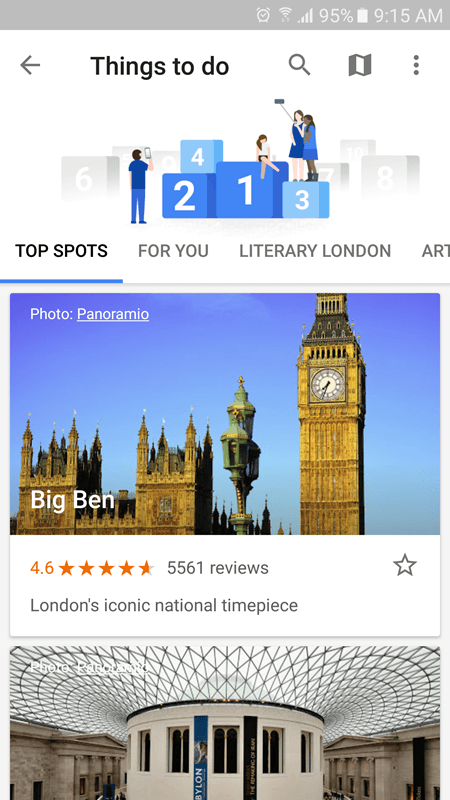 This wonderful app from Google is designed to make your travels easy once you reach your destination. The app offers a place where you can view all your reservations (flight, hotel, taxi, restaurant bookings etc.) in one place. It also offers a place to check out all the top spots in that destination including food and drink, night life, and day plans. User reviews, tourist hotspot timings and in depth information about the place is laid out in an easy to access format. You can save your planned trips and access all the details from one location. Best of all, you have access to all your travel information even without an Internet connection.
TripIt Travel Organizer
This free app is simply one you cannot do without. It lets you keep all your travel related information in one place and organizes your travel itinerary right from your hotel booking to airline and car rentals and restaurant confirmations.
TripIt accesses your Inbox to get all the relevant information related to your travel and collates it for your convenient use. You can edit your travel plans manually, access your itineraries on any device, even if you're offline, get directions and weather forecasts for your travel destination and sync your plans with Google Calendar or Outlook if necessary.
With the Pro plan, ($49/year), you can get real-time flight alerts, flight finder, refund notifications and a whole lot of other premium features.
Airbnb
If you're a budget traveller or simply someone who like to experience a new city, town, or village in the most homely way possible, Airbnb is an app you must have. It gives you access to the most interesting places where you can stay as people with extra rooms or spare houses are most happy to welcome you into their homes.
No fancy hotels and extra costs. With over 450,000 listings in more than 34,000 cities, you may just find that fairytale holiday destination at the right price. The app lets you book accommodations right from within the app, access your itinerary, chat with your hosts, get directions to your listing and even create and share wishlists with your friends.
Booking.com Hotel Reservations
Booking.com is the extension of the website booking.com. This app lets you search for all the hotels around your location. Just type in the check -in date, number of nights and guests per room and select the hotel of your choice. A killer feature here is the option to look at the photographs of the room that you intend to book. The app saves the history of hotels viewed, searched, and booked automatically. Booking.com allows you to manage all your bookings efficiently through a booking.com account. Using booking.com account you can save 50% or more on selected hotels. The whole experience is quite zippy and smooth.
World Mate
This is a mate you would always want to travel with. This app could be called the one-stop-shop for all your travel needs. The app organizes your trip magically just by forwarding your travel conformation email to [email protected]. The app lets you find and book hotels in any city by entering the check-in, check-out dates followed by the number of guests. You can sort the search results by top picks, price, star rating or distance.
The app also shows you deals available at the various hotels with an option to view only hotels with deals. The Car Rental section lets you search and book cars to pick you up or drop from the airport and you can filter the cars based on the price, car type or the company that runs the service. The app also has Limo Reservation section for select airports just by dialing a number.
The Flight Schedules section lets you search for flight schedules just by typing the source and destination airports with the date of travel. You can sort the flights by departure time or arrival time or duration or nonstop.
The app shows the weather report for 6 days of your current city, your trip cities, or any other city. There's also a Currency Converter that lets you convert one currency to another which is a great add on.
Apart from these cool features, you can also receive travel notifications. The app is available for free on Google Play though offers a gold plan for the globe trotters with features such as real-time flight alerts, flight updates in your itinerary, check any flight's status and calendar sync. The gold plan cost $9.90 a year. All in all the app is a great package and performs brilliantly.
Companion Safety App
The hottest travel app of 2015, Companion is designed to help solo travelers stay connected with their friends and family who can track them and receive alerts if they run into any trouble. As a user, you can designate one of your contacts as a companion, who will always be aware of your whereabouts. You will also be required to let the app know from time to time that you're OK. If you don't answer the prompts your companion will reveive a message that you could be in trouble. Although the app offers no guarantee of safety, it is a great way to stay connected to your family when you're off on a solo trip into the unknown.
Travel Safe
Traveling in a foreign land isn't always easy. There may be times when you're stuck in a bad spot and need help. In such crucial times, its always handy to have an app like this one that gives you access to common emergency numbers such as the police, hospital, and fire services in whichever country you are. It offers all this information in an intuitive home screen with one-touch dialing options. Having this $0.99 app in your pocket will give you peace of mind and let you enjoy your journey.
World Travel Guide by Triposo
Travelling to a new country is always exciting and if you want to explore the best sights and spots, you'll need a handy guide. World Travel Guide comes at no cost and is a great tool that suggests all the places you can see and things you can do no matter which country you travel to. The app works in offline mode so you're never stranded anywhere. You can select a specific location or browse the catalog to download detailed country and city maps.
You'll also see a ton of information (nicely presented) on the top desinations, restaurants, nightlife, local wildlife, festivals, culture, food and current events happening in that area. Other notable features of the app include providing weather forecasts and a phrasebook for non English locations. If you're off to see the world, there's no better guide to have around than World Travel Guide by Triposo.
Gogobot – City & Travel Guide
Another cool travel guide that will be handy for your travels is Gogobot. The app lists local events, restaurants, hotels, shopping sposts and things to do in whichever city you find yourself in. You'll see quick weather forecasts and read reviews left by fellow travelers. You can also chip in with your comments, rate a place, like it, bookmark it and share it with your social contacts.
The app also helps you find great hotels at best prices, the best beer serving restaurants and so on. You can browse through the big collection of photos and create your own postcards for sharing with friends. The active community support within the app gives you a ground reality of what to do and expect at every hotspot in town and you won't get a better guide in an unknown place than this. Your trip can never be complete without this app in your pocket.
Google Translate
If you're traveling to a non English speaking country, you won't want to do so without a translator and Google Translate is as good a translator as you can get. The app is incredibly versatile allowing you to type text to instantly translate to over 90 languages from Creole to Zulu; you can use the camera to translate images, do automatic two way speech translation, and save translations for future use. A perfect companion for a wandering traveler.
PackPoint Travel Packing List
Wouldn't it be great if we could summon a Packing Fairy to take care of this tedious task for us? Well, until that day comes, we can make use of this brilliant free list organizer. The app lets you organize a list based on whether its a business or leisure trip, length of travel, weather at your destination, and activities you plan to do during the trip.
It also lets you save your lists and share them with friends and family in case they need help packing too. The Pro version offers additional features such as integration with TripIt, widget support, smart pack and luggage checklist. PackPoint Travel Packing List is a must have app for any journey you plan to undertake.
Final Thoughts
These are simply some of the best essential add-ons you can have handy on your smartphone. There are plenty more, such as Flight Track that can help you keep track of flight information, Waze, that can serve as your local GPS navigator, and Touchnote Postcards that let you create personalized photo travel cards that you can consider packing up along with the others.