Facebook's awesome Facebook Video Calling feature was finally announced by its founder on July 6th 2011. The most talked about feature Video Chat was announced along with improvements to chat by way of group chats. As always, the rollout will happen over a period of time, but if you're keen on getting it right away, click Get Started on the Facebook Video Calling page.
How Facebook Video Calling Works
Facebook Video Calling allows you to talk to your contacts one-on-one, which means that it only allows for a two-person chat, not group chat like Google + Hangouts.  You and your contact need to have a webcam and a microphone setup to do a Facebook Video Call. If you call people who don't have a webcam, they'll be able to see and hear you but you'll only be able to hear them, so you can still do a video chat without a web cam, but that's not really the point of a video chat, is it?. The nice thing is that you can continue to use other Facebook features while engaged in a video call. Facebook Video Calling works best on Mozilla Firefox, Google Chrome, and Opera.
How to Make a Facebook Video Call
1. Get Started on the Facebook Video Calling page.
2. Select a contact to call. To the right of the screen, you'll see the Chat window pop up with all your contacts. Select the person with whom you want to video chat.

3. Click Okay on the message that asks you to use the Video call button.
4. In the Facebook Chat pop-up window, click the Video Call button.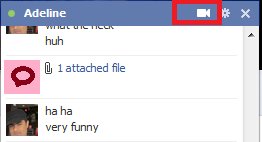 5. In the Set up video calling dialog box, click Set Up.

6. A FacebookVideoCallSetup.exe file will be downloaded to your computer( if you're running Windows). Run the EXE file to install the Facebook Video Call plugin. Once installed, you can starting video chatting with your contact.
If your contact is not available for a video chat, you can record a video message to let him/her know you called. If you only want the call to be a voice call, you can turn off your camera or microphone by clicking the respective icons at the bottom of the screen.
You cannot make multiple video calls at once or make group calls using the plugin.
If you want to uninstall the plugin, just go to the Control Panel, select Programs and Features, choose Facebook Video Calling Plugin from the list of programs and click Uninstall.

Have you tried out Facebook Video Calling? Let us know your overall experience in the comments below!