Smartphone accessory brand Casetify has announced some gorgeous looking cases for the Samsung Galaxy S9 and S9 Plus devices. Casetify's Glitter cases are unique in that they come in beautiful colors and styles and feature liquid glitter that flows freely to create a dreamy effect. But that's not all. These cases are also tough and protective offering strong protection against drops. If you have pre-ordered the 2018 flagship device, check out these Casetify Glitter Cases for Samsung Galaxy S9 and S9 Plus.
The new cases will start shipping in April so you have plenty of time to take your pick.
Casetify Glitter Cases for Samsung Galaxy S9 & S9+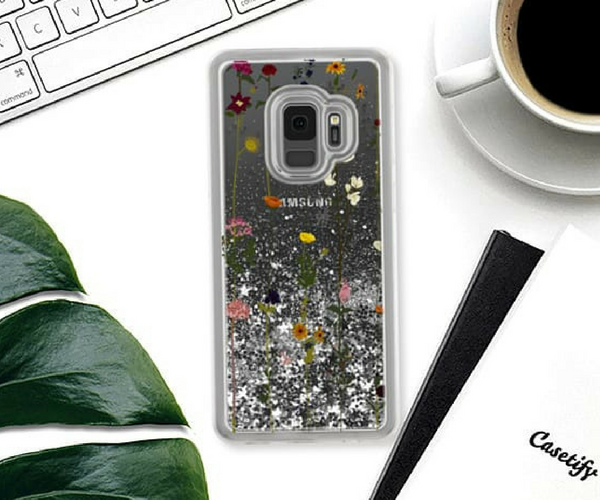 The Liquid Glitter Samsung Galaxy S9 Cases Collection features fun, girly, fashionable themes. Cases like Floral, Calandrinia, Blossom Love, Magnolia Branch, Vintage Botanical, Blush Pink Rose, Sakura, and My Secret Garden are a tribute to the nature lover.
There are also marble based designs, cases for the animal lover, and abstract designs. All the Casetify Glitter cases come in 3 shades – Rosé Pink, Monochrome Silver and Unicorn Pastels and retail at $45.
All Casetify cases are made-to-order and hand-inspected. The artwork itself is hand picked from artisans around the world.
Note: The liquid glitter cases are not intended for use by children 14 years of age or younger.
Also Read: Casetify Unveils Its iPhone 7 Red Phone Case Collection
Casetify Impact Cases for Samsung Galaxy S9 & S9+
Casetify also has another collection for the Galaxy S9. Its called Impact these cases offer military grade protection without compromising on style and fashion. The Impact cases are priced higher at $49. These cases are on a waiting list so you'll have to sign up to place your order.
All Casetify Glitter and Impact cases for the Samsung Galaxy S9 are available exclusively through its website. Click the link here to check out the Liquid Glitter collection from Casetify.
Also Read: The Best Cases for Samsung Galaxy S9 and S9 Plus
We'd also love to hear your feedback on these cases. Do tell us if you prefer a glamorous looking glitter case to a staid solid color case.
Cheers,
Adeline