Technical writing is more complex now. Today's technical writers don't just write text but they also create visual content like screenshots, charts, graphics, gifs, and even videos. In such a scenario, working on large manuals featuring visual elements requires more than just an ordinary word processor like MS Word. That's why professional help authoring tools like ClickHelp were developed.
In today's post, we take a look at why technical communication specialists choose ClickHelp and how it can help you in your technical writing and business.
Reasons Why ClickHelp is the Best Solution for Writing Documentation
Business Mobility
ClickHelp is a cross-platform, browser-based, 100% cloud tool. That means you can work on Mac, Microsoft Windows, Linux on any browser like Chrome, Safari, Firefox, Internet Explorer and others, and your data will be stored on its servers. You can choose a portal hosting region – Europe, United States, or Australia according to your convenience.
You don't need a special software. With just a browser and the Internet connection, you can log in your documentation portal and you're ready to work. This is great because many companies need to hire contractors and freelance technical writers – who can work from anywhere.
Intuitive UI
ClickHelp is a user-friendly tool. You don't have to learn the tool or teach your team members. Everything is within reach when you open your portal dashboard.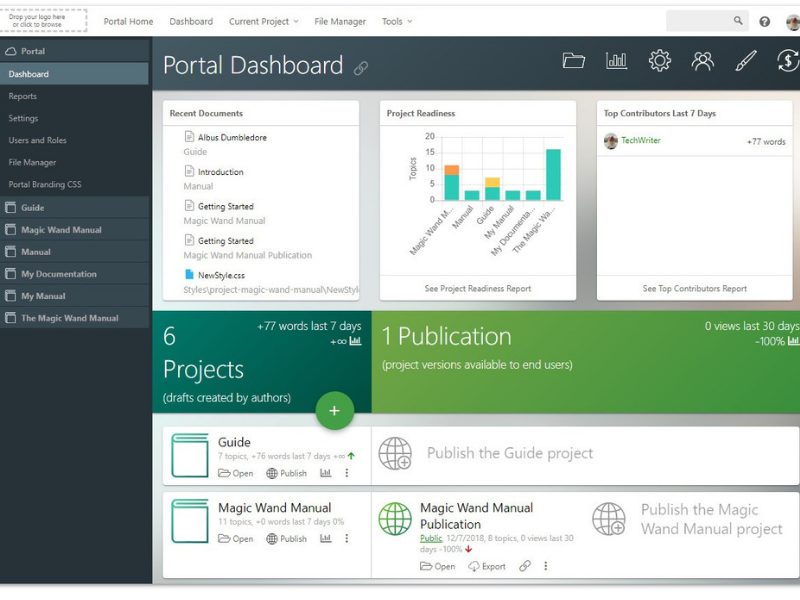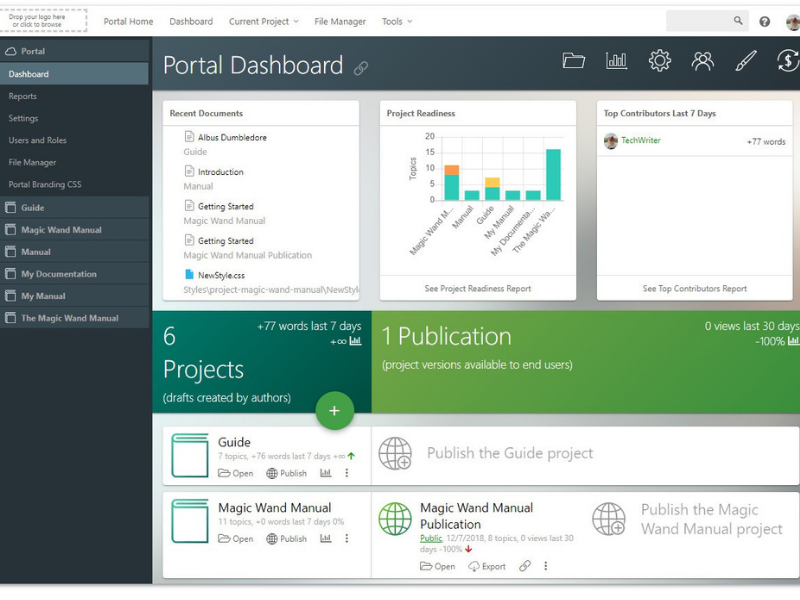 ClickHelp is also easy to use. It supports WYSIWYG editor, and if are comfortable working with Office text processors like OpenOffice or MS Word, you will be completely at home with ClickHelp.
Using the same skills, you can produce a completely different result in various formats for online documentation. Examples include HTML5 Web Help, CHM, PDF, DOCX, DOC and more.
If you or your team member is a novice in technical writing, you don't have to spend much time in teaching, saving you money and time.
Collaboration Features
If you are still sending your manuals via email, you can now forget about it. ClickHelp makes your work process easier by supporting role-based permission management so you can easily specify who can do what in your team.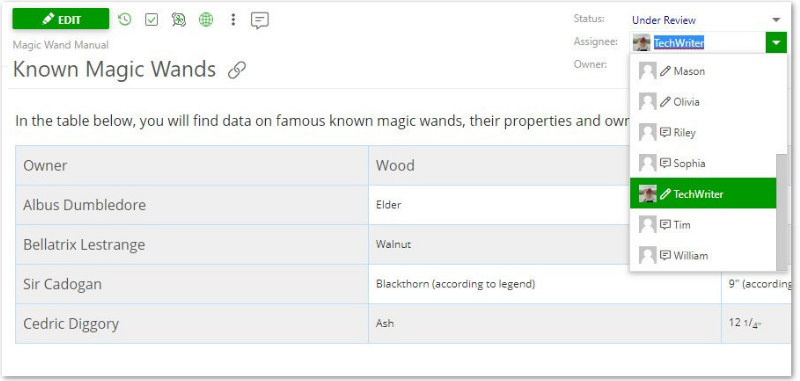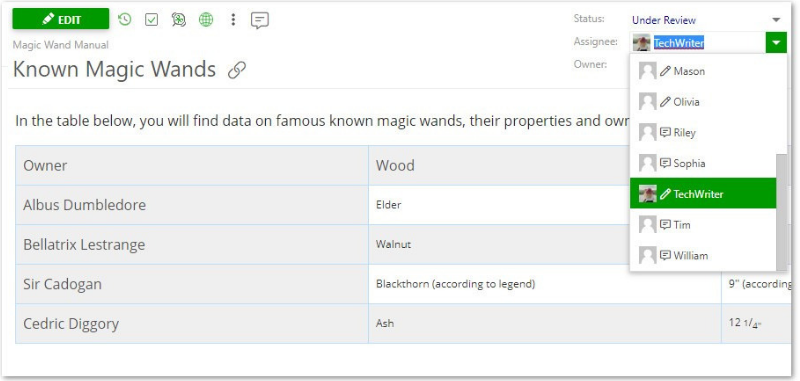 It gives a ready-to-use workflow with document statuses, so you can better control the technical writing process in your organization. For example, when you finish working on a topic, you can just assign it to a reviewer. The reviewer will get a notification, and then check it right in the portal.
When the review is happening, you will receive notifications on every event, such as reviewer comments that are added. TODO items are also displayed so you know you next course of action.
Readability Metrics
The main goal of technical writing is to create easy-to-interpret documentation. That means it is essential to follow some of the best practices outlined below.
using the active voice
using a short sentence structure
avoiding fancy words, and the like.
These tips are also great for improving website visibility and SEO in general.
ClickHelp's readability metrics helps you create effective documentation. When you write text, ClickHelp instantly analyzes it on different levels and ensures that you meets those best practices. It provides you with a score according to the popular metrics like Flesch Reading Ease, Flesch-Kincaid Grade Level, Gunning Fog Index, and more. About 30 metrics are available in this software documentation tool.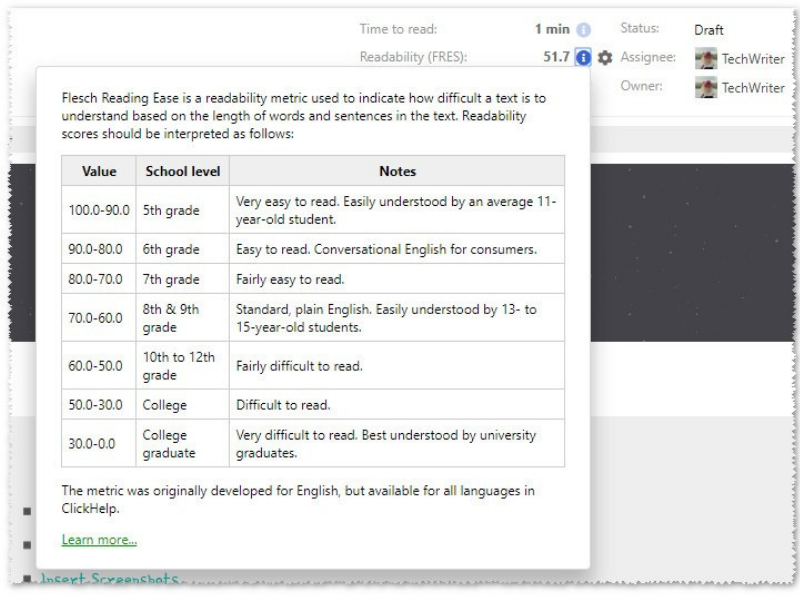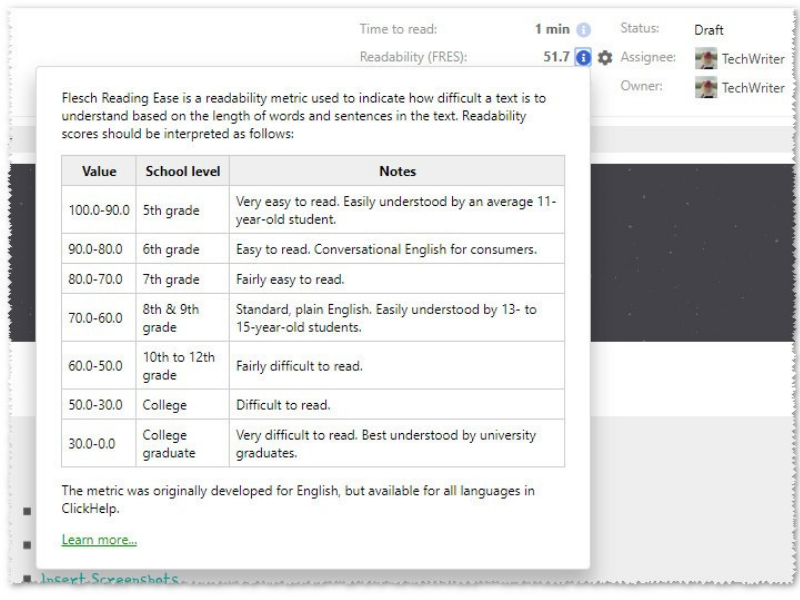 Although readability metrics is usually created for American school grades system. ClickHelp has adapted it for all languages, which is great.
You don't have to remember the right scores for all metrics. ClickHelp provides all the necessary information for creating easy-to-interpret content.
Statistics
When you are working with a big team big, you can have problems understanding the progress of your documentation project. ClickHelp's internal analytics can make your working process more productive. It provides reports and statistics on project readiness by topics, project readiness by review comments, reader behavior events and more.
If it's not enough, you can also integrate Google Analytics, as well as Zendesk, AddThis, Salesforce, YouTube, in your ClickHelp portal. This will also help you track visitors, average time spent on a page, navigation paths, and much more.
Final Thoughts
ClickHelp has plenty of great features that can make your documentation work intuitive and easy. It is easy to use, works with various text editors, and makes generating documentation in multiple formats straight forward and accurate.
If you are struggling to have a good standardization process in place and need an effective on-line solution to improve the look and consistency of your user guides and manuals, give ClickHelp a try.
You can order a 30-day free trial (no credit cards are required) to see everything for yourself before making a purchase. Here's what you'll get with the free trial:
Password-protected online portal.
10 author accounts.
All features included.
Check it out and tell us what you think!
Good luck with your technical writing!