For those who are not familiar with INSTEON, it is a company that is well known for its home automation products and services. The company recently announced that its Windows Phone 8.1 app INSTEON will be integrating with Microsoft's voice assistant Cortana to help users control and monitor their home automation activities using voice commands.
Now Windows Phone 8.1 users, who have Cortana on their devices can simply talk to their phone to turn or turn off the lights in a room, lock or unlock doors, open or close garage doors adjust the thermostat and so on.
Users don't even have to be at home to perform these activities, they could be on a vacation on the beaches of Miami, remember that they forgot to turn off the lights in the bathroom, pull out their Windows phone app and get the job done.
INSTEON App for Windows Phone
The coolest thing about using Cortana with INSTEON is that users don't even have to be specific about a task, just saying "INSTEON, leaving the house" will get all the lights turned off, thermostat down, and the doors locked. Similarly, you could just say " INSTEON I'm home" and have the doors unlock, thermostat turned up and the lights turned on.
While there are commands that you can keep in mind, just natural language is enough to get Cortana to understand what you want done.
The Insteon Windows phone app also comes with a host of great features including a Visitor mode, which provides restricted access to children or guests, improved camera support to help users view multiple cameras at one time, view in full screen, and access the camera even without an Insteon hub.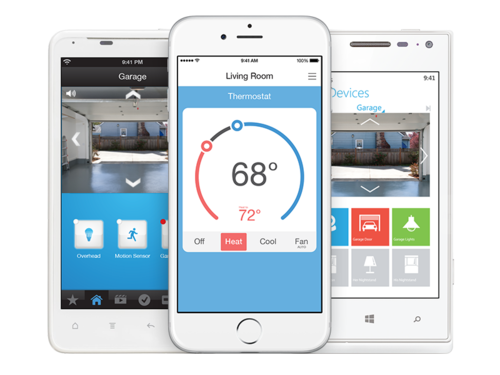 You also have the benefit of controlling multiple homes from just one single account. The app's dashboard displays a quick and organized view of the status of your home. INSTEON Windows Phone 8.1 app is available as a free download here.
As far as the INSTEON connected home devices go, you can get them at any Microsoft retail stores  or on their website MicrosoftStore.com.  INSTEON products are also available from a number of retailers and their online stores.
For more smart home automation ideas, you can buy automatic trash cans and freshen up your home, hands-free.