Can you guess the amount spent on shopping online last November?  Well, according to comScore, just over $13.55 billion was spent on online purchases during the beginning of the holiday season. If you are one of those shoppers who contributed to those awesome figures, or if you are just one of those people who loves to indulge in a bit of shopping come what season, then you might acquiesce with me when I say that what makes for a great online shopping experience (apart from the fact that you can avoid the long queues at the cash counter and the oh-so-annoying parking problems) is that you can get great bargains and deals while indulging in your favorite activity. In this sponsored post, I will be reviewing Coupon Chief one of the top-ten coupon servicing sites that offers free online coupons and links to some of the best deals on the web.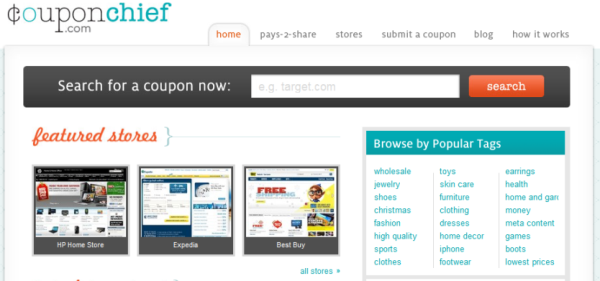 Coupon Chief: Hits
Free to Use
The site is free to use. You don't have to register, provide any personal details, or fill up annoying forms to use the coupons on the site.
Huge Volume of Participating Merchants and Stores
Coupon Chief has links to over 7000 merchants including  Amazon, Best Buy, GoDaddy, Samsung, Apple, Dell, Macy's , Barnes and Noble, HP and more. There's also a great range of coupons to choose from; electronics, software, clothes, groceries, gifts, shoes, and more, all in one single location that is easily accessible to all.
Well Designed Site Makes for Easy Navigation
The website is simple and easy to navigate. You can search coupon codes using keywords, or store names using the search box, which automatically displays a drop-down, listing possible search terms. You can also search using the Related Tags feature or browse by featured coupons, popular coupons and new coupons all from within the Home page. Quick results and instant reliability makes for a great user experience.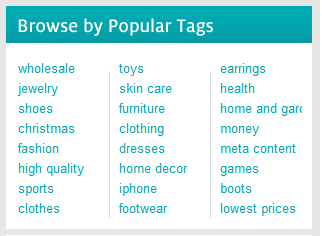 User Feedback Increases Reliability
You can make informed decisions on whether the coupon codes on the site are valid by checking out the profiles of the people who upload the coupons and by reading user comments for each coupon. You can also rate a user and let other users know if a coupon code is working or broken. Additional information on the coupon code contributor and expiry date adds to the reliability of the codes and the site. This is a fantastic way to encourage sharing of information and a great way to build trust, both for the website as well as for community users.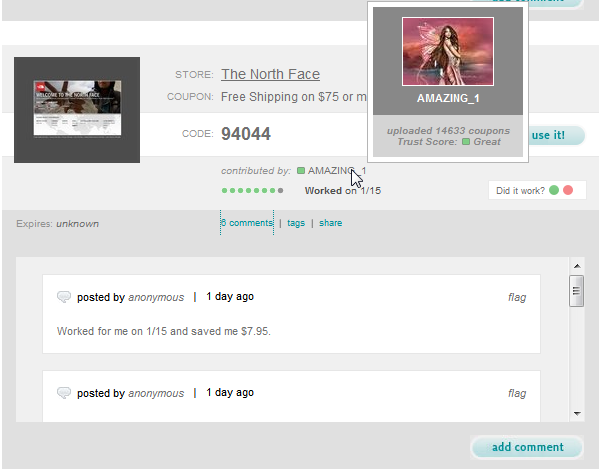 Quick Links To Complete Purchases
If you find the coupon you need, all you have to do is click the links on the site to navigate to the shopping store and complete your purchase.
Building Active User Community
Coupon Chief encourages users to contribute to the site through a unique program called Pays-2-Share. Once users sign up and start uploading coupons to the site, they can earn revenue of 2% on every sale made. Top contributors not only get to earn money on their contributions but also get to be featured in the Top Contributors widget on the site.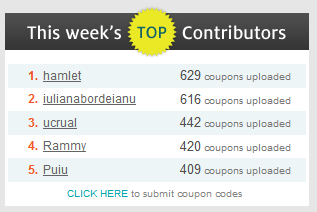 Easy Submission Process
Submitting coupons is simple and easy. Just clicking the submit a coupon tab takes you to the page where you can enter and submit the coupon details with ease.
Offers Merchant Promotions
If you are a merchant looking to get more exposure for your business, you can sign up for the Coupon Chief merchant services in a few quick steps.
Offers A Variety of Subscription Options
There are a number of ways in which Coupon Chief lets you stay updated on the happenings at the site. Options to subscribe, bookmark, share, and follow them on a number of social networking sites including Facebook and Twitter makes it social savvy. You can get the latest coupons directly to your mailbox on subscription.
Updated Blog
The site includes a blog that promotes new stores and programs. There are frequent updates to the blogs  and one that caught my attention was a post on Toms Shoes, where the store has a program where customers buy one pair of shoes and one pair of shoes is given to a child in need.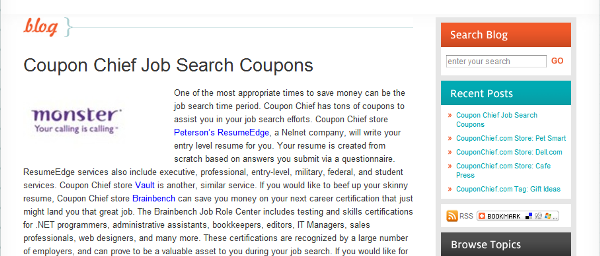 Effective Help and How To
If you are looking for more information on couponchief.com, the FAQ page on the site has all the answers. There's also a neat video tutorial that serves as a visual guide to using and submitting coupons and step-by-step instructions on how to use the site.
Contributing to Society
Coupon Chief doesn't just share great coupons it also allows users to contribute to a noble cause through their Coupons -4-Causes program.  Select a school, charity, or church and then shop using the coupon codes. Coupon Chief will donate up to 20% of the purchase for the cause.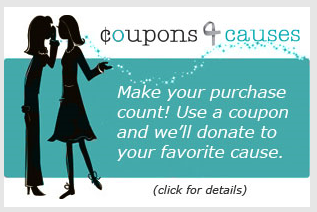 Good Promotional Ideas
If you own a blog or have a social networking profile, you can promote Coupon Chief using widgets and earn money on sales made. So, not only do you get the benefit of the coupons but you can earn goodwill and money by promoting it.
Workable Links and Codes
The site has workable links and valid coupon codes. I am yet to find an expired coupon code or a broken link and that's a big plus.
Coupon Chief: Misses
Featured Deals or Codes
Absence of a powerful featured representation of big deals is something that might add more appeal to a user. For instance, I'd love to know the best deal that Coupon Chief has to offer as a featured deal of the day on the home page.  Additionally, having a column featuring the coupons that are soon-to-expire might be helpful.
Contests
Contests are a great marketing tool that will definitely draw more attention to the site. Although not necessarily a bad thing, that's always something that make people come back for more.
Inadequate Information About Founders
I expected to get a little insight on the founders of the site and the history behind the Coupon Chief project, but the About Us page lacked this info.
Couponchief.com is more than just your average coupon site. What makes this site a good one is that is has coupons from a wide variety of merchants for a wide variety of products, it is user friendly and it has excellent deals and discounts on offer every day. What makes couponchief.com great is that it gives back to the user community by allowing members to earn while they use, promote coupons on user's social profiles and sites and donate to a users favorite charity or cause.
At a time when the world economy is struggling, Coupon Chief with its unique way of doing business, that is by encouraging businesses to offer discounts and rebates and encouraging consumers to earn while they spend is bound to grow in popularity and become one of the best yet. If you are looking for a good deal, don't forget to drop in and check out what the site has to offer.
Happy shopping and don't forget to share your experience with us.