If you own an Apple Watch, there's nothing more handy than a stand to take care of it when its not in use. The Elago W2 Nightstand is an adorable stand that is a perfect place to leave your Apple Watch. It comes in a variety of colors and is made of non-toxic, scratch-free silicone to prevent damages and scratches on your Watch.
Elago W2 Nightstand for Apple Watch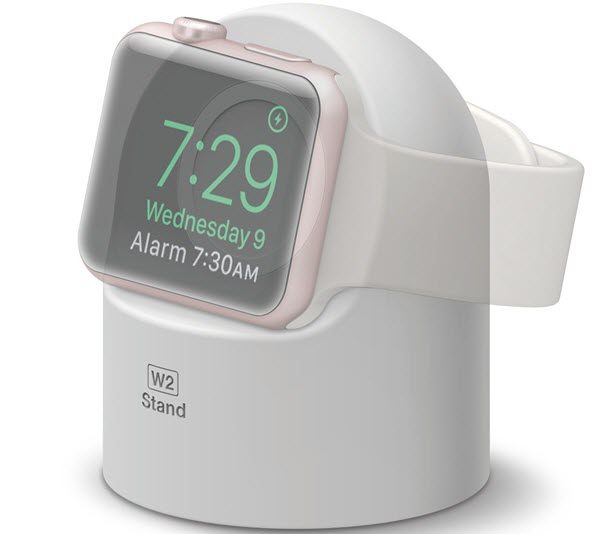 The Elago W2 is a simple gadget that's easy to use. All you need to do is place the Apple Watch on the stand and it will stay at rest. No need to close the wrist band before placing it. Since it is made of silicone, it has a grippy surface, preventing your watch from moving or falling off.
The Elago W2 works with all Apple Watch Series including the Watch, Sport, and Edition. It also supports the Apple Watch Nightstand Mode (WatchOS 2 and up). The Elago 2 is designed in such a way as to afford an optimal viewing angle to enable the Nightstand mode.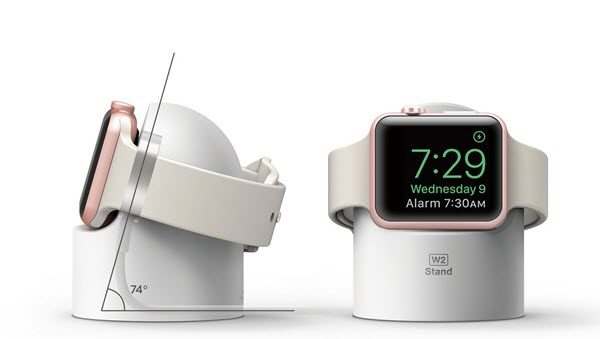 You can keep the nightstand on your desk at home or at work or on your bed stand and charge the Apple Watch to use it as a clock. Remember that, in the Nightstand mode, the Apple Watch displays the date and time, alarm (if you've set one) and the charging time left on the device.
A USB hole on the stand allows you to easily slip it through. Then all you need to do is pull the cable until the charging end fits inside the stand. At the base of the stand is a cut out that prevents you to organize your cable. Apart from that each stand is also provided with a velcro band to further manage your cable. The device however does not come with a charging cable. You'll have to use your own one instead.
The Elago W2 Nightstand is a neat looking device available in a number of colors. If you are in the market for one, this is definitely worth checking out. It is priced reasonably on Amazon at $11.99.