The Amazfit Cheetah Square smartwatch is a powerful and feature-rich wearable device that offers a wide range of functionalities to enhance your active lifestyle. In this article, we explore the various aspects of the Amazfit Cheetah Square, from its sports modes and navigation capabilities to its health monitoring features and battery life. So let's dive in and discover everything you need to know about this remarkable smartwatch.
Features of Amazfit Cheetah Square
The Amazfit Cheetah Square smartwatch is a versatile device designed for fitness enthusiasts and outdoor adventurers. It offers a range of features and functionalities to help you track your activities, monitor your health, and stay connected on the go. The smartwatch boasts a stylish and rugged design, making it suitable for both sports and everyday wear. Here's a closer look at its top features.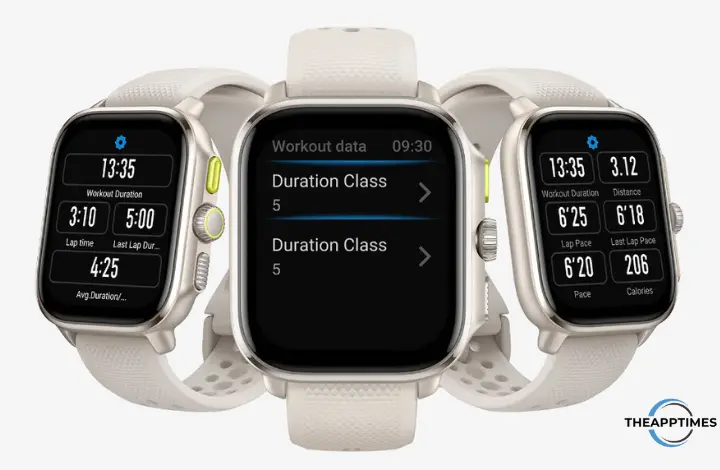 Display
The Amazfit Cheetah Square features an ultra-large, immersive HD AMOLED display that delivers crystal-clear visuals and super-bright brightness of up to 1,000nit. With a screen size of 1.75 inches and a high pixel density of 341 PPI, the display ensures that you can easily see the data that matters to you, even with just a quick glance while you're running.
The 72.4% screen-to-body ratio provides a spacious and immersive viewing experience. This display technology offers a clear and exquisite viewing experience, making it easy to navigate and interact with the smartwatch. The Amazfit Cheetah Square's display is designed to enhance your overall user experience and make it effortless to access the information you need.
Sports Modes
The Amazfit Cheetah Square supports a wide variety of sports modes, allowing you to track and analyze your performance in different activities. Some of the supported sports modes include outdoor running, walking, cycling, climbing, skiing, and swimming. With 18 sports modes to choose from, you can easily find the right mode for your favorite activities.
Navigation Functions
While the Amazfit Cheetah Square does not support indoor positioning services, it offers reliable positioning speed and accuracy in outdoor environments. The number of satellites connected and specific satellite connections may vary depending on your location. The smartwatch also provides a straight-line navigation feature to help you keep track of your position in relation to the start point of your journey.
Map Browsing and Offline Maps
The Amazfit Cheetah Square can be used as a map browsing tool, allowing you to import OSM map files. However, the display of offline maps is only compatible with sports modes that support GPS positioning. The downloaded offline map must match your real location to be displayed, and you can import a route file for navigation purposes.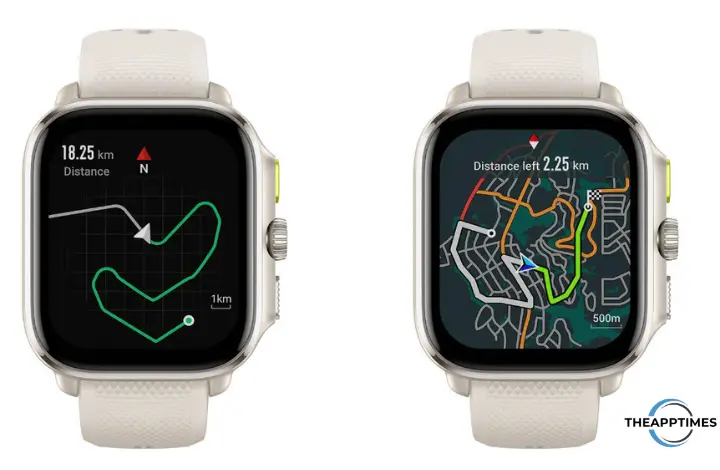 Training Templates and Interval Training
The smartwatch offers training templates and interval training features to help you optimize your workout sessions. You can create training templates on the Zepp App and store up to 40 templates at a time.
Interval training can be set directly on the watch for a convenient way to customize your training sessions. The Amazfit Cheetah Square supports 11 sports modes for training templates and interval training, including outdoor running, cycling, swimming, and strength training.
Virtual Pacer and Race Achievement Predictions
The Virtual Pacer feature on the watch lets you set a target pace for outdoor running, track run, and treadmill sessions. It helps you maintain a consistent pace and achieve your desired performance goals. Additionally, the smartwatch provides race achievement predictions based on data from outdoor running mode. By completing at least one 3km run, you can obtain performance prediction data for various race types, such as 10km, half marathon, and full marathon.
Performance Scores and VO2 Max
The Amazfit Cheetah Square provides real-time performance scores and VO2 Max measurements to help you track your fitness progress. These features are supported within the outdoor running and track run modes. By monitoring your performance scores and VO2 Max, you can gain valuable insights into your cardiovascular fitness and endurance levels.
Smart Trajectory Correction and Track Run Modes
The smartwatch offers smart trajectory correction for outdoor running on 200-meter and 400-meter running tracks. This feature helps you maintain accurate distance measurements and optimize your training sessions. This Watch also supports track run modes, allowing you to monitor your performance on the track and analyze your running data.
Third-Party App Integration
The Amazfit Cheetah Square offers integration with popular fitness apps like Strava, Relive, adidas Running, Apple Health and Google Fit. By syncing your data with these apps, you can easily track your progress, analyze your workouts, and share your achievements with the fitness community.
Health Monitoring Features
The Cheetah Square provides comprehensive health monitoring features to help you stay on top of your well-being. It offers 24-hour monitoring of heart rate and blood oxygen saturation (SpO?) levels. Once you enable this feature in the Zepp App, and you can set thresholds for abnormal heart rate and low SpO? levels. The smartwatch also includes stress level monitoring, sleep tracking, and sleep breathing quality tracking.
Water Resistance and Durability
The smartwatch has a 5 ATM rating for water resistance, making it suitable for activities like swimming and showering. The Bureau Veritas has certified it to withstand water immersion up to 50 meters. However, it is best to remove the watch when taking a hot shower or visiting a sauna to protect the seal. Additionally, you can switch to a fluoroelastomer strap for swimming instead of using a leather or metal strap.
Battery life
The Amazfit Cheetah Smart Watch has a long battery life to last for an extended period, even with heavy usage. With a full charge, it can last up to 14 days.
When using GPS mode, the battery life varies depending on the mode used. In accuracy GPS mode, the watch can last up to 13 hours, while in power-saving GPS mode, it can last up to 28 hours.
In automatic GPS mode, the watch can last up to 20 hours. The watch also has an intelligent Automatic GPS Mode that adjusts GPS settings to save power when running in areas with strong satellite signals.
This feature helps to extend the battery life of the watch. Overall, the Amazfit Cheetah Smart Watch is designed to match your energy and provide long-lasting performance. This makes it a great option for workouts, running, marathons, and sports.
Additional Features
In addition to its core functionalities, the Amazfit Cheetah Square offers several other features to enhance your user experience. It supports music playback with a maximum storage space of 2.3GB, allowing you to store and listen to your favorite songs on the go. The smartwatch also includes smart recognition of strength training exercises, allowing you to track and analyze your workouts accurately.
Language Support and Alexa Integration
The Amazfit Cheetah Square supports multiple languages and offers Alexa integration for voice commands and smart home control. You can activate and use Alexa on your smartwatch by following the instructions provided on the official support page. This feature provides added convenience and expands the capabilities of the smartwatch beyond traditional fitness tracking.
Personalization and Morning Updates
The Cheetah Square lets you to personalize your watch settings and receive morning updates on various aspects of your life. You can customize the watch face, screen brightness, and other settings to suit your preferences. The morning updates feature provides information on weather, battery status, sleep data, schedule, PAI score, and yesterday's activity.
Final Thoughts
The Amazfit Cheetah Square smartwatch offers a comprehensive range of features and functionalities to support an active lifestyle. From sports tracking and navigation to health monitoring and personalization, this smartwatch has everything you need to stay motivated and achieve your fitness goals.
With its rugged design and durable construction, you can trust the Amazfit Cheetah Square to accompany you on all your adventures. So why wait? Get your Amazfit Cheetah Square smartwatch today and take your fitness journey to new heights.