Evie Launcher made the headlines in September of 2015 when it launched as a lightweight, minimalist launcher that was perfect for inexperienced users who didn't want to be overwhelmed with customization options. Three years later, Evie Launcher is still in the reckoning. With some major updates, it is certainly looking like the ideal alternative to Google Now. Here's a look at the much improved and updated Evie Launcher for Android in 2018.
Read Original Review : Evie is a Minimalist Launcher for Android That Delivers
Installing Evie Launcher for Android
Evie Launcher for Android is 100% free to download so just go ahead and install it on your Android from Google Play. Open the app and you'll be requested to grant access to your location and contacts. You can go ahead and grant the permissions or deny it. Then Evie will ask whether you want to import your app and folder layout from another launcher. You can then set Evie as your primary launcher.
Customizing Options in Evie
Evie is a minimalist launcher so all you get on your Home screen is the Contacts, Messages, Camera and Browser icons.
To start customizing Evie, just Touch and Hold any empty space on the screen. Then select Settings. Here, you will see options to customize the Homescreen, Dock, Icons pack, Folders and more.
Homescreen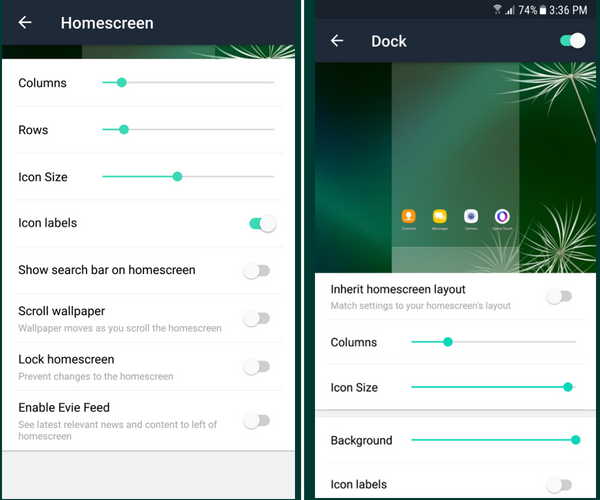 The Homescreen settings let you set the number of rows and columns on the Home screen. You can also adjust the icon size and choose to show or hide icon labels and search bar. If you enjoy a scrolling wallpaper that moves as you scroll the home screen, you can enable that option too! Finally, you can prevent lockscreen changes and enable Evie Feed, a fantastic feature that lets you enjoy all the latest news and happenings from around the world from the left of the Home screen.
Dock
If you want a dock on the Home screen, you can enable it in the Dock settings. Here, you can also choose the number of columns you want and set an icon size. You can also include icon labels and adjust the color of the dock background.
Icon Packs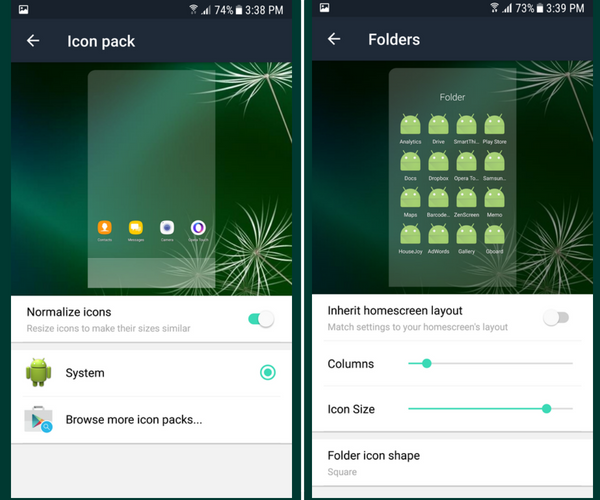 By default, Evie uses the Android System Icon pack. If you want to use more stylish, funky or unique icons, you can download them from the Play Store and customize them here.
Folders
The Folders settings contains options to adjust the number of columns, icon size, and shape of the folder icons.
Unread Badges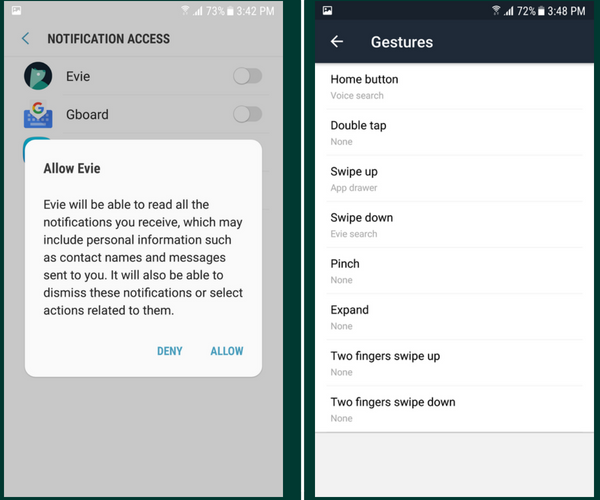 If you want to know how many unread notifications you have on various apps, you can enable the option here.
Gestures
One of the coolest features of Evie Launcher is gestures. There are now 8 gestures that you can link to various actions. For instance, you can double tap to bring up the app drawer, Evie search, or Voice search. Similarly, you can swipe up using 2 fingers to expand the notifications. It is entirely up to you how you use gestures to access your phone more conveniently.
App Drawer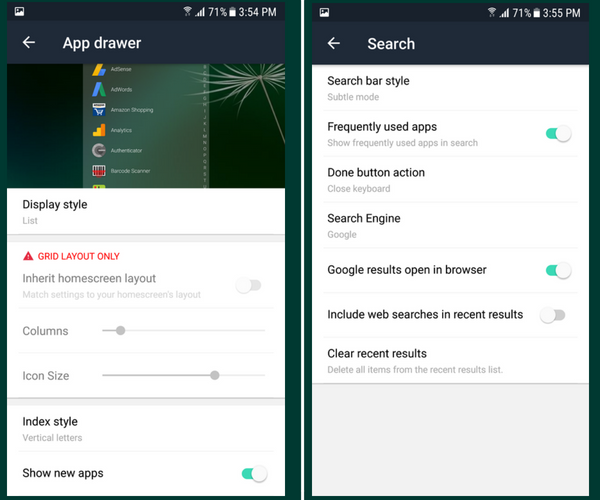 All the phone's apps live in the App Drawer and you can choose how they display in the App Drawer settings.
Search
You can set your Search bar style and search results options here. Plus, this is where you can clear all recent search results.
Hide Apps
If you don't want specific apps to show up in your Search, you can head over to this section to hide them.
Other Settings
Apart from Evie's main settings, you can also access Backup & Restore, send Feedback, view the Privacy Policy and switch to another launcher from the Settings screen.
Customizing Evie's Settings is as simple as that! For anyone who hates too many customizing options, Evie Launcher should be "the one".
10 Reasons to Love Evie Launcher
1. Keeps customizing simple, straightforward and easy.
2. Supports all major customization features.
3. Search is quick and easy. Lets you search locations, contacts and apps on your device too!
4. You can choose between Google, Bing and Duck Duck Go search engines.
5. You can create custom shortcuts for search results using a long press.
6. Gestures are now fully customizable making it easy to use it for specific actions.
7. Unread badges quickly show you notifications that you have yet to check out.
8. Customizable Evie Feeds lets you catch up on news and happenings that are important to you.
9. Evie is designed with performance and speed in mind and is lean in memory.
10. Its completely free to use!
Final Thoughts
If you are on the lookout for a simple launcher with great features, you should definitely check out Evie Launcher 2.9. It lets you set up things the way you want and enjoy Android on your phone just the way you like.
Price: Free  Download: Google Play | Website: Evie
Check it out and tell us what you think!