The 34th President of the United States was a remarkable man. He brought peace to America, ended the Korean war and even managed to balance the budget not once but three times. Prior to taking oath, he was a five-star general in the United States Army. He also had time to serve as the President of Columbia University, be the first Supreme Commander of NATO and enjoy hobbies like golfing (what else!) and oil painting.
Eisenhower was probably one of the most productive people on the planet as is evidenced by his methods for time management, task management, and productivity. His strategy came to be known as the Eisenhower Box, where actions are decided based on the urgency of a task.
Every task falls into one of 4 categories in the Eisenhower Box decision matrix:
1. Urgent and important tasks that you should do immediately.
2. Important, but not urgent tasks you should schedule to do at a later time.
3. Urgent, but not important tasks you should delegate to someone else; and
4. Neither urgent nor important tasks that you should get rid of.
iOS app developer Denys Yevenko has made use of the Eisenhower Box technique to develop his awesome task management app called Focus Matrix which is now available on the App Store.
This app is designed to help you focus on what really matters and manage other less important tasks by delegating them to others or putting them off indefinitely until you have time for them.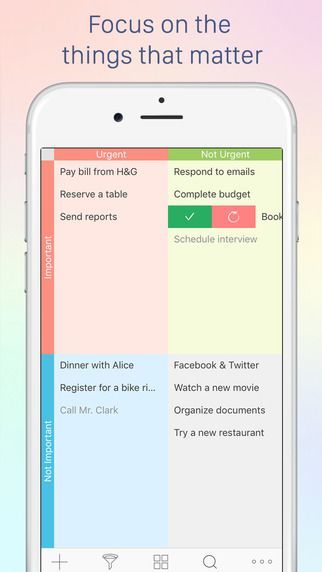 The app's UI is split into 4 areas Urgent, Not Urgent, Important and Not Important. You can create tasks using the + button at the bottom of the screen and set it as Important & Urgent, Important & Not Urgent, Not Important & Urgent and Not Important & Not Urgent. You can set a due date, add a reminder and include some notes regarding the task, if required.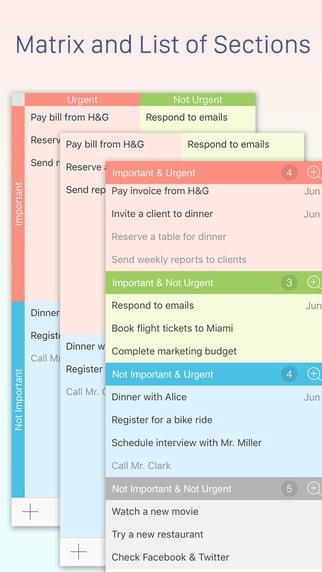 When the task is added to the app, it will show up in the appropriate section on the screen. If you find that the task is no longer urgent you can drag and drop it to another section. If some task has suddenly become highly important, you can drag and drop it to the respective section.
Tasks that you previously marked as Not Urgent will automatically get moved to the Urgent section as they approach their due dates so you never lose out on completing tasks in the other sections as well.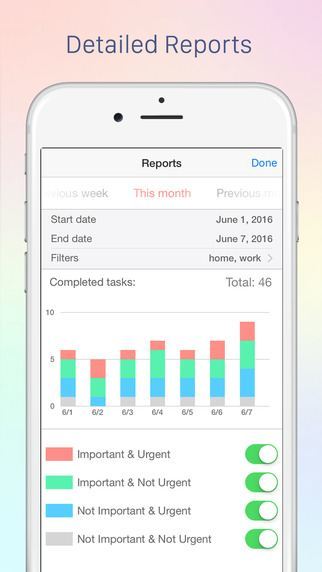 Focus Matrix also offers plenty of additional features that will help you manage your tasks.
Search and Tags support is available
You can filter tasks by tags and completion status.
You can password protect tasks; and
You can configure stats and reports for completed tasks.
All of these features are available in the free version, which should suffice for an ordinary user, but if you want all of the app's benefits, you can unlock the Pro version at $1.99 and get:
Cross-device synchronization
Seamless integration with Calendar (synchronization of tasks, due and remind dates); and
Integration with Be Focused app: synchronization of tasks and their statuses, possibility to start a timer in Be Focused right from Focus Matrix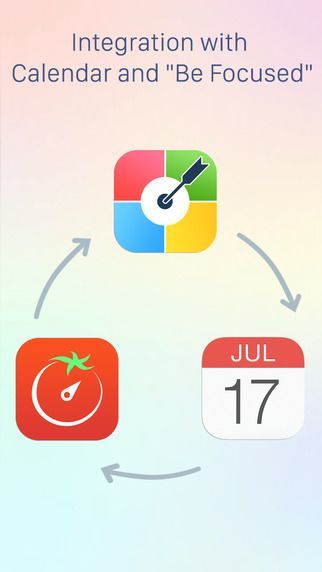 In my use of Focus Matrix, I found the app to be easy to use, with a clean interface and clear navigation and actions. If you are in the market for a new task management app that can help you prioritize your tasks without overwhelming you, take this one for a spin.
Download the task management app from the App Store
Discover more cool iOS apps for your iPhone or iPad in our Archives section.