DropBox, Windows Live SkyDrive, and Google Docs are just a few notable web apps that let you store and share your documents, photos, and music files in the cloud. You can now include yet another free online file sharing tool to this list that provides a cool 10 GB of free space when you sign up; it's called Minus. Minus is also available as a desktop app for Windows, Mac, and Ubuntu, a mobile app for the iPhone, and Android, and a Chrome and Firefox browser extension.
Signing Up to the Free Online File Sharing Tool – Minus
Signing up in Minus is as simple as entering a username and password, or logging in using your Twitter or Facebook credentials. Once you sign up, you're taken to a minimalistic dashboard. You can add files by dragging and dropping them onto the Web page or by clicking the orange Upload button that's hard to miss at the top of the page.
Transferring Files to Minus
Once you download Minus desktop app (for Windows)  it will be displayed in the system tray or the notification area. Right-click the Minus icon and sign in to start sharing files effortlessly. To share a file, simply drag and drop it over the Minus icon. This will display a tiny pop-up window showing the progress of the upload.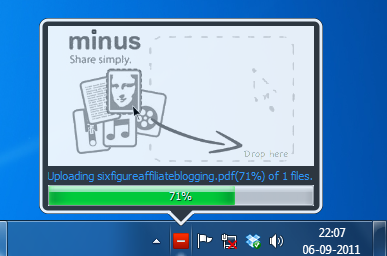 Once the upload is complete, you can click the Minus icon again to view additional options such as marking the files uploaded as public or private, checking the number of times it was viewed, copying the file sharing link, and accessing other setting options.
You can also capture screenshots by right-clicking the Minus icon and selecting Take Screenshot. Screenshots taken using this tool will be automatically uploaded to the Minus dashboard. If you're planning on editing or adding special effects to the screenshots right after, you'd just have to forget about it though.
The Minus Browser Extension
You can also access Minus from your Firefox and Chrome web browsers by downloading the respective Minus extensions. The browser extension does not permit drag and drop of files, but rather uses buttons to accomplish the task.
Minus App for Android and iPhone
You can also share files from your Android device or iPhone by downloading the respective apps from the Android Market and the iTunes AppStore.
Other Cool Minus Features
Minus gives you 1 GB of extra space (up to 50 GB) for every user you introduce or invite to try the service.
You can toggle the dashboard in two modes; with background lights on or lights off.
You can also view the dashboard in Grid or thumbnail mode, List or timeline mode and in Full screen mode.
You can share files on social networks like Facebook, Twitter, Google +, and get shortened links to embed or share via email or other sources.
Users can add comments via Disqus
Conclusion
Minus is not as user-friendly as Dropbox. The file management and organization structure takes a little getting used to. Unlike Dropbox, which acts like a virtual drive displaying the files and folders in your PC, Minus window on the PC only serves as a location to drag and drop files to the online dashboard and all sharing, and accessing is done in the online dashboard. Which leads us to yet another difficulty, which is the inability to view files on your dashboard if you don't have access to the Internet. If you're not too keen on accessing files and folders in real-time like Dropbox, Minus may be a good option for you to share files, photos, and music with friends and family while you're online.
Have you tried Minus yet? Let us know what you think of this free online file sharing tool in the comments section.
Want to read more about web apps that we have reviewed? Check out our section on Web app Reviews for more interesting web apps you may find useful.