Its that time of the year again when we can't wait to deck up our Android devices with some glorious and happy Christmas wallpapers. If you're on the lookout for some new 2014 Christmas wallpapers for your Android, we hope our collection will keep you happy. Here goes.
Must Have 2014 Christmas Wallpapers for your Android
Christmas Snow Live Wallpaper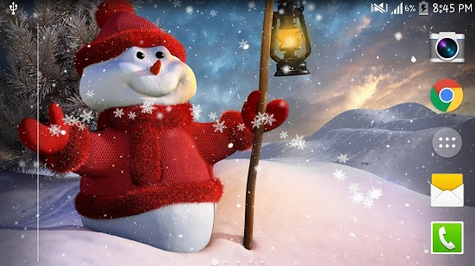 This is a beautiful must have wallpaper app for Android. It features absolutely gorgeous images of snowmen wishing you all the joy and happiness of the season in a swirling mist of snow. This is a live wallpaper, so tapping on the screen will bring in a fresh gust of silvery snow. There are 8 images in all. but you have to manually change each one of them. Its free with lots of ads in the settings section.
Download Christmas Snow Live Wallpaper
Christmas Lights 2014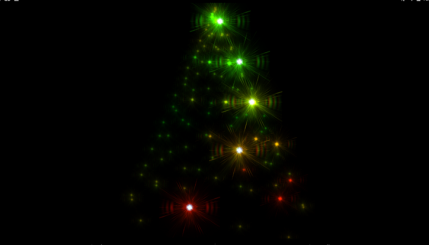 Christmas Lights 2014 is another live wallpaper for your Android, but this one's got loads of customization options you'll love to try out. The app is basically a string of revolving lights forming the shape of a Christmas tree. The lights keep changing colors constantly while revolving and you can choose which patterns to display, the time each pattern is displayed, the shape of the lights, and even add a message for the lights to display. Plus, you can choose custom colors for the lights, its layouts, and more. This is just some of what you can get in the free version and you can unlock more if you want to via IAPs. The Play Store description best summarizes its  features, which I think truly deserve a mention. (There's so much!)
23 full color light pattern types (with new ones added in the run up to Christmas!)
Multiple variations of each pattern, so there are over 100 different displays!
5 Christmas tree layouts.
Option to set the number of lights suitable for your phone's display and CPU power
11 different animated light shapes
Multiple camera views
A preview mode to check out the settings before going Live
Multiple settings to get good performance on older devices
Download Christmas Lights 2014
Christmas Snow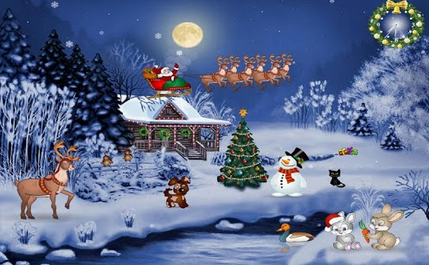 If you are worried that your live wallpaper is eating into your battery life, switch over to Christmas snow, a series of gorgeous Christmassy scenes that should put you right in the mood for the holidays. There are 28 absolutely glorious images with smiling snowmen, lighted trees, cozy cottages and more and you're sure to love each one of them.
Keep checking in folks as we'll be adding more and more Christmas wallpapers as we find them.