Download these fun iPhone apps for Thanksgiving and share them with your family and friends as you prepare for your Thanksgiving festivities. There are turkey games, wallpapers, recipe ideas, and other ideas for Thanksgiving. If you've got an app that's not on this list, be sure to let us know using the comments form that's at the end of this post.
Top iPhone Apps for Thanksgiving
The official app for the annual Macy's Day Thanksgiving Parade that provides important information on the parade such as parade participants, parade route, parade shops, transportation routes, nearby restrooms and more. Spectators can also track 14 various cheerleading and dance troupes, marching bands, and Santa's float! If you're planning to be in NYC, this free app is something you might want to download.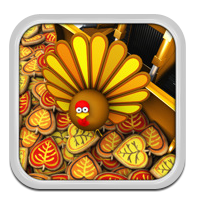 This fun thanksgiving game has you pushing holiday cookies and treats from the jar to the machine. You can collect Thanksgiving turkeys, pumpkins, pies and more for special bonuses or even more cookies. Price: Free
This free app has loads of cool Thanksgiving themed wallpapers for your iPhone. Roast turkey, pumpkins, harvests, autumn leaves, wishes, decorations and more just in time for the holiday season.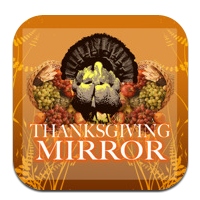 Thanksgiving Mirror is a fun app that lets you capture your photo using the front camera and snap them onto several Thanksgiving-themed characters! You need to pick a character or scene, line up the photo and take the shot. You can set the picture as your wallpaper, add it as a contact photo, or send it to all your friends. Price: Free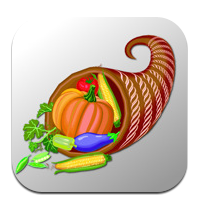 A simple app that's a collection of prayers to say at the thanksgiving table with the ability to share the prayers via email. Price: $0.99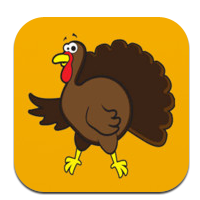 This is a turkey jumper game and your job is to help Turk the turkey spring up the musket styled platforms, while picking gold coins. You will need to tilt your iPhone left or right to make Turk hop on the muskets. Price: $0.99

Side Dishes, Kid Friendly, Casseroles, Potluck, Stuffings Dressings and Crusts Pastry Dough are just a few of the categories of Thanksgiving recipes available on this app. A good chance to try something new or a variation of what you usually prepare for Thanksgiving . Price: $1.99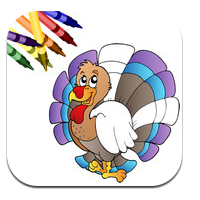 An app for your kids. if you're ready to let them use the iPhone!. With over 60 colors to choose from, your kid can color tons of pictures, share them on Facebook, Twitter or Tumblr. Shake the device to clear the picture and start all over again. This app is FREE for a limited time.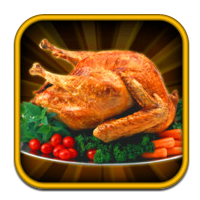 Not able to find the right table setting for your Thanksgiving dinner? This app will help you create the perfect plate by picking the right tablecloth, centerpiece, china and other items you need to prepare the perfect Thanksgiving setting. You can also show off your skills on Facebook. There's also a sampling of dinner making items.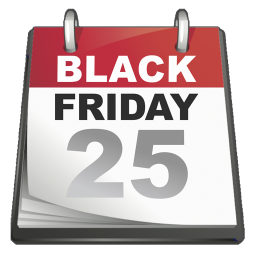 Powered by two of the most popular shopping resources on the web, TGIblackfriday.com and DealCatcher.com this app displays Black Friday ads for all major retail stores, downloadable PDF Ad scans, personal shopping list creation, sharing deals on Facebook and Twitter, emailing your shopping list, and more.
Enjoy the company of friends and family, give thanks for all good things, and enjoy them with some fun Thanksgiving apps for your iPhone.
A Very Happy Thanksgiving 2011 Everyone!