It isn't difficult to list the painful moments and events we have witnessed in our life this year – suicide bombings, airplane crashes, ebola, carnage caused by climate change and personal failures, disappointments, and heartbreaks may seem simply too overwhelming.
But only stop for a minute and reflect on the old English song "Count Your Blessings," and you'll realize that despite the pains and struggles we've been through this year, we have much to be thankful for. As we celebrate the feast of Thanksgiving, let us not only enjoy the bounties of food and gifts on the table, let us also be truly thankful to God for all the wonderful blessings we've taken for granted.
On a lighter note, here are some Thanksgiving apps and games to make your day a less exhausting and enjoyable one.
Thanksgiving Apps and Games for 2015 Worth a Download
Gratitude Journal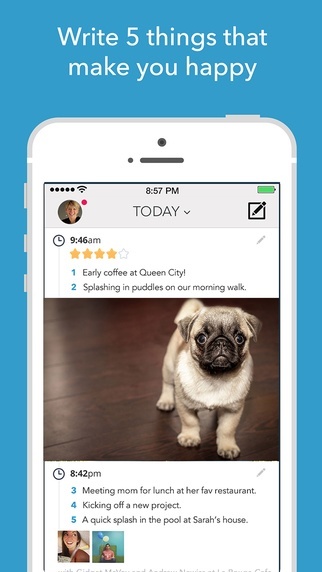 Its easy to get sunk in the daily depressing grind of life. Be inspired at all times with the Gratitude Journal, the app aims to rewire your brain and promote a positive attitude in you always by encouraging you to write 5 good things everyday and repeat that behavior until it becomes a habit. The Gratitude Journal has helped many people find their purpose in life and it might just be the nice habit you pick up on Thanksgiving. Price: $2.99
Attitudes of Gratitude Journal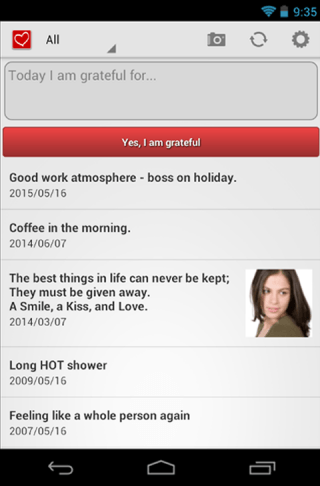 Android users can take advantage of this app to list the things that they are grateful for everyday and eliminate focus on wasteful thoughts. If you manage to keep it up until next Thanksgiving, you will have the most thankful prayer to say at Thanksgiving dinner. Price: Free
Download Attitudes of Gratitude Journal
Food & Wine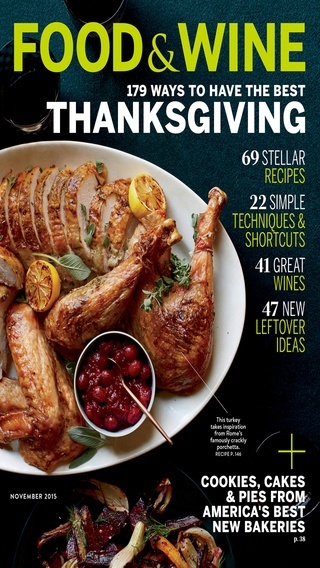 For the best Thanksgiving appetizers from the super easy ones to the classics, you can find it all in one place in the Food & Wine app for the iPad. You can check out the free preview issue before subscribing to the magazine.
Holiday Recipes & Party Planning Guide, by Food52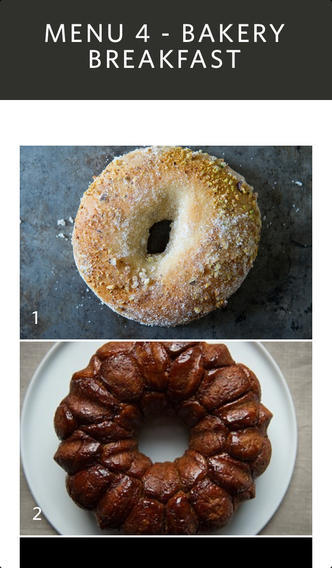 Holiday entertaining is an exhausting affair. The best way to deal with it is of course to get yourself the Holiday Recipes & Party Planning Guide. What it does is guide you through the right steps for hosting a perfect holiday brunch, dinner or cocktail party by helping you plan your menu, shopping and cooking strategies.
The app includes 127 low stress holiday recipes, step-by-step walkthroughs and HD video tips specifically designed for the holiday season. As a bonus, you get a step-by-step HD video guide to making a beautiful gingerbread house in 24 minutes. There's plenty of value in the Holiday Recipes app from Food52 so do check it out. Price: $3.99?
Download Holiday Recipes & Party Planning Guide by Food52
Chow Thanksgiving Dinner Coach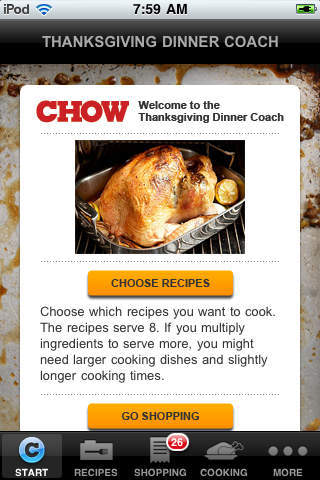 Grab 9 of the easiest traditional Thanksgiving recipes and get step-by-step timeline based guide to help you get through the entire Thanksgiving day's menu so you can avoid all the stress associated with the day in Chow Thanksgiving Dinner Coach. The app is simple, quick and perfect for beginners or those hosting their first Thanksgiving Dinner. Price: Free
Download Chow Thanksgiving Dinner Coach
Thanksgiving: A Bon Appétit Manual
This is a brilliant app to carry on your phone in the days leading up to Thanksgiving. It features exclusive Thanksgiving recipes, cooking tips, step-by-step videos, and a handy scheduling tool to organize your cooking schedule. Although the app hasn't been updated for 2015, it has 13 yummy new recipes from their 2014 Thanksgiving issue, which you could enjoy making again, if you haven't already done so. Price: Free
Butterball Cookbook Plus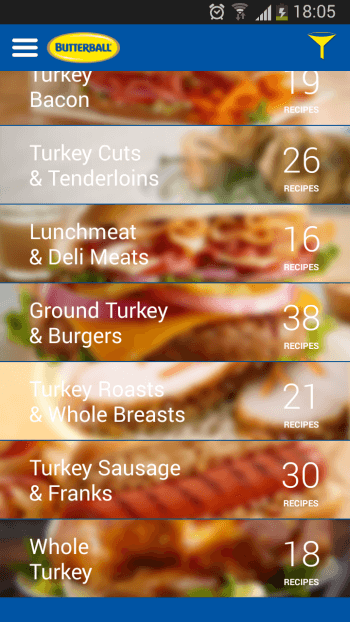 Get recipes and tips for appetizers, salads, entrees, and desserts and share them with friends with the all round cooking app Butterball Cookbook Plus. The app also comes with a handy cooking calculator to ensure proper thawing and cook times for your Thanksgiving meals. And just to avoid over indulgence you can check the nutritional information and serving sizes. You can check out our review of the app to learn more. Price: Free
LeftoverSwap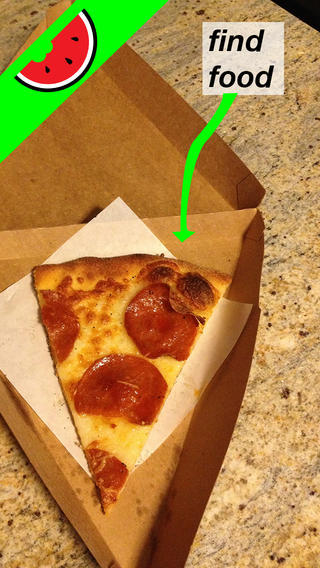 ?If you have so much food on your Thanksgiving table and you don't want to keep the leftovers for the next few days, give it away to someone needy. Use the LeftoverSwap app, snap a picture of your leftover food and share the pics. Someone in need of a meal will likely take it up.
Download the LeftoverSwap apps (Give and Take)
NFL Mobile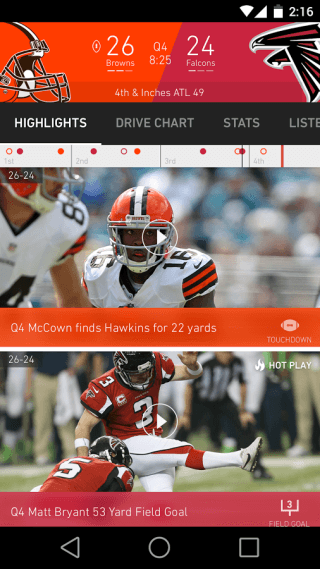 It is said that football on Thanksgiving day has become as essential as turkey and mashed potatoes. And NFL Mobile, as offered by Verizon Wireless, lets subscribers live stream primetime games, which is a pefect way to unwind after a heavy meal.
Alphabear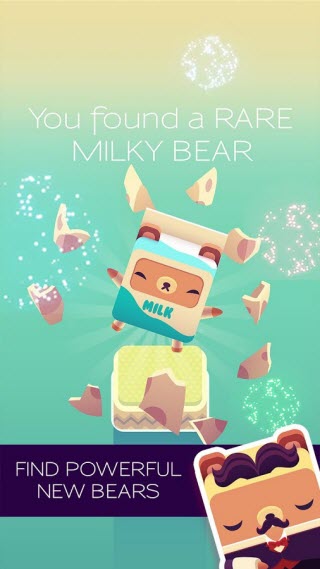 This game has just got a fresh Special Events update that will let you play unique events and earn rare coins and rare bears from your latest chapter. The first event will go live on Thanksgiving Week, so keep it ready to distract the kids on the big day.
A Charlie Brown Thanksgiving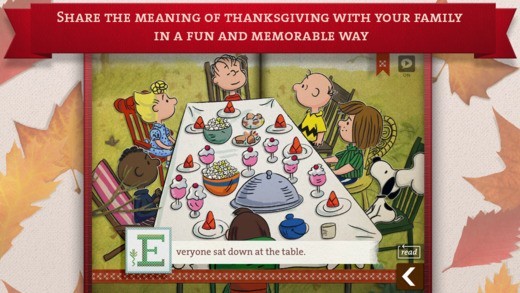 This Thanksgiving, join Charlie Brown and the Peanuts gang around the table for a special Thanksgiving dinner. This is a beautifully re-mastered 40th anniversary edition which offers clever interactive elements while still offering a book reading experience. Play some football with Charlie Brown, prepare a meal with Master Chef Snoopy, and set the table with Woodstock while discovering the true meaning of Thanksgiving. A timeless TV classic made for the perfect occasion. Price: $5.99. Currently on sale for iOS at $2.99.
Thanksgiving Day Emoji – Holiday Emoticon Stickers for Messages & Greetings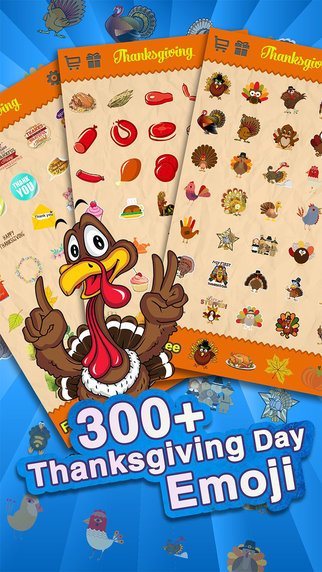 Make your Thanksgiving Day wishes more special and personalized with this simple emoji, emoticons, and smiley app.
Download Thanksgiving Day Emoji for iOS
Black Friday Shopping
Don't forget that before the day is through, you'll want to catch up on all the best shopping deals for the Black Friday shopping. We already have a list of apps that should help you with that.
And finally, before you day is through, make sure you grab yourself some cool Christmas Shopping apps to organize your gifting.