Garmin products have revolutionized the lives of adventurers, athletes, off-road explorers, road warriors, and outdoor enthusiasts everywhere. Their latest launch, the Garmin Fenix 7 Pro is a state-of-the-art multisport GPS smartwatch designed to assist athletes and outdoor enthusiasts in achieving their peak performance. Here's all you need to know about the Garmin Fenix 7 Pro.
Rugged, Stylish, and Durable Design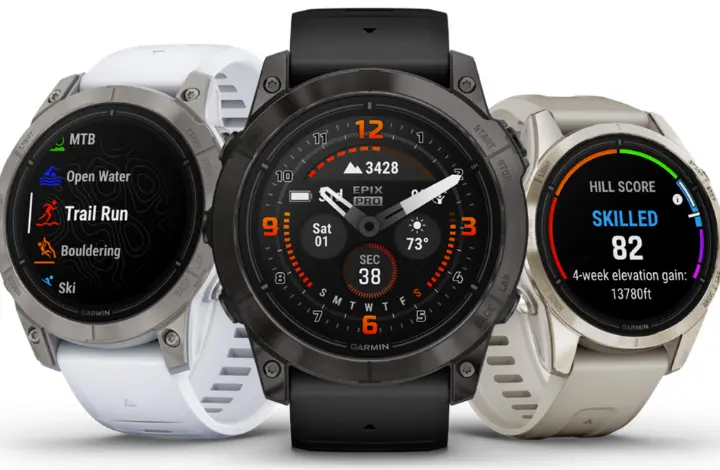 The Garmin Fenix 7 Pro Series has a display that charges with solar power. It has a responsive touchscreen, buttons, and a strong case made of fiber-reinforced polymer. The case also has a steel bezel and rear cover.
These smartwatches are tested to U.S. military standards for thermal, shock, and water resistance, ensuring they can withstand the most demanding conditions.
Advanced Features of the Garmin Fenix 7 Pro
The Garmin Fenix 7 Pro boasts a plethora of new features designed to enhance the user experience:
Integrated LED flashlight
Available on all models, the flashlight offers variable intensities, a red safety light, and a strobe mode, ensuring improved visibility during night-time training sessions.
Next-gen MIP display
The new pixels, backlight, and solar panel make the display brighter, more energy-efficient, and adaptable to different lighting conditions. It still performs well in sunlight.
Improved heart rate sensor
The improved sensors and specialized algorithms track activities more accurately, helping users understand how their body responds to exercise.
Endurance score
This feature measures the ease of sustaining prolonged efforts while factoring in training data like VO2 max, short and long-term training loads, and other athletic pursuits.
Hill score
Users can assess their uphill running ease by measuring their strength on steep climbs and endurance on lengthy ascents. This metric also evaluates progress over time based on VO2 max and training history.
Up Ahead
Runners can view specific point of interest (POI) checkpoints, such as aid stations, directly on a map for better situational awareness.
Weather map overlays
Users can easily visualize upcoming weather conditions on their smartwatch.
Relief shading
This feature allows for quick and easy interpretation of topographic maps.
Additional preloaded activities
Users can now track their performance in new activities, such as whitewater rafting, motocross, and overlanding.
Built-in Sports Apps
The Garmin Fenix 7 Pro is designed to help users rise to any challenge. That's possible with its extensive range of built-in sports apps, from hiking and mountain biking to strength training and beyond.
The Watch also has many advanced training tools to assist users in gauging their overall performance. The tools include training readiness scores, hill score, endurance score, VO2 max, and training status metrics.
The PacePro™ feature offers GPS-based pace guidance for selected courses or distances. The 3ClimbPro displays real-time information on current and upcoming climbs.
Additionally, the grade-adjusted pace feature calculates an equivalent running pace at the same effort level on flat ground or while ascending.
To prevent burnout, stamina insights and wrist-based running power monitor exertion levels and power output in real-time.
Tools for Race Day Preparation
On the day of the race, the race widget gives you helpful advice, suggests workouts just for you, and predicts your finish time for upcoming events. It considers things like the course, weather, and how you've performed before.
Athletes can get personalized daily workout suggestions that change based on their performance and recovery. The workouts also consider any upcoming races added to the Garmin Connect™ calendar.
Dependable Navigation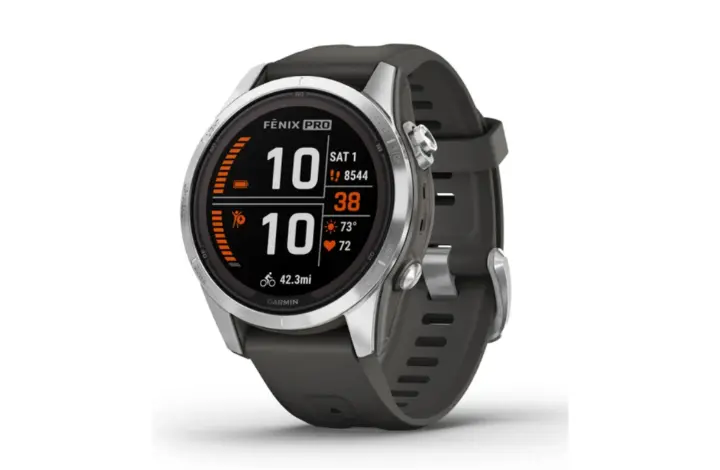 The Garmin Fenix 7 Pro Series is equipped with premium mapping features, ensuring users are always on track no matter how remote their adventure may be:
SatIQ™ technology and multi-band signal reception
These technologies work alongside multi-GNSS to offer superior positioning accuracy in challenging environments while optimizing battery life.
Preloaded TopoActive maps
Users can access multi-continent mapping from around the world.
Outdoor Maps+
This optional subscription service provides premium mapping content, such as satellite imagery, public land maps, enhanced TOPO maps, and more directly on the watch.
SkiView™ Maps
Skiers can view run names and difficulty ratings for over 2,000 preloaded ski resorts worldwide. Golfers can access full-color CourseView Maps for over 43,000 golf courses globally.
Course creation and synchronization
Users can create or find existing courses in Garmin Connect and seamlessly sync them to their watch.
Trendline™ popularity routing
When exploring, users can create round-trip routes directly from their watch. This feature helps them find the best local paths.
All-Day Comfort and Wearability
The Garmin Fenix 7 Pro has a long-lasting battery that can last for weeks. It also has solar charging to provide extra power. This means users can keep the watch on all the time to get continuous health and wellness insights.
These features include wrist-based Pulse Ox, Body Battery™ energy monitoring, advanced sleep monitoring, and sleep score metrics. They help identify optimal activity and rest times and provide insights about sleep quality.
Upon waking, users can access a morning report containing a customized overview of their sleep, training outlook, Heart Rate Variability (HRV Status), and more.
For those traveling long distances, the Jet Lag Adviser feature offers guidance on light exposure, sleep schedule, and exercise to help minimize jet lag's effects.
Stay Connected on the Go
The Garmin Fenix 7 Pro Series enables users to stay connected while on the move. When paired with a compatible smartphone, users can view all smart notifications directly on their watch.
Safety and tracking features, such as incident detection, assistance, and LiveTrack, provide athletes with greater peace of mind during workouts.
Garmin Pay™ contactless payments allow for quick and easy transactions. Music streaming capabilities such as Spotify®, Deezer, or Amazon Music (premium subscription required) offer phone-free listening.
Pricing and Availability
The Fenix 7 Pro comes in 3 models – the 42mm Fenix 7S Pro, 47mm Fenix 7 Pro, and 51mm Fenix 7X Pro. It also comes with options for Standard and Sapphire Editions. Retail prices start at $799.99. To learn more, visit www.garmin.com.
Final Thoughts
The Fenix 7 Pro is a great upgrade over the 7, with solar charging, pro-grade performance insights, and advanced mapping capabilities. It is built to endure all-day activities, no matter how demanding they may be. The inclusion of an LED flashlight allows for extended outdoor adventures. With the battery life lasting up to 37 days in smartwatch mode and an impressive 139 days in expedition mode, there are plenty of good reasons to make that upgrade, if you want to.
Check out the Fenix 7 Pro on Amazon, Garmin, or at your favorite retailer.