When it comes to GPS watches, Garmin has long been a trusted name in the industry, offering a wide range of products designed for athletes, adventurers, and fitness enthusiasts. In this comprehensive comparison, we will delve into the differences between the Garmin Fenix 7 vs Fenix 7 Pro, two of the brand's most popular models, to help you make an informed decision when choosing your next GPS watch.
Before diving into the details, it's important to understand the context behind these two models. The Garmin Fenix 7 is a highly capable GPS watch with an array of features and a solid design. It is an excellent choice for outdoor enthusiasts. On the other hand, the Fenix 7 Pro takes things a step further by offering additional features and improvements, catering to those who demand the very best from their GPS watch.
Garmin Fenix 7 vs Fenix 7 Pro
Table could not be displayed.
Pricing and Availability
One of the primary considerations when comparing the Garmin Fenix 7 vs Fenix 7 Pro is the price difference between the two models. The standard Fenix 7 begins at a price point of $700 for the smallest version, the Fenix 7S, although it is often available at a discounted rate.
In contrast, the Fenix 7 Pro lineup starts at $800 for the Fenix 7S Pro, reflecting a $100 increase across the board for each corresponding model.
Design and Build
Both the Garmin Fenix 7 and Fenix 7 Pro series are available in three different sizes: 42mm, 47mm, and 51mm. The overall design remains consistent across both lineups, featuring a durable metallic case and a bright display that is easy to read outdoors.
Solar and non-solar variants are available for both the standard and Pro models, while Sapphire Glass versions offer increased durability for those seeking a more rugged display. This means that buyers have a wide range of options to choose from, regardless of whether they opt for the Garmin Fenix 7 or Fenix 7 Pro.
Display Improvements
Although the two series share many similarities in terms of design, the Fenix 7 Pro lineup boasts some enhancements to the display. The Pro models feature a redesigned screen that offers better performance and readability in bright outdoor conditions. While the standard Fenix 7 models already offer decent outdoor visibility, the improvements in the Pro models are a welcome addition.
Feature Differences
The crux of the Garmin Fenix 7 vs Fenix 7 Pro comparison lies in the differences between their features. Both watches excel in GPS tracking and heart rate monitoring. However, the Pro models include an upgraded heart rate monitor for improved accuracy.
Additionally, while only certain standard Fenix 7 models have an LED flashlight feature, all Pro models now come with this feature as standard. This includes both red and white LED strobes, which can be useful for navigation or attracting attention in emergency situations.
The Pro models also benefit from enhanced software capabilities, such as an Endurance Score and a Hill Score. These new metrics provide valuable insights into your overall fitness and athletic performance. It further allows you to track your progress and make adjustments to your training regimen accordingly.
Also, the Fenix 7 Pro models come with more pre-loaded activities, including niche sports like white-water rafting. This offers users a greater range of options for tracking their workouts and outdoor adventures.
Battery Life
Battery life is another crucial factor to consider when comparing the Garmin Fenix 7 and Fenix 7 Pro. The standard Fenix 7 model offers up to 28 days of battery life while the Pro model boasts an impressive 37 days of battery life (with the solar variant). This difference can be significant for those who prioritize extended battery life in their GPS watch.
Garmin Fenix 7 vs Fenix 7 Pro: Making the Right Choice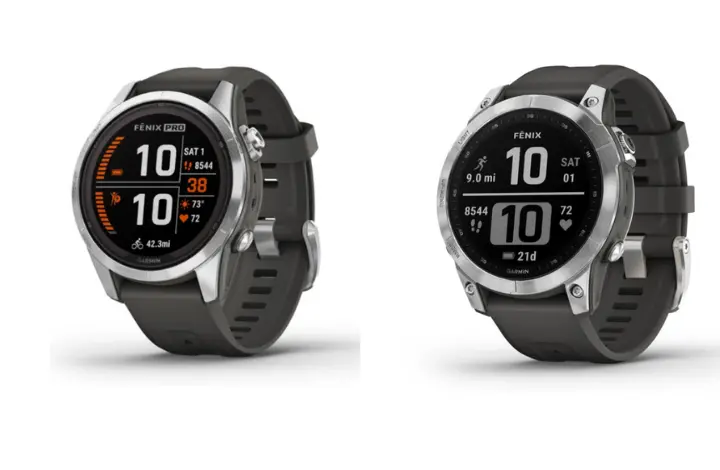 Ultimately, the decision between the Garmin Fenix 7 and Fenix 7 Pro will depend on your specific needs and preferences. The Fenix 7 Pro models certainly offer some compelling upgrades and improvements, making them an excellent choice for those seeking the latest and greatest in GPS watch technology.
However, the standard Fenix 7 models remain a solid option for those who don't require the additional features and improvements found in the Pro lineup. With the potential for discounted prices on the older models, the Fenix 7 series can also provide better value for budget-conscious buyers.
In conclusion, both the Garmin Fenix 7 and Fenix 7 Pro offer exceptional performance and functionality, making them top contenders in the GPS watch market. By carefully considering your individual needs and preferences, you can select the perfect model to accompany you on your next adventure.