Garmin's adventure watches has a new addition – the Instinct 2X Solar. This watch is designed to make your outdoor activities more fun with some exciting new features including a solar charging lens and an LED flashlight. If you're a big fan of adventure smartwatches, check out what the Garmin Instinct 2X Solar has in store for you.
Features of the Garmin Instinct 2X Solar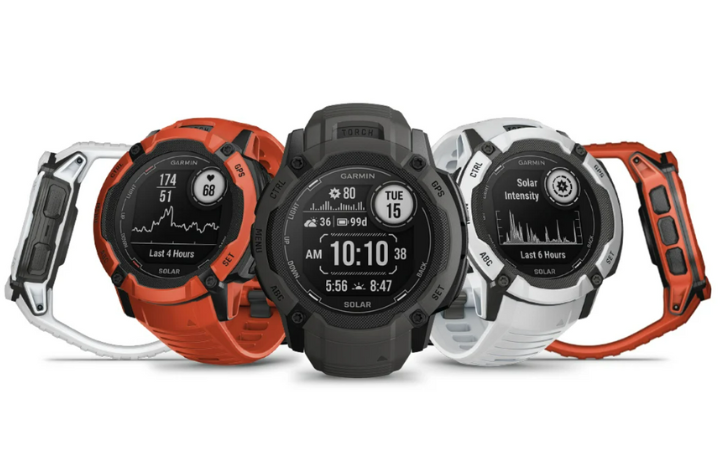 Design
The Instinct 2X Solar is a rugged watch with a solar charged display and rugged 50 mm polymer case.
Battery Life
The watch comes with a solar charging Power Glass lens that produces 50% more power compared to its predecessor. If you wear the watch outdoors for at least 3 hours, it will extend the battery life even longer. In fact the company states that with just 3 hours of exposure to the sun, you get unlimited battery life.
Thermal, Shock and Water Resistant
This rugged outdoor watch has been built and tested to U.S. military 810 standards, making it thermal, shock and water resistant (10 ATM water resistance (up to 100 m).
Built-in LED Flashlight
Now, you can never lose your way in low-light conditions. The watch's built-in multi-LED flashlight offers variable intensities and strobe that matches your running style. There is also a red safety light mode to keep an eye on your night-time surroundings.
Multi-Band GNSS Monitoring
The Garmin Instinct 2X Solar is capable of receiving multiple frequencies sent by navigation satellites. This in turn offers improved user position accuracy, particularly in areas where GNSS signals are reflected, are weak or just do not penetrate. The Tracback Routing feature also helps you find your way back by following the same route you took to get to where you are. You can also set a reference point, such as your car or a trailhead relative to your location, so you can easily find your way back to it.
Safety Features
The watch also includes safety features. If you feel unsafe or an incident occurs, the watch's assistance and incident detection feature can send a message with your location to your emergency contacts.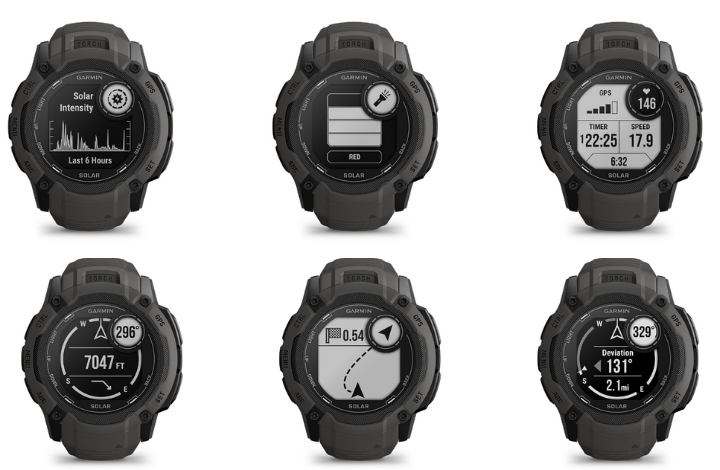 ABC Sensors
The ABC sensors on the watch such as the altimeter, barometer and 3-axis electronic compass makes for easier navigation.
Training and Workouts
One of the main reasons why you'd want a Garmin smartwatch is to track your workouts. For that, you can make use of the preloaded activity profiles on the watch. There are profiles for running, cycling, swimming, skiing, snowboarding, golf, yoga, Pilates and more.
The watch also tracks your performance for obstacle course events — with split times recorded between running and obstacle sections. You need to first manually record splits during your first loop. After that the watch does the recording automatically.
The watch can also track HIIT workouts, including AMRAP, EMOM, and Tabata. The VO2 max feature helps to measure your cardiorespiratory fitness and aerobic performance.
The Watch also gives you a suggested daily workout routine with a recovery timer letting you know when you can do your next hardcore workout.
Wrist-based heart rate, sleep monitoring and sleep score data is also available. Every morning you can get a quick report of all your activities, sleep, and weather and you can even customize the report to suit your needs.
Other features
This smartwatch also offers plenty of other features including smart notifications, Connect IQ Store app to download custom watch faces, apps and widgets; Garmin Pay contactless payments, and a calendar view to easily see the plans you have for the day.
Quick Look: Top Features of Garmin Instinct 2X Solar
Clock Features: Time/date; Gps time sync; Automatic daylight saving time; Alarm clock; Timer; Stopwatch; Sunrise/sunset times         
Health Monitoring: Wrist-based heart rate; Daily resting heart rate; Abnormal heart rate alerts; Respiration rate; Pulse ox blood oxygen saturation; Fitness age; Body battery energy monitor; All-day stress; Relaxation breathing timer; Sleep; Sleep score and insights; Hydration;  Women's health; Health snapshot
Daily Smart Features: Bluetooth ant+®Connectivity; Downloadable watch faces, data fields, widgets and apps; Smart notifications; Text response/reject phone call with text (android™ only); Calendar; Weather; Realtime settings sync with garmin connect™ mobile; Battery saver; Music controls; Find my phone; Find my watch; Virb® remote; Garmin pay
Safety and Tracking Features : Livetrack; Incident detection; Assistance
Tactical Features: Dual grid coordinates
Activity Tracking : Step counter; Move bar; Auto goal; Calories burned; Floors climbed; Distance traveled; Intensity minutes; Trueup; Move iq; Garmin connect challenges app
Gym & Fitness: Automatic rep counting; Cardio workouts; Strength workouts; Hiit workouts; Yoga workouts; Pilates workouts
The Instinct 2X Solar will launch in two editions: the standard 2X Solar and the Instinct 2X Solar Tactical Edition.
The Instinct 2X Solar has a retail price of $449.99, while the Instinct 2X Solar-Tactical Edition is priced $499.99. The company is offering a 4 interest-free payments of $123.74 with Klarna, if you are thinking about an easy payment option.
Check out the new Instinct 2X Solar on Amazon or on the official website if you want to learn more or make a purchase.