Snapchat is one of the hot and happening mobile messaging apps that lets users send photos and videos to friends and family by making it fun. What makes Snapchat stand out from the rest is that all photos and videos, also called snaps last for a maximum of 10 seconds and then they are gone. Yep! all messages self destruct after it is viewed however that doesn't mean that the person with whom you shared the snap cannot take a copy of it and retain it for viewing later. As with every app, there are always plenty of good practices and hidden features that escape the eye and we've put together a list of Snapchat tips and tricks that can help you get the most out of the app.
19 Cool Snapchat Tips and Tricks
Making Text or Emoji's BIG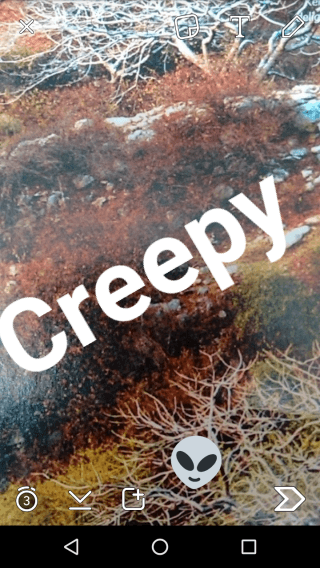 Snapchat lets you tap on the snap to add a caption, but did you know that you can overlap your snap with big text or emoji? To do this, tap the letter T next to the pencil icon at the top of the screen and then start typing. The characters you type will be magnified. Tap on the emoji icon and zoom in to expand it. You can also rotate them to create some quirky snaps.
Doing a Face Swap
Face Swap is the latest craze to hit the Internet and although it is kinda creepy its also a lot of fun. If you want to try it on Snapchat, launch the app and make sure the front facing camera is on. Then, tap and hold your face until you see a grid like design over your face. This is basically Snapchat mapping your face. Now swipe through the lens options that appear at the bottom of the screen. The face swap is the yellow icon with two smiley faces inside. Tap it so that it appears on screen.
Next, get hold of the person with whom you want to swap faces. Make sure you are both directly facing the camera and align both your faces against the icons on the screen until they both turn yellow. Snapchat adjusts the other person's face by mapping your face to fit that person and vice versa. When to talk or act animatedly, it will be the other person who appears to talk or act animatedly although it will be on your body.
To share the image, don't forget to tap the camera icon and save it in your photo library. You can then share it via email, Facebook, or Twitter.
Using Colors
You can doodle on your snaps using colors picked up from the rainbow color bar in Snapchat. But you can also try your hand at using colors that are not so obvious. Here are some options:
You can draw with a white crayon by dragging the rainbow slider to the top left corner of the screen if you are on an iOS device. Android users have this white crayon by default.
You can draw with a black crayon by dragging the rainbow slider to the bottom if you are using Snapchat on an iOS device. Android users have the black crayon by default.
You can drag the rainbow palette to select more than the standard color options on the palette. Notice how the color changes in the pencil icon at the top.
If you have Snapchat on Android, press the rainbow slider until the full color palette appears and then select the transparent option to draw a see through color on your snap.
Adding Filters
To add Instagram-like filters on your snaps, swipe the screen left or right to preview each filter. The Geolocation filter lets you add art overlay and other labels based on your location to the snaps. The Time filter lets you add the time you took the snap.
Then there's a filter that lets you add the temperature, speed at which you are moving, and the standard black and white, saturated and sepia filters. You can also add a touch of color to your photos by selecting an emoji with the desired color, (first button at the top of the screen), zoom it using both fingers so that it takes up the whole screen and then drag it over the frame to give it a filtered look.
Adding Two Filters
You can add 2 filters to a snap by swiping over the snap and selecting the first filter as usual. Then hold down the screen with one finger and swipe over the photo with another finger to add the second filter. This is a little tricky and may take several tries but is possible.
Switching Cameras
Selfie lovers don't have to tap the camera icon at the top-right corner of the screen to switch the camera view. A simple double tap on the screen should do the trick.
Using Front Facing Flash
If you want to take a selfie but the lighting is not bright enough, you can use the Snapchat front-facing flash feature that represented by the lightning icon at the top-left corner.
Replaying Snaps
You can replay the snap you last viewed if it was sent within the last 24 hours. Tap the snap you want to view again and you'll see a notification that asks if you want to replay the snap. Tap Replay.
Navigating Stories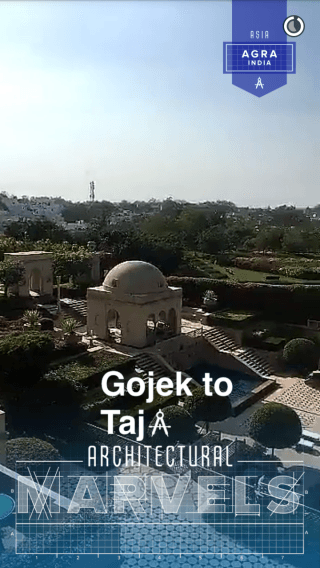 Stories let you show your friends what you've been up to in the last day. They appear in your feed and usually stay active for 24 hours. Sometimes you may not want to view all the stories in your feed. You can avoid waiting for the next snap to appear in a Story by tapping the screen and pressing down to view the next Story.
Changing Friend's Snapchat Name
You can view a friend's Snapchat score and Snapcode from within a chat by tapping the hamburger menu in the top-left hand corner of the screen. But you can also edit the contact's name, block or remove the conversation from here. This menu can also be activated by tapping and holding a contact's name anywhere within the app.
Turn on Travel Mode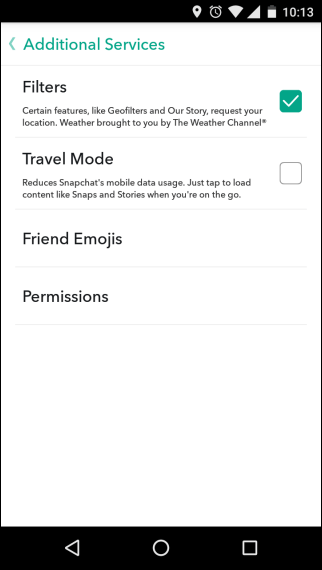 Snapchat doesn't store all the snaps but it can still eat up battery life. You can circumvent that problem by activating Travel Mode. In this mode, snaps and stories won't be downloaded automatically and you can choose which ones to load. Go to the Settings->Manage to activate this mode.
Sharing Snaps from the Photo Gallery
Snapshot is designed to allow you to take real time snaps and share them with your friends. You can send photos from your Gallery but only if you are in a chat conversation with them. If you still want to share snaps you can use third party apps such as UploadRoll to do this.
Adding Friends Even if You Don't Have Their Contact Details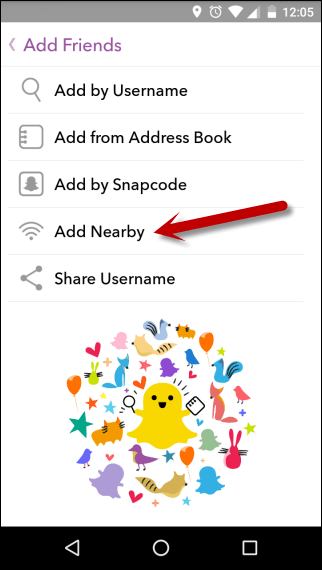 You can add friends to your Snapchat circle even if you don't have their contact info. However, they need to be in the same vicinity as you are to do this. Go to Add Friends and select Add Nearby to add the new connection.
Using Volume Buttons to Take Snaps
Finding it a hassle to tap the capture button or holding it for video captures? Then simply press any of the volume buttons to take a photo or press hold the button for video captures.
Adding Animated Selfie
You can add an animated selfie to your Snapcode to make it more upbeat and fun. Tap the ghost icon at the top and center of the screen to see the Snapcode. Tap again to activate the camera icon and hit the camera button while presenting your wackiest look. Your front facing camera will snap 5 selfies and scroll them repeatedly to create a GIF-life animated Snapcode. You can tap the images again to refresh it.
Understanding Friend Emojis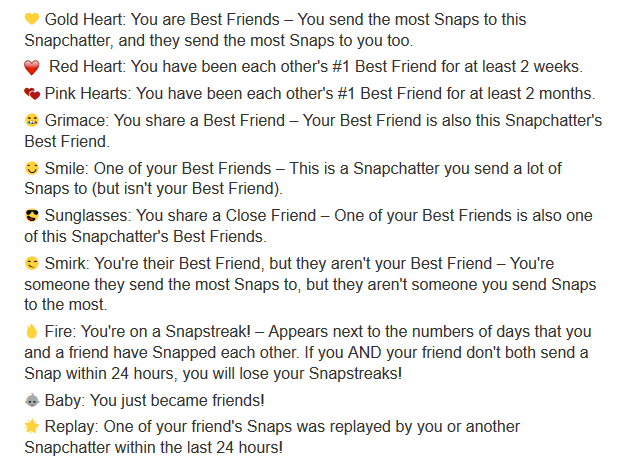 If you want to learn a little bit more about your snapchat activities, you need to simply take a look at Friend emojis. These emojis appear next to friend's name indicating how you've been interacting with them. You can find this by swiping down the Snapchat screen, going to Settings->Manage and tapping Friend Emojis. Here's what the different emoji's mean.
Doing Chats/Videochats with Contacts
Snapchat is a mobile messaging app, which means you can have conversations with your contacts. Swipe right on a friend's name to start chatting. If both you and your contact are available at the same time the yellow button in your chat screen turns blue indicating you can chat in real time.
You both need to press the blue button at the same time to chat face to face via video. Remember though that once you leave the chat session all messages viewed by both you and your contact will be cleared. If you need a copy of any part of the conversation, you need to tap or screenshot and save it in your photo gallery.
Adding Music to Videos
Want to add some cool background music to your video snap? First play the song on your device from any music app. Then take a video. When you play the video, it will play it along with the music.
Seeing Who Has Viewed Your Story
If you want to know which of your contacts have seen your Story, tap the 3-dotted menu icon next to My Story and tap a Snap. Swipe up to see who has viewed or taken a screenshot of your snap. The Eye icon indicates views while the green triangle shaped icon indicates the latter. You can tap on a story to see who has looked at or taken a screenshot of the story.
Transferring Cash
Chatting and sharing snaps isn't the only thing you do on Snapchat. You can also set up your debit card within the app and send cash to anyone in your contact list via chat. Contacts must be eligible  (U.S only) to receive Snapcash though and issues with payments will be handled by Square which makes the processing and billing.
Do you know other cool Snapchat tips or tricks that I have missed out? Do share it with us in the comments section.